About Millets and its Market Developments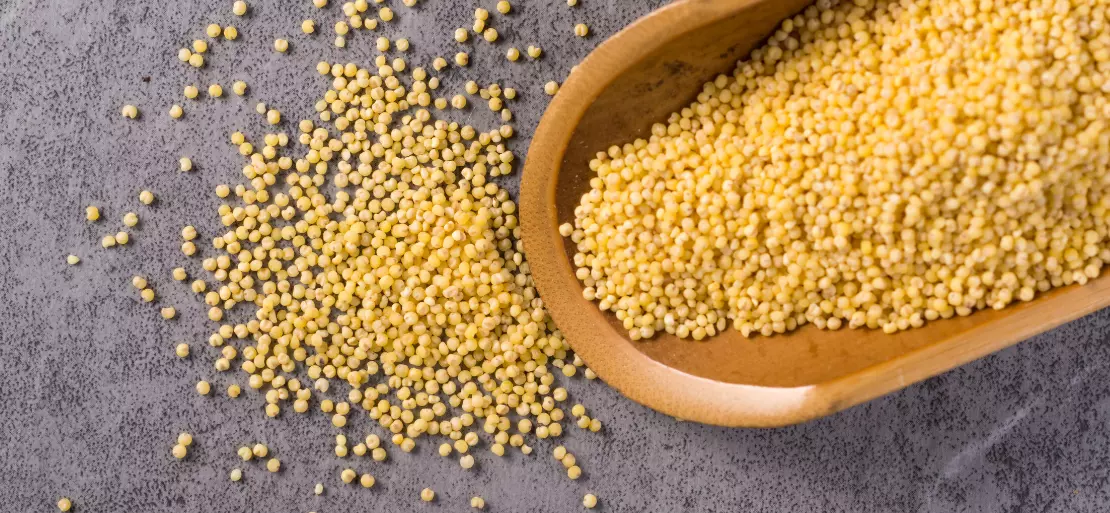 Millets are tiny cereal grains with a lot of nutrients. There seem to be nearly 6,000 millet variations nationally and internationally, with colours ranging from pale yellow to white, grey, and red. In terms of dietary valuation, they easily surpass generally consumed food products such as wheat and rice. But besides their significant nutritional value, millets have gotten less attention than cereals. Millets perform a crucial role in the food economy and security of many African and Asian countries.
Millet has historically been one of the most important nutrients for humans in Africa. African countries, primarily Niger, Mali, Nigeria, Burkina Faso, and Sudan, consume over 40% of the world millet output. Cereal grains are common in emerging economies like India and Africa, in which meal and sustainable livelihoods are significant problems. The crop's elevated stress tolerance capability allows to grow in regions with harsh weather conditions. India is the country's biggest millet manufacturer.
Request Access For Regular Price Update of Millets
Modifications throughout diet and lifestyle habits have led to the development among several illnesses, such as fatness, metabolic disorders, and cardiac problems like as coronary arteries disease, cardiac arrest, and irregular heartbeats. Millets have quite an elevated mineral and protein content, together with calcium and iron, which can help to prevent such diseases. Thus, rising urban knowledge and understanding of the health benefits of millet usage will drive business during the forecast period.
In May 2021, African governments implemented policies to promote millet production and consumption through community seed banks, seed fairs, and farmer networks. The only sections where both public and private investments are being done are the millet seed manufacturing and expansion. The global prices for millets are extremely unpredictable, largely determined by sourcing capacities, and are typically unrelated to those of other major crude grains such as maize, sorghum, or barley. As a result, because millets owns a crucial place in the food security and economy of many African countries, consumption is expected to be substantial.
Read More About Millets Production Cost Reports - REQUEST FREE SAMPLE COPY IN PDF
The prominent companies in the market of Millet sector are Mayoora Foods, Navan Foods, LLC, Sydler India Pvt. Ltd., Nestle S.A., Nature's Logic., Sresta Natural Bioproducts Pvt. Ltd., Dharani FaMCooP Ltd.
The first consignments of sustainably grown millets started growing in India's Himalayan range was transported to Denmark in 2021. In cooperation with Uttarakhand Agricultural Produce Advertising and Just Organik, the Ministry of agriculture and Packaged Food Products Outsource Development Agency accumulated sustainably sourced millets from agricultural producers for handling and extract. Millets are getting prominence in North America and Europe like a gluten-free and reactive hypoglycemia snacks.
REQUEST FREE SAMPLE of Millets Industry Report
Slurrp Farm, a child's millet-based food company, was indeed an innovator in reinstating the terrific grain millet to India and, more recently, the UAE in 2021. Wholesome Foods, Slurrp Farm's holding company, successfully increased USD 7 million in a fresh round of financial assistance. This fund essentially allows Slurrp Farm, a millet-based children's food producer, to ratchet up technological development and promotional efforts while broadening its geographic footprint.
About Author:
Prakhar Panchbhaiya
Senior Content Writer at Procurement Resource
Prakhar Panchbhaiya is an accomplished content writer and market research analyst. With over 4 years of experience in content creation and market analysis encompassing many industries, including pharmaceuticals, nutraceuticals, biochemistry, healthcare, ed-tech, and Food & Agriculture, he has been creating quality content for multiple sectors. He is a Biochemistry major with sturdy backing in a PG diploma in digital marketing, helping in the exhaustive content creation based on extensive research and competitive marketing.