What is Air Freight and its Importance in the Shipping Sector?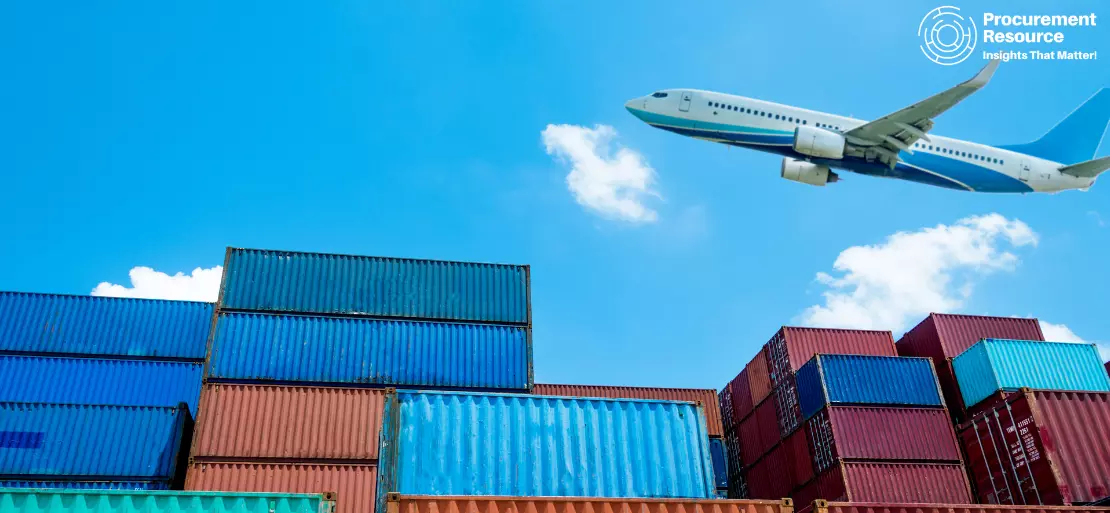 Air freight also recognized as air cargo implies to the delivery or cargo of goods and commodities using an air carrier. These air carriers can be charter or commercial as well as affiliates of bigger passenger airlines. A few of the examples of these carrier airlines are - Emirates SkyCargo, FedEx Express, among others.
The air freight is the speediest means of carrying and moving goods and is the most excellent existing choice for shipping consumable and fragile products rapidly across big distances.
At the same time, air freight implies the amount of money or changes paid when goods or items are sent through air carriers to various destinations. These services are very crucial in terms of transporting shipments across the world.
Request Access For Regular Price Update of Air Freight
There are two kinds of air freight services – General Cargo and Special Cargo. General cargo comprises expensive or upscale items such as jewellery, electronics, and pharmaceuticals. Although the air freight seems to be more high-priced as compared to shipment through sea it is considered as the most excellent way of moving extremely expensive and delicate products.
On the other hand, special cargo is referred to shipping of goods under specific situations like temperature management.
Air freight services is a business or trade organizer and mediator that promotes worldwide economic growth and generates masses of jobs. The world economy is primarily based on the capability to provide superior quality goods at reasonable rates to global customers. More than USD 6 trillion value of products are transported by air freight services, holding nearly 35 percent of the total international market worth.
International Air Transport Association (IATA) introduced a campaign named "Value of Air Cargo" to increase knowledge about the significance of air cargo to trade, financial system, and the worldwide community.
Air freight costs fluctuate between USD 1.25 and USD 3.75, and this makes it around 12 to 16 times more costly relatively to sea haulage and 4 to 5 times more expensive as compared to road cargo. Because of this it is generally utilised for products that are time-dependent or of high cost, such as unpreserved seafood commodities and agricultural goods, consumer products, electronics, pharmaceuticals, fashion apparel, manufacturing samples, and critical documents.
Besides, air freight is also put to use for contingency deliveries and just-in-time manufacturing and for exports from emerging nations, consisting of products like fresh fruits and vegetables, electronic pieces, and flowers.
Moreover, it is a good option to use air freight when small-scale quantities of goods are required to be transported to new or emergent markets. In addition, air carriers are regularly utilised during the time of environmental disasters like floods, earthquake, or avalanches since during such circumstances other form of transportation are difficult to be operated. During such calamities it is used to ship crucial products like food and medicines and conduct the relief work in the affected area.
Around 2.5 million of people are saved annually by making vaccines available to various parts of the world. Further to this, it is assessed by the World Health Organisation (WHO) that the vaccination plans and systems avert around 3 million child fatalities every year. Air freight carrier are significant in transporting these temperature-reliant pharmaceutical products in their good quality conditions, by employing pioneering technologies and methods.
Likewise, every year approximately 7.4 billion parcels and 328 billion letters are delivered to their destinations and in their delivery, airmail plays a critical role. Additionally, thanks to e-commerce a huge number of parcels are delivered all over the world on a daily basis.
About Author:
Prakhar Panchbhaiya
Senior Content Writer at Procurement Resource
Prakhar Panchbhaiya is an accomplished content writer and market research analyst. With over 4 years of experience in content creation and market analysis encompassing many industries, including pharmaceuticals, nutraceuticals, biochemistry, healthcare, ed-tech, and Food & Agriculture, he has been creating quality content for multiple sectors. He is a Biochemistry major with sturdy backing in a PG diploma in digital marketing, helping in the exhaustive content creation based on extensive research and competitive marketing.