Applications Of Safflower Oil and Its Rising Demand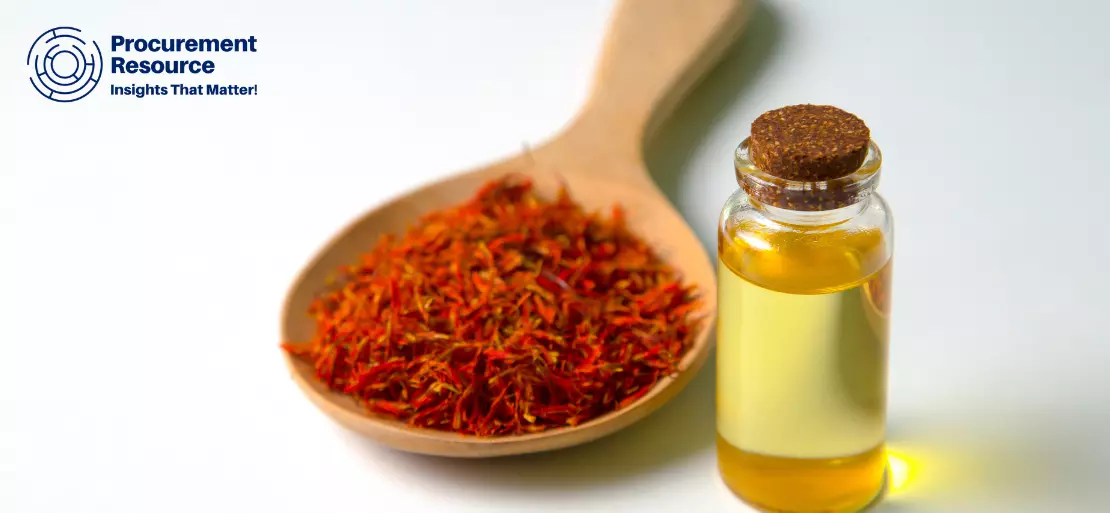 The safflower plant is part of the Asteraceae or sunflower family. It is native to China, Iran, India, and Egypt. However, it is still cultivated across the world, including in North America, primarily for oil, but it also has applications as animal feed. The oil is derived from safflower plant seeds. There are two types of safflower oil, namely high-linoleic and high-oleic. High-linoleic safflower oil is full of polyunsaturated fats, whereas high-oleic safflower oil is filled with monounsaturated fats.
Safflower has bright orange flowers that have been in use since ancient times as a dye and as a substitute for saffron; the safflower plant's seeds are used as medicine, and its kernels can be pressed to oil containing a high concentration of polyunsaturated fats. It is among the oldest crops known that has roots in Ancient Egypt and Greece. The plant is an integral part of the food supply and is mainly used for its oil for cooking applications, e.g., in several processed foods, and other uses like in skincare etc.
The cold expression of the seeds obtains safflower oil. The oil these seeds produce is either rich in polyunsaturated fatty acids (linoleic acid) or monosaturated fatty acids (oleic acid). The oil's other components include the acids palmitic, stearic, palmitoleic, and linolenic (trace).
Request Access For Regular Price Update of safflower oil
The High-oleic safflower oil is made up of different safflower varieties that are specially bred to be full of additional monounsaturated fats. It has a very high smoke point at approximately 440 to 520°F, which is best for high-heat cooking applications. On the other hand, the regular refined safflower oil has a smoke point of 320°F which makes it ideal for medium-heat end-uses. In addition, unrefined safflower oil is best for low-heat (less than 225°F) requiring applications.
Safflower oil is rich in unsaturated fatty acids, which are essential for bodily functions. The fats found in the oil are crucial for the regulation of hormones and memory. The fats facilitate the body to soak up fat-soluble vitamins like A, D, E, and K.
The oil consumption is high in unsaturated fats that improve blood glucose levels. It also helps enhances the blood cholesterol level lowering the risk of heart disease. It also has several anti-inflammatory properties that will enhance inflammation. Safflower oil is a complete vitamin E that offers many skin benefits.
The cooking oil prices rose by INR 25 more per litre. The price rise comes as a result of the tight supplies of sunflower and safflower oils (sun oils) as the Russia-Ukraine war escalates. As India imports 80 percent of the total required sunflower oil from the Ukraine-Russia region, there will be a noticeable price increase.
Read More About safflower oil Production Cost Reports - REQUEST FREE SAMPLE COPY IN PDF
The disturbances in shipments and logistics indicate a fluctuating price trend. Also, the increasing demand for vegetable oils in the biodiesel production is anticipated to add an upward pressure to the prices of the oil. Hence, all the aforementioned health benefits, applications, and the current market situation due to political disturbances are adding to the commodity's demand growth.
About Author:
Prakhar Panchbhaiya
Senior Content Writer at Procurement Resource
Prakhar Panchbhaiya is an accomplished content writer and market research analyst. With over 4 years of experience in content creation and market analysis encompassing many industries, including pharmaceuticals, nutraceuticals, biochemistry, healthcare, ed-tech, and Food & Agriculture, he has been creating quality content for multiple sectors. He is a Biochemistry major with sturdy backing in a PG diploma in digital marketing, helping in the exhaustive content creation based on extensive research and competitive marketing.