What is Banana Powder, its Production Process, Uses and Benefits?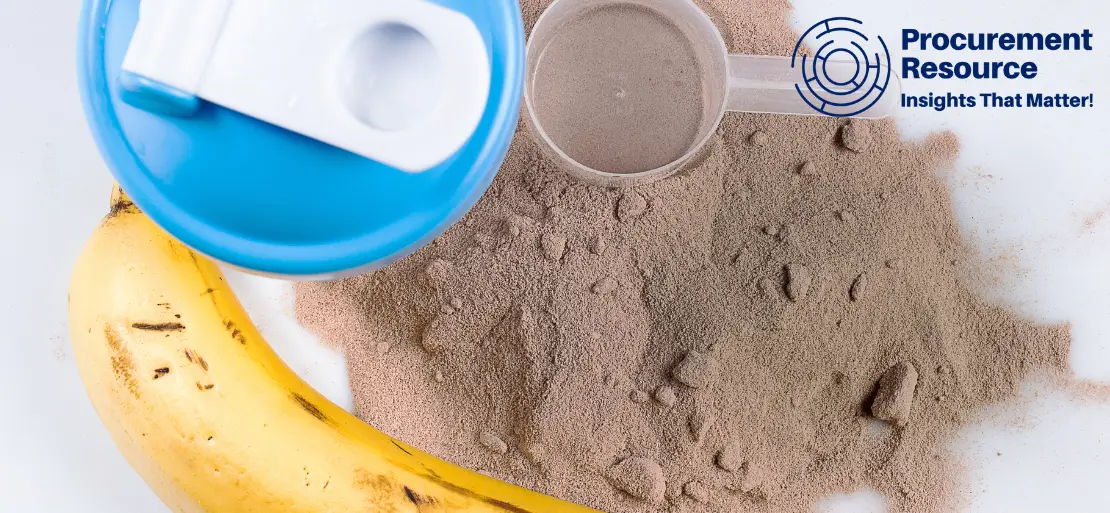 Processed bananas are used to make Banana powder and are primarily mixed as a healthy component in the making of milk shakes and baby food products.
Banana powder is produced by utilizing banana pulp, that is automatically cut or sliced and thereafter it is processed with hydraulic shear by the usage of colloid mill, which turns it into a paste. After this step, sodium metabisulfite is added to enhance the yellow colour of the paste formed. This paste is then dried up by either spraying or drum-drying.
However, the drum-drying method is more popularly used because there is no wastage of the banana paste. There is also a production of around 2 percent of more powder and dries the paste completely in the drum-drying process. Irrespective of the drying methodology used, banana powder can mostly remain fresh on the shelf for only a year.
Request Access For Regular Price Update of Banana powder
It is very easy to add banana powder to favoured desserts, cakes, pasteries and biscuits, pancakes, ice creams, energy bars, homemade sweets, and drizzled on traditional breakfast porridge. This powder base is also an excellent way to decrease the sugar consumption all thanks to its sweet taste. Besides, banana powder may also be suited to those who are not enthusiastic about eating fresh bananas.
It has been found that banana powder is the main basis of carbohydrates and calories. Although it normally has a less amount of protein in it, the valuable content of the powder is nonetheless evidently higher as compared to other fruits. Additionally, the powder is considered to be helpful as a common treatment for indigestion.
Moreover, banana powder is an extraordinary supplier of potassium that supports to regulate the electrical movement of the heart and also assists in lessening the cholesterol level and helps nerve and muscle functions. The sugar content is not completely developed in the banana powder as they are picked while being at a young stage therefore, they are lower level of organic sugars. The tolerant starch found in green banana reduces the release of food via the gut, consequently making sure that the stomach feels fuller for an extended period and preventing from eating in between the meals.
Tolerant starch in banana powder also boosts faecal bulking that encourages colon health as well as behaves as a re-hydrating mediator for people suffering from diarrhoea. Banana powder is superior in vital minerals and vitamins containing vitamin E, zinc, manganese, and magnesium. Likewise, it is perfect for those who are experiencing gluten intolerance specifically because it performs just like the wheat flour and offers as an ultimate substitute for recipes containing wheat or wheat flour.
Read More About Banana powder Production Cost Reports - REQUEST FREE SAMPLE COPY IN PDF
Furthermore, banana powder aids in developing immunity and healthy brain in babies since it is loaded with potassium and other essential nutrients. Also, it is easily digested and does not trigger cough and cold as normal bananas does.
In addition, banana powder is used as a setting powder and was initially made especially for make-up. The name 'banana powder' comes from the light-yellow shade of the powder which is different from the normally used skin-tone detailed setting powders. To add, it sets the base of the makeup, provides the illusion of perfectly flawless skin, and extends the life of the makeup.
About Author:
Prakhar Panchbhaiya
Senior Content Writer at Procurement Resource
Prakhar Panchbhaiya is an accomplished content writer and market research analyst. With over 4 years of experience in content creation and market analysis encompassing many industries, including pharmaceuticals, nutraceuticals, biochemistry, healthcare, ed-tech, and Food & Agriculture, he has been creating quality content for multiple sectors. He is a Biochemistry major with sturdy backing in a PG diploma in digital marketing, helping in the exhaustive content creation based on extensive research and competitive marketing.