Crude Palm Kernel Oil History, Manufacturing Process, Applications, and Major Producing Countries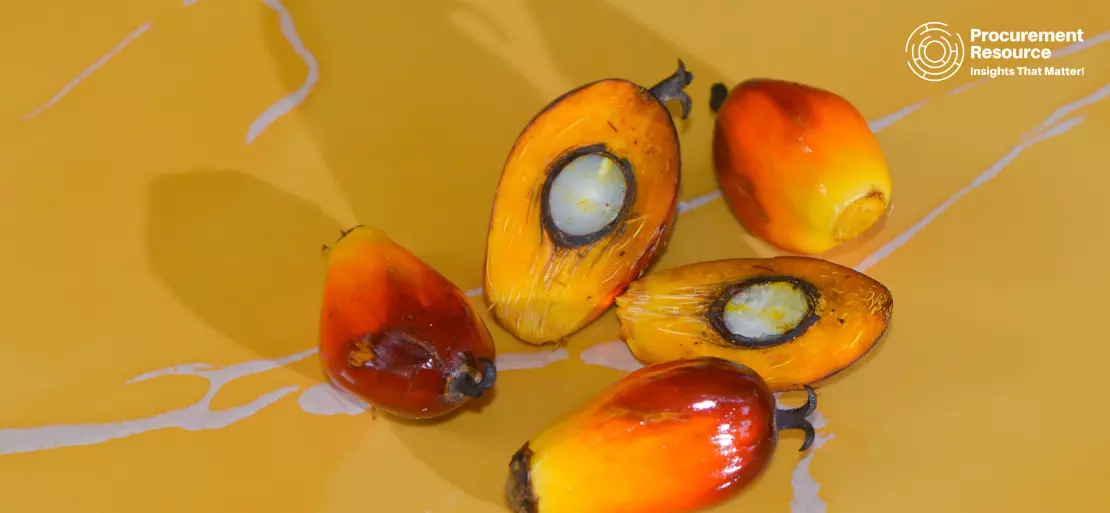 Crude Palm Kernel Oil is derived from the softer part of the seed that is within the inner part of palm kernels mainly comprising lauric acid. It is edible and has a light yellow colour. Its major application is its use in commercial cooking due to it being inexpensive and ability to stay stable at high temperatures as well as being able to be stored for a longer period compared to other vegetable oils.
Palm oil uses go as far back as 5000 years ago. According to Archaeological evidence, the oil was primarily used in the Abydos tomb dating back to 3000 BCE which according to theory reached Egypt through trade. It became a very crucial commodity during the industrial revolution due to its application as a machine lubricant. Palm oil's wide usage in soap manufacturing was started by the Lever brothers of Unilever. Till the 1870s, the main export product of West Africa was palm oil, especially in countries like Ghana and Nigeria.
The red fruits are delivered to the mills after being harvested. After quality checks, the kernels are used to produce oil. The fruit bunches go through a steam treatment to get rid of bacteria and halt any enzyme activity. In the steam, the fruit turns soft easing the oil out. Next, the fruit masses containing oil, water, and fibres are all divided. Under extreme pressure, the water and oil are squeezed out resulting in an oil-water mix. Due to the unblendable properties of the two by-products, the oil starts to separate from the mix resulting in the production of natural crude palm oil which is further processed in a refinery.
Request Access For Regular Price Update of Crude Palm Kernel Oil
It has various applications in several end-user industries including oil, and food among others. As the oil has many kinds of fatty acids such as myristic, Lauric, and oleic. The oil itself is used in the production of other fatty acids.
In the food sector, kernel oil is employed to produce foods like substitutes for cocoa butter, margarine, etc. ice-Creams, chocolate, and other confectionaries can also be made from the ingredient.
In other end-uses like the manufacturing of several types of soaps including the toilet or multipurpose grades, the oil is a significant raw material. It also finds application in a wide range of cosmetics products.
The oil is used as a cooking oil in some parts of Brazil and all over Southeast Asia as well as the African tropical belt. It is a favoured choice for cooking due to its high oxidative properties and low cost.
Read More About Crude Palm Kernel Oil Production Cost Reports - REQUEST FREE SAMPLE COPY IN PDF
Palm oil crops are grown best in a tropical humid environment which is found 8 to 10 degrees north and south of the equator. The tree has origins in West Africa and is now cultivated all over Africa, Latin America and Asia. Across the region, the countries Indonesia and Malaysia produce the largest quantities of the commodity. Both countries combined production accounts for 85-90 percent of the total vegetable oil produced. Other countries like Nigeria, Colombia, and Thailand also hold a significant share in production.
About Author:
Prakhar Panchbhaiya
Senior Content Writer at Procurement Resource
Prakhar Panchbhaiya is an accomplished content writer and market research analyst. With over 4 years of experience in content creation and market analysis encompassing many industries, including pharmaceuticals, nutraceuticals, biochemistry, healthcare, ed-tech, and Food & Agriculture, he has been creating quality content for multiple sectors. He is a Biochemistry major with sturdy backing in a PG diploma in digital marketing, helping in the exhaustive content creation based on extensive research and competitive marketing.