Global Urea Market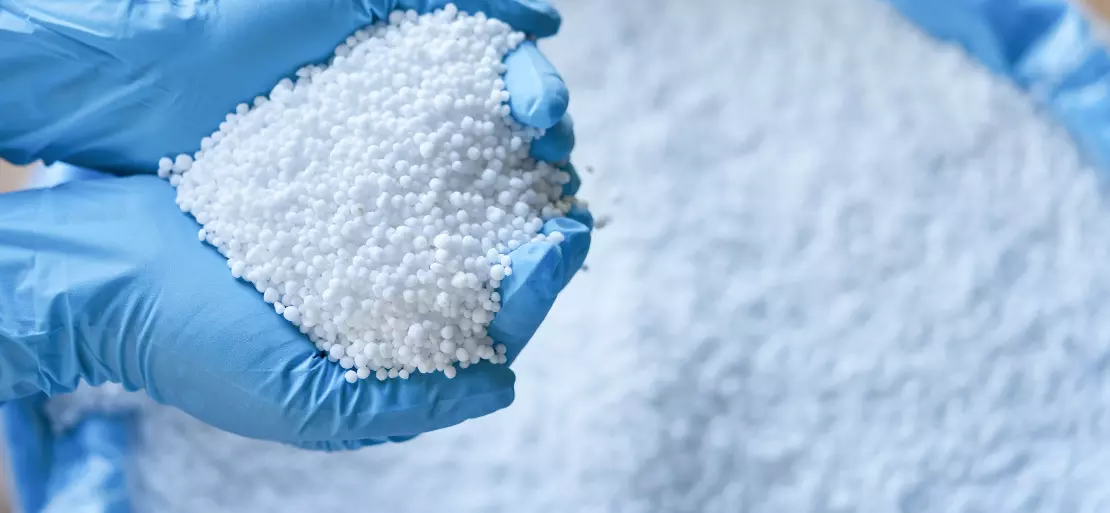 Urea or carbamide is an organic compound; its chemical formula is CO(NH2)2. It is the major nitrogen-containing component in mammalian urine and plays a significant role in the animal metabolism of nitrogen-containing substances. It is a colourless, odourless substance that is highly soluble in water and almost non-toxic. Urea is a common source of nitrogen (N) in fertilizers and an essential raw ingredient in the chemical industry.
The Dutch scientist Herman Boerhaave was the first to identify urea in urine in 1727, while the discovery is commonly credited to the French chemist Hilaire Rouelle and William Cruickshank. Urea was isolated by boiling off the water, resulting in a fresh cream product. Afterward, the filter paper was used to squeeze out any leftover liquid. After a year of waiting for a solid to develop under an oily liquid, the greasy liquid was gone. The remaining substance was dissolved in water, and recrystallization was used to extract the urea.
Request Access For Regular Price Update of Urea
Urea finds application in many end-user industries like agriculture, chemical, automotive, and medical. It is used as a fertilizer in the agriculture industry and primarily drives the product's demand. Technical grade urea is used to produce products such as glue, medical drugs, dyes, disinfectants, cosmetics, etc. furthering the market demand. The component is used in the automotive industry to minimise nitrogen oxide emissions from diesel automobiles leading to the market's expansion. In addition, it is used in many creams as a critical component augmenting the demand further. The increased need for N-fertilizers in the industry is raising the product's demand. As a result, the growing fertiliser business and nitrogen application are fueling urea market expansion.
China is the leading producer and user of urea in the Asia Pacific. India is the world's second-largest consumer market, behind China. China is likewise a net urea exporter, with most of its urea going to India and North America. China is a prominent exporter owing to its abundant coal supply, used as a feedstock for the product. In contrast to China, which has a self-sufficient urea market, India imports urea to fulfill regional demand. India is one of the leading urea importers globally, accounting for about 15% of total imports. Apart from China, Indonesia and Pakistan export the commodity to suit regional domestic demand.
Read More About Urea Production Cost Reports - REQUEST FREE SAMPLE COPY IN PDF
India has struck a three-year urea import contract with Oman India Fertiliser Company (Omifco) to bring in 1 million tonnes of crop fertilizer every year. Imports meet about a third of India's urea needs. India produced 21 million tonnes of urea between April 2021 and January 2022, the first ten months of the current fiscal year, and imported 7.2 million tonnes.
REQUEST FREE SAMPLE of Urea Industry Report
Urea's popularity is growing due to two key benefits over rival products: it has a more significant nitrogen concentration and is relatively easy to handle and transport. These factors, combined with shifting demographic and consumer eating preferences, are likely to support sustained demand growth for the foreseeable future. Recent urea investment activity has been sparked by market factors such as China's effort to promote the local industry through coal-based projects and the United States' shale gas revolution. While the pace is projected to slow slightly, the investment will continue, mainly where low-cost feedstock is available.
About Author:
Prakhar Panchbhaiya
Senior Content Writer at Procurement Resource
Prakhar Panchbhaiya is an accomplished content writer and market research analyst. With over 4 years of experience in content creation and market analysis encompassing many industries, including pharmaceuticals, nutraceuticals, biochemistry, healthcare, ed-tech, and Food & Agriculture, he has been creating quality content for multiple sectors. He is a Biochemistry major with sturdy backing in a PG diploma in digital marketing, helping in the exhaustive content creation based on extensive research and competitive marketing.