The Fundamentals of the Market and the Growing Natural Gas Demand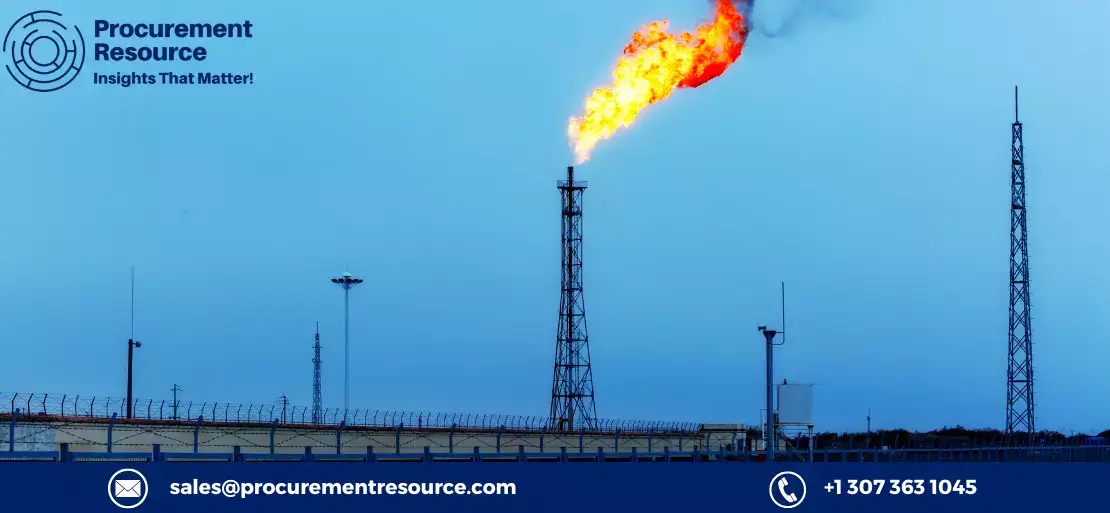 This blog covers a variety of topics related to natural gas, including its definition, the production process, regional perspective, key players, market drivers, and pricing dynamics.
Natural Gas

Natural gas is one of the crucial fossil fuels that makes a substantial contribution to all forms of energy. It is referred to as a fossil fuel owing to its production in the Earth's crust. Ethane and methane (a molecule with one carbon atom and four hydrogen atoms) make up the majority of them.
It is a mixture of odourless, non-poisonous, and transparent gaseous hydrocarbons. Together with non-hydrocarbon gases like water vapour and carbon dioxide, natural gas liquids (sometimes referred to as hydrocarbon gas liquids, or NGL5) are also present in minute quantities.
Request Access For Regular Price Update of Natural Gas
Burning Natural gas is a viable option for producing energy and cooking. It is also utilised as a chemical feedstock in the production of plastics. It is measured in standard cubic meters or standard cubic feet.
Natural Gas Manufacturing Process

This procedure starts by drilling and perforating a well that is about a mile below the surface of the ground. After that, steel containers and pipes are used to contain natural gas. Furthermore, the fracking fluid is intended to open up new fractures in the adjacent rocks, which makes natural gas float. The floating natural gas is then brought to the surface, treated, and then transported. After that, it is moved and kept in the nearby tanks.
Natural Gas Regional Outlook

The United States has the highest production and consumption of natural gas in the region of North America. The production of electric power, as well as industrial, residential, and commercial applications, all make extensive use of natural gas. Mexico has the greatest natural gas consumption in all of Latin America.
Russia is the top natural gas producer in the Europe region, and it also exports the gas it produces to other nations.
China and India are the largest consumers of natural products in the Asia Pacific area. Urbanisation and rising energy consumption have contributed to the expansion of the natural gas market in this area.
Key Players
Gazprom
Exxon Mobil Corporation
China National Petroleum Corporation
Royal Dutch Shell Plc
BP Plc, Chevron
Conoco Philips
Market Drivers

Due to the popularity of natural gas as a fuel for light-duty vehicles and its environmental friendliness, the market for these vehicles has grown as a result.
The light commercial vehicle market represents the most commercially viable segment of the global compressed natural gas (CNG) market with the highest potential for invested capital due to an increase in CNG consumption in major cities around the world to reduce unnecessary pollution levels and lower the price of CNG relative to some other fossil fuels.
Natural Gas Price Trend

North America
The cost of natural gas has recently skyrocketed in the USA. The benchmark futures skyrocketed as a result of expectations for hotter weather and increased demand.
There are still issues with the flow of Russian gas to Europe, record coal prices, and the front-month contract expiration.
Due to weak market fundamentals, natural gas prices declined, which had an impact on the natural gas production cost as well. Freeport LNG put off restarting the plant until November, which caused the price on the domestic market to drop even more.
Asia Pacific
Natural gas prices in the Asia Pacific area recently followed the same trend as the rest of the global market. Russia was worried that any supply reductions would exacerbate the Asian fuel crisis, which had already driven up prices in the first half of this quarter. Asia and Europe engaged in a heated battle for the meager supply of LNG cargo.
Due to China's difficulty in meeting peak power demand after hydropower outages in the Sichuan region, manufacturing costs for important downstream derivative enterprises soared. India's natural gas prices decreased as a result of falling import prices and declining production. Indian gas importers were unable to buy LNG on the spot market.
Europe
Natural gas prices in the area have recently increased as a result of the Nord Stream 2 pipeline supply disruption from Gazprom, Russia, to the European region. The front gas month charges are determined by the Dutch Title Transfer Facility (TTF), the European standard for trading natural gas bounced.
Read More About Natural Gas Production Cost Reports - REQUEST FREE SAMPLE COPY IN PDF
The increase in energy and utility costs drives up inflation and reduces margins and edges for big projects. The downstream derivative market is also boosted by it. Due to the recent rise in gas prices, which brought in a recession in the area, the value of the Euro dropped to its lowest point.
About Author:
Prakhar Panchbhaiya
Senior Content Writer at Procurement Resource
Prakhar Panchbhaiya is an accomplished content writer and market research analyst. With over 4 years of experience in content creation and market analysis encompassing many industries, including pharmaceuticals, nutraceuticals, biochemistry, healthcare, ed-tech, and Food & Agriculture, he has been creating quality content for multiple sectors. He is a Biochemistry major with sturdy backing in a PG diploma in digital marketing, helping in the exhaustive content creation based on extensive research and competitive marketing.