The Increasing Demand for Guar Gum and its Market Dynamics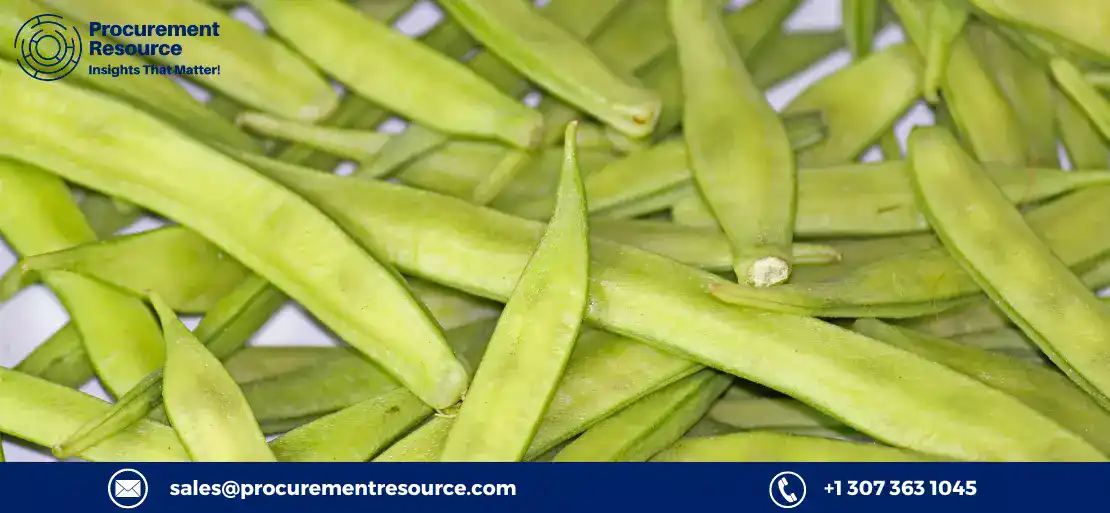 Guar Gum is made from finely powdered guar plant (Cyamopsis tetragonoloba) seeds that have been processed into a fibre. This product helps to normalise the moisture content of the stool by absorbing excess liquid in cases of diarrhoea and softening the stool in cases of constipation. Additionally, guar gum can help reduce the levels of sugar and cholesterol in the intestines.
Guar gum's appearance can range from white to cream, and both the powder and solution are odourless and tasteless. Guar gum is generally thought to resemble locust bean and carob bean gum.
Request Access For Regular Price Update of Guar Gum
The powder dissolves easily in both hot and cold water, but not in the organic solvents. Guar gum has a PH of 1 percent solution that ranges from 5.4 to 7.7, making it just mildly acidic.
The blog contains detailed information on the guar gum regional outlook, industrial uses, price trends, and key competitors.
Regional Outlook
Guar beans, often referred to as cluster beans, are an agricultural product that is largely grown in the dry regions of West and North-West India, Pakistan, Sudan, and parts of the United States. More than 850 000 tonnes of the guar crop are grown in India, accounting for 80% of the crop's global production.
Rajasthan, which accounts for 70% of national production, is the top guar-producing state in western India. Aside from it, guar is also widely grown in Gujarat, Haryana, Punjab, and a few locations in Uttar Pradesh and Madhya Pradesh. Furthermore, it is also grown in Texas and Arizona, which are in the southern regions of the United States.
Industrial Applications
The food and beverage industry makes substantial use of guar gum, which is primarily utilised as a thickening and binder of free water. Guar gum is used in the food and beverage industry in a number of products, including bread, processed cheese, soups, pastry frosting, noodles, meat, dressing and sauces, and a number of other beverages.
The use of guar gum in hydraulic fracturing, a process that uses high pressure to fracture rocks, has given the substance commercial relevance today. Guar gum is used to thicken the fracturing fluid so that it can hold sand inside the shattered rock. Two guar derivatives used in the fracturing process are carboxymethyl hydroxypropyl guar (CMHPG) and hydroxypropyl guar (HPG).
Guar gum has been used in explosives as a dynamite preservation and water-blocking agent for more than 25 years. In recent years, the substance has emerged as the primary gelling agent in water-based slurry explosives. Guar gum is a helpful addition to the explosives industry due to its water-blocking, swelling, and gelling qualities.
Paper production is enhanced by adding a little amount of guar gum to the pulp. It is beneficial as an addition to dry strength and as a fibre deflocculant. Guar gum gives the printing paper's surface a denser texture. Guar gum is used as a thickener in toothpaste, shampoos, and conditioners as well as viscosifiers.
Guar Gum Price Trend
North America
Prices for guar gum exhibited an upward trend with little fluctuations. Due to the increased demand vs the supply side's build-up stock, prices were higher at first. The rise in price was brought on by the expansion of shale gas utilisation.
Guar Gum's market value is often influenced by increased demand and the extensive use of shale gas for heating and cooking. Additionally, due to rising demand from the natural gas industry, the price rose gradually.
Europe
The market for guar gum displayed a change in price trajectory. The guar gum production cost kept rising with every slight shift in the market price of raw materials. Price started to drop because there were too many goods on the market. Additionally, the end-user sector demand increased, including the food industry. Prices increased as a result of escalating demand and a dearth of supply, which compelled merchants to keep raising prices.
Asia Pacific
The principles of supply and demand caused guar gum prices to rise and fluctuate significantly. Prices decreased as a result of sluggish demand and supply-side adoption. The ease of supplying goods to European countries has further aided the local Gaur Gum price decrease.
Read More About Guar Gum Production Cost Reports - REQUEST FREE SAMPLE COPY IN PDF
Increasing demand, supply limits brought on by the Russia-Ukraine war, inflation, and a labour shortage brought on by the war's consequences all contributed to higher product prices on the market. The Russia-Ukraine war-related jump in freight costs was accompanied by an increase in trade prices on the European Market.
Key Players in the Market of Guar Gum
Hindustan Gum & Chemicals
Jai Bharat Gum & Chemicals
Vikas WSP, Ltd.
India Glycols, Ltd.
Shree Ram Industries
Altrafine Gums
Lucid Group
Supreme Gum Pvt. Ltd.
Neelkants Polymers
About Author:
Prakhar Panchbhaiya
Senior Content Writer at Procurement Resource
Prakhar Panchbhaiya is an accomplished content writer and market research analyst. With over 4 years of experience in content creation and market analysis encompassing many industries, including pharmaceuticals, nutraceuticals, biochemistry, healthcare, ed-tech, and Food & Agriculture, he has been creating quality content for multiple sectors. He is a Biochemistry major with sturdy backing in a PG diploma in digital marketing, helping in the exhaustive content creation based on extensive research and competitive marketing.