The Increasing Demand for Natural Gas and its Market Dynamics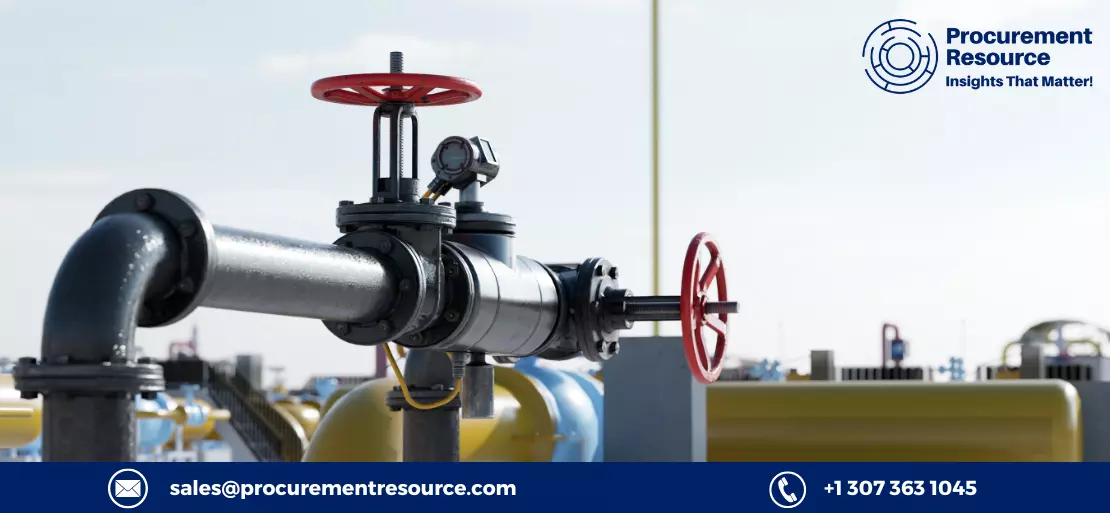 Natural gas is one of the important fossil energy sources that significantly contribute to all energy sources. It is referred to as a fossil fuel because it is created in the earth's crust. It is mostly made up of ethane and methane (a molecule with one carbon atom and four hydrogen atoms).
Request Access For Regular Price Update of Natural Gas
It is a mixture of gaseous hydrocarbons that has no smell and is not poisonous or visible. Natural gas liquids (NGLs, also known as hydrocarbon gas liquids), as well as nonhydrocarbon gases like water vapour and carbon dioxide, are also present in trace levels.
Natural Gas Production Process

The first step in this process entails drilling a well that extends about a mile below the earth's surface and perforating it. The natural gas is then trapped inside steel containers and pipes. Additionally, the fluid used in fracking is designed to cause fresh fissures in the nearby rocks, which causes natural gas to float. After being gathered and processed, the floating natural gas is subsequently transported from the surface. It is then transported and stored in the neighbouring tanks.
Key Players
Gazprom
Exxon Mobil Corporation
China National Petroleum Corporation
Royal Dutch Shell Plc
BP Plc, Chevron
Conoco Philips
Market Drivers

Given that natural gas is a popular fuel for light-duty cars and that it is environmentally friendly, the industry has expanded as a result of the excess supply for these vehicles.
Furthermore, due to an increase in CNG consumption in major cities around the world to reduce unnecessary pollution levels and lower the price of CNG relative to some other fossil fuels, the light commercial vehicle segment represents the most commercially viable segment of the global compressed natural gas (CNG) market with the highest potential for invested capital.
Natural Gas Price Trend 2022

North America
In the first half of the third quarter of 2022, natural gas prices in the USA increased sharply. The anticipation for hotter weather and greater demand caused the benchmark futures to soar.
Concerns linger regarding the flow of Russian gas to Europe, record coal prices, and the expiration of the front-month contract. However, when the market lost momentum due to U.S. production surpassing 100 BEF/day for the first time, natural gas costs fell to low market fundamentals toward the conclusion of this quarter, which affected the natural gas production costs.
The restart of the plant by Freeport LNG was delayed from mid-October to November, which resulted in a further decrease in domestic market pricing.
Asia Pacific
The Asia Pacific region's natural gas prices followed the same pattern as those of the rest of the world market. Russia was concerned that further supply cuts would worsen the fuel crisis in Asia, which caused prices to soar in the first half of this quarter. There was fierce competition between Asia and Europe for the limited supply of LNG cargo.
Following hydropower disruptions in the Sichuan district, China's struggle to meet peak power demand increased the production costs for key downstream derivative ventures. Natural gas prices fell in India as a result of decreasing production and a dramatic decline in import prices. LNG could not be purchased on the spot market by Indian gas importers.
Europe
Due to the Nord Stream 2 pipeline supply interruption from Gazprom, Russia, to the European region, natural gas prices in the region are on the rise. The Dutch Title Transfer Facility (TTF), the European standard for trading natural gas, sets the front gas month costs. bounced.
The upsurge in energy and utility costs pushes inflation and tightens the margins and edges among significant ventures. It also drives up the downstream derivative market. The Euro currency fell to its lowest level due to the recent increase in gas costs, which led to a recession in the region.
Read More About Natural Gas Production Cost Reports - REQUEST FREE SAMPLE COPY IN PDF
Procurement Resource provides a detailed analysis of Natural gas and various other commodities across a plethora of industries. The Blog contains information on the production process, price trends, key players, and market drivers.
The most recent prices and other accessible economic data are the foundation of our research. We also provide a detailed analysis of all the report's cost components which include capital investment details, production cost details, economics for other plant location, and a dynamic cost model.
About Author:
Prakhar Panchbhaiya
Senior Content Writer at Procurement Resource
Prakhar Panchbhaiya is an accomplished content writer and market research analyst. With over 4 years of experience in content creation and market analysis encompassing many industries, including pharmaceuticals, nutraceuticals, biochemistry, healthcare, ed-tech, and Food & Agriculture, he has been creating quality content for multiple sectors. He is a Biochemistry major with sturdy backing in a PG diploma in digital marketing, helping in the exhaustive content creation based on extensive research and competitive marketing.