Sunflower Oil and Its Latest Market Dynamics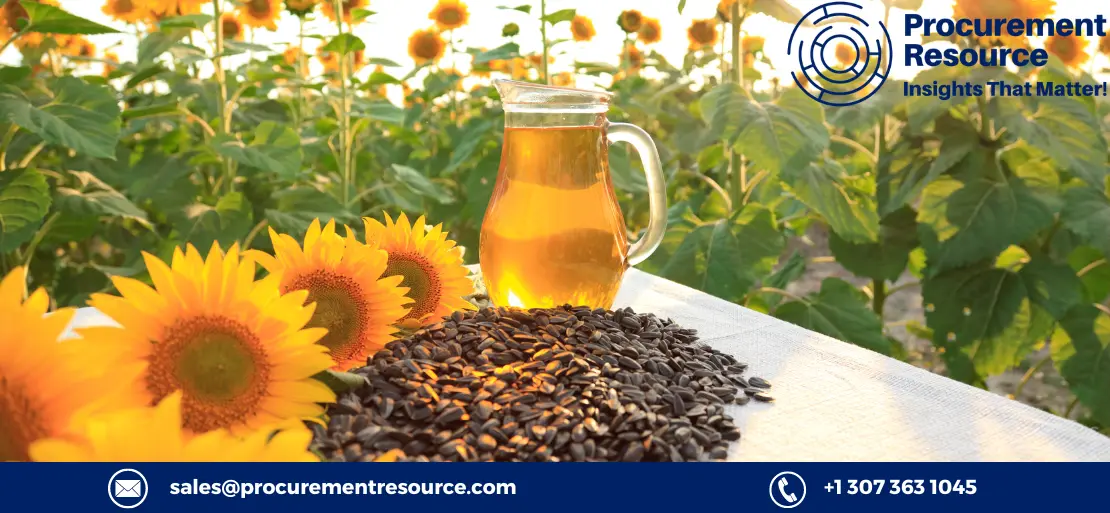 Sunflower Oil: Definition

Sunflower oil is a pressed, non-volatile oil obtained from sunflower seeds. Due to its gentle composition and high smoke point, it is generally utilised for frying in food applications.
It comes in a number of different forms with a variety of formulas and health benefits. It is composed of monounsaturated fat oleic acid and polyunsaturated fatty acid linoleic acid.
It has a significant amount of vitamin E in it. Linoleic, high oleic, and Nusun sunflower oil are the three main varieties of sunflower oil.
Request Access For Regular Price Update of Sunflower Oil
This blog provides in-depth details on the sunflower production process, along with pricing trends, notable competitors, regional outlook, industrial applications, and recent developments.
Sunflower oil Production Process

Sunflower seeds are extracted to make sunflower oil. This process involves cleaning sunflower seeds to get rid of any impurities or contaminants, followed by dehusking and grinding.
In order to create sunflower oil, the embryo in sunflower seeds is also flaked and cooked in a frying pan. Leaching with solvents is used to recover the leftover oil. The crude oil that is so generated is next cleaned using precipitation and filtering. The oil is then put through a decolorization, deacidification, and deodorization process to produce refined sunflower oil.
Sunflower Oil Price Trend

North America
Sunflower oil prices vary in North America as a result of shifting market sentiment and shifting market dynamics from the downstream industries. Due to a drop in local retailers' demand, sunflower oil prices declined. The sunflower oil production cost also dropped as a result.
Consumer demand for sunflower oil has decreased significantly. Likewise, Canada had been the main supplier of sunflower oil imports to the US, but a decline in Canadian demand resulted in a dramatic drop in the price of the product.
The price kept going up as a result of increasing inflation and a disruption in the supply from European nations. The commodity's price grew as a result of the product's constant drop in the first three months of the quarter, which reduced the amount of inventory.
Asia Pacific
The recent price of sunflower oil has altered in the Asia-Pacific region as a result of the region's efforts to combat intense inflationary pressures with food, gasoline, and crop fertiliser prices. Due to a rise in end-user company and residential household demand as well as an increase in Covid cases across the country, prices have gone up.
Because sunflower oil is primarily imported from the European continent, its price has soared. Severe heat waves and droughts, which destroyed seeds and reduced market production, worsened supply concerns.
Europe
Sunflower oil costs differ across Europe. Since then, the product's price has decreased as a result of the substantial amount of inventory in the local market. When the products were produced in excess, the makers had to lower the price.
The cost of the commodity has significantly decreased in its native market as a result of several restrictions that have been approved in its main importing nations. Even if the domestic market has a sizable need, there is enough inventory to meet demand from customers. due to the producers' need to increase prices due to the limited supply and rising price of sunflower oil.
Key Market Players
Kernel
EFKO Group
ASTON JSC
Cargill Incorporated
Optimus Agro
Bunge Limited
Adams Group
Regional Outlook

The region with the biggest market share for sunflower oil is Russia and Ukraine. Due to the region's significant rise in sunflower oil consumption, the market is expanding steadily.
Sunflower oil's high content of unsaturated fatty acids and high smoke point are two aspects that have contributed to its rapid uptake in the area.
Because of their busy lifestyles, European consumers are choosing healthier cooking oils to support their health. The outcome has been a huge rise in residential and food service industry oil usage. Such developments have supported the expansion of the sunflower oil market.
Sunflower Oil Industrial Uses

The majority of sunflower oil used in industry is as a cooking oil. It is required for the production of mayonnaise and other dressings with an oil base. Once the oil has been hydrogenated to make shortening and margarine, it can be used. For industrial frying, high-oleic sunflower oil is typically used since it has a low concentration of polyunsaturated fatty acids.
Mid-oleic sunflower oil gives improved frying properties when compared to nonhydrogenated oils like canola, cottonseed, soybean, and corn. Non-edible materials are used in the production of lubricants, biodiesel, printing inks made from vegetable oil, and other industrial goods.
Recent Developments

Edible Oils Ltd (EOL), a joint venture between ADM and Princes Limited, debuted a recently renovated bottling facility at its Erith location in July 2022 with a GBP 24 million investment (USD 28.9 million). As part of its investment programme at the Erith location, EOL refurbished the oil tank farm and installed new cooking oil bottling lines in order to supply oil to the facility.
Read More About Sunflower Oil Production Cost Reports - REQUEST FREE SAMPLE COPY IN PDF
Avril enhanced the capacity for crushing sunflower seeds and raised the production of sunflower oil and meal in France in April 2022. One of the project's key goals is to increase independence in terms of sunflower oil and oilseed meal.
Procurement Resource offers data, market studies, and information on a range of products in addition to product prices. Industry research and evaluation is Procurement Resource's main area of expertise. Accurate pricing models, category analytics, benchmarking data, and current information are available to clients.