The Growing Demand for Polylactic Acid and its Market Overview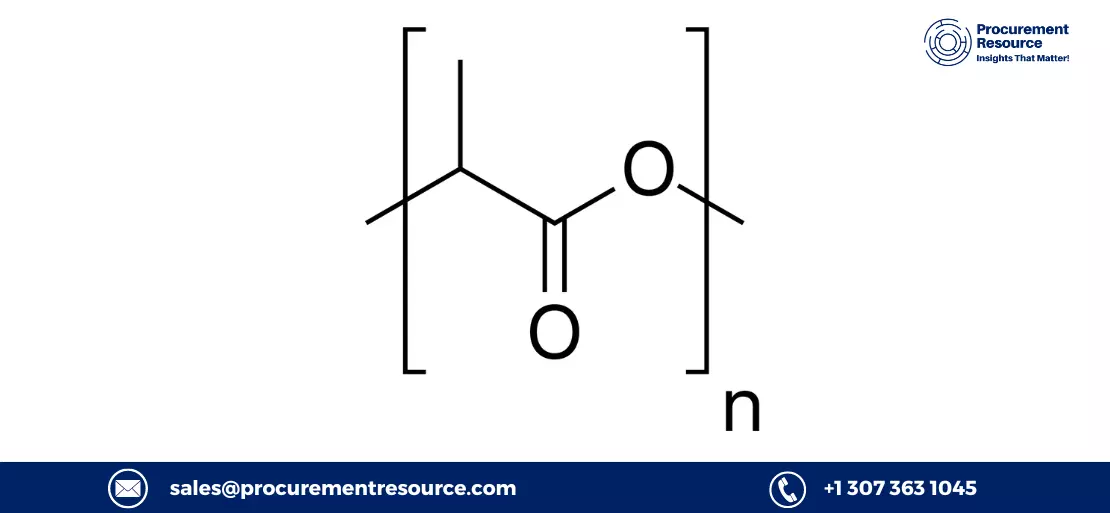 Polylactic Acid: Definition

Polylactic acid is a thermoplastic polymer that is derived from renewable sources like sugar cane or corn starch. The chemical formula of polylactic acid is (C3H4O2) n and its density ranges from 1210–1430 kg/m3.
Request Access For Regular Price Update of Polylactic Acid
The boiling point of polylactic acid is 227.6 °C and its melting point is 150 to 160 °C. It has similar properties to polyethylene (PE), polystyrene (PS), and polypropylene (PP). It is made up of renewable feedstock and is a biodegradable polymer.
It is used as a raw material in 3-D printing applications and additive manufacturing processes. It is also employed in building models, components, and prototypes of solid objects.
This blog contains detailed information on the polylactic acid production process as well as regional prospects, pricing trends, key players, and market drivers.
Polylactic Acid Production Process

From Melt-Phase Polymerisation
Polylactic acid is produced by From Melt-Phase Polymerisation. In this process, glucose or dextrose is fermented to create lactic acid, which is then oligomerised and depolymerised to create lactide, a cyclic dimer of lactic acid. In the end, the lactide is polymerised to create polylactic acid.
Polylactic Acid-Producing and Exporting Countries

The top polylactic-producing countries are the United States, Switzerland, Taiwan, Pakistan, China, and New Zealand. On the other, the leading polylactic acid exporting countries are the Netherlands, Thailand, Germany, and China.
Polylactic Acid Price Trend

North America
Prices for polylactic acid in the US market were met with conflicting reactions as recession fears increased and demand strength varied. The final prices of Polylactic acid in the North American market were greatly impacted by the dramatic decrease in upstream (corn) prices.
Employment dropped slightly, due to cost-cutting initiatives, a lack of certainty over future demand, and reduced production needs. Input cost and output cost price inflation rates both decreased, therefore the overall Polylactic acid market stayed at the lower end.
Because of the nation's seasonal holidays, there was a fluctuating demand for meal delivery services for biodegradable plastics. Pricing for polylactic acid in the US market is impacted by inflation and a supply chain gap.
Asia Pacific
A lowering trend for Polylactic Acid Production costs and pricing trend was observed in the Asia-Pacific market, which was supported by the quiet Chinese market and declining demand dynamics. The constraints placed by the Chinese government on the nation's three major financial centers Shanghai, Beijing, and Wuhan have an impact on how quickly end-use (biodegradable packaging) manufacturing facilities can operate.
Towards the conclusion of the quarter, the upstream (corn) prices decreased, which had an effect on the overall cost of producing Polylactic acid. The production of the good and its demand Tell The feed supply chain from Thailand, a significant exporter, was typical because of the low demand for the item. The inventories also moved slowly. Due to the lack of trade, Chinese manufacturers had enough supply to meet local demand.
Europe
Because of the product's sluggish demand from the downstream industry, Polylactic acid's overall market dynamics remained constant. Rising inflation and commodity prices had an effect on PLA prices. Prices in Germany have changed as a result of a shift in consumer preferences brought on by the potential for an impending economic recession.
German railroad lines continue to obstruct the supply chain. Due to port congestion at many German ports brought on by labour strikes, imports of feed have been hampered by a deteriorating supply chain. The price dropped as the German market's industrial activity marginally declined. Low demand and dwindling industrial output have an impact on Polylactic acid market pricing.
Key Competitors in the market of Polylactic Acid
Evonik
NatureWorks
Futerro
Sulzer
Total-Corbion
Polylactic Acid Market Drivers

The market for polylactic acid is being stimulated by the packaging industry's rising demand for biodegradable packaging. The fact that it is a more environmentally friendly alternative to plastics like those manufactured of PLA is increasing demand for it. Additionally, it is employed in the production of a number of essential vehicle components, such as hoods and interior pieces.
Read More About Polylactic Acid Production Cost Reports - REQUEST FREE SAMPLE COPY IN PDF
Impact resistance, dimensional stability, UV resistance, high gloss, and colorability are just a few of the qualities that PLA possesses. Growing public awareness of the disposal issues with non-biodegradable films, such as mulch films used in the production of fruits and vegetables, is helping the industry gain appeal in the agricultural sector. Additionally, the strict enforcement of environmental safety laws and regulations by various governments will promote the usage of biodegradables.
About Author:
Prakhar Panchbhaiya
Senior Content Writer at Procurement Resource
Prakhar Panchbhaiya is an accomplished content writer and market research analyst. With over 4 years of experience in content creation and market analysis encompassing many industries, including pharmaceuticals, nutraceuticals, biochemistry, healthcare, ed-tech, and Food & Agriculture, he has been creating quality content for multiple sectors. He is a Biochemistry major with sturdy backing in a PG diploma in digital marketing, helping in the exhaustive content creation based on extensive research and competitive marketing.