The Need for Carbon Black and a Market Overview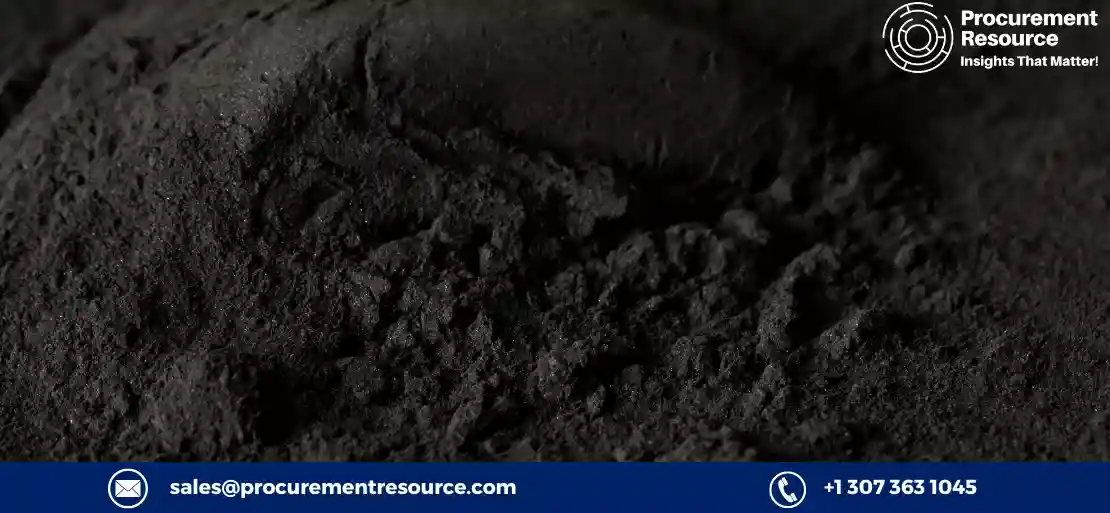 This blog provides a comprehensive overview of carbon black, including its definition, production process, industrial uses, pricing trends, and key players.
Carbon Black: Definition

Carbon black is produced by paracrystalline formation from heavy petroleum compounds. It primarily results from the incomplete combustion of petroleum products. Furthermore, lamp black, vine black, and ivory black are other names for carbon black. It contributes to the non-conductive properties of the surface and has phenol and carboxylic groups.
Versions of carbon black that have been oxidised are used more commonly in industrial settings. Remarkably, the variation is temperature-resistant. Furnace black and thermal black are the two primary and significant processes that lead to the formation of carbon black.
Carbon Black Production Process

Carbon black production primarily involves the pyrolysis of residual oil and its partial combustion at high temperatures under precisely controlled conditions to produce fine black powder. Annual industrial production of carbon black is about 1.5 million tonnes.
The commonest way for creating carbon black is the Furnace Black method, which involves partially combusting raw materials. In this process, a residual chemical from petroleum distillation or cracking is heated in a furnace.
Request Access For Regular Price Update of Carbon Black
Due to its production, carbon black also falls under the categories of thermal black, channel black, acetylene black, and lamp black. The varying appearances of carbon black are caused by the many ways it is produced as well as the reactor settings employed in each approach.
Despite the fact that the size of the particles generated by some processes or circumstances may range from 10 nm to 500 mm, in other circumstances, the size may still vary substantially. Various grades of carbon black are ultimately produced after the agglomeration and chaining of particles.
Industrial Uses of Carbon Black

The industry is growing as a result of the product's varied applications. Owing to its physical properties, including colour, stability, solvent resistance, and heat stability, it is heftily used in the paint and coating industry. In the aerospace, automotive, marine, decorative wood, and industrial sectors, it is utilised to offer coating pigmentation, UV protection, and thermal conductivity. Inkjet printers and artwork use it as a pigment as well.
In the creation of polymers, it is frequently and robustly employed. Pipes, films, stretch wraps, commercial bags, image storage containers, and composite semi-conductive cable materials are some of the plastic goods used as fillers.
It boosts the performance of plastic items by offering them resilience, thermal conductivity, antistatic characteristics, and UV protection. The aforementioned factors will likely cause the industry to expand.
Carbon Black Prices: Market Trend and Forecast

North America
Market instability was recently observed by carbon black because of continuing production challenges and growing costs. The large hike in oil prices and the rise in the cost of raw materials also compelled businesses to decide to raise pricing.
Price hikes for all significant grades of carbon black have been announced by Orion Engineered Carbons and Cabot Company, respectively.
Increasing operating expenses, environmental protection initiatives, rising feedstock costs, and new expenditures needed to guarantee a steady supply of the product on the market all contributed to the price hike.
Asia Pacific
Recent price increases for carbon black in the Asia-Pacific region have been sustained by strong downstream demand from the automotive and tyre industries as well as growing raw material costs. In the market under consideration, the price of coal tar as a raw material was skyrocketing with significant cost-side support. Since the majority of businesses that produced it lost money and lacked the motivation to open new plants, there was a shortage of Carbon Black.
The demand from the tyre industries lagged behind due to how poorly they performed on the domestic market, despite market domination by the supply side that increased the price of carbon black.
Europe
Similarly,, the price of imports from South Korea and the USA in recent years has driven up the market value of carbon black in Germany. The Russia-Ukraine conflict caused Russian carbon black exports to stop to countries in Europe.
As a result, Europe began importing Carbon Black at significantly higher costs from South Korea and the USA, which ultimately increased the substance's worth on the German domestic market.
Read More About Carbon Black Production Cost Reports - REQUEST FREE SAMPLE COPY IN PDF
Moreover, berth delays, vessel bunching, and congestion in a number of German ports in September hindered the supply chains and reduced the number of goods available on the market.
Orion Engineered Carbons also disclosed price increases for all significant grades of carbon black. The rise in carbon black production cost also had an impact on the price increase.
Key Industry Players
Cabot Corporation
Orion Engineered Carbon
Jiangxi Black Cat Carbon Black Inc., Ltd.
China Synthetic Rubber Corp.
Birla Carbon
About Author:
Prakhar Panchbhaiya
Senior Content Writer at Procurement Resource
Prakhar Panchbhaiya is an accomplished content writer and market research analyst. With over 4 years of experience in content creation and market analysis encompassing many industries, including pharmaceuticals, nutraceuticals, biochemistry, healthcare, ed-tech, and Food & Agriculture, he has been creating quality content for multiple sectors. He is a Biochemistry major with sturdy backing in a PG diploma in digital marketing, helping in the exhaustive content creation based on extensive research and competitive marketing.