The Market Overview of Maleic Anhydride and its Growing Demand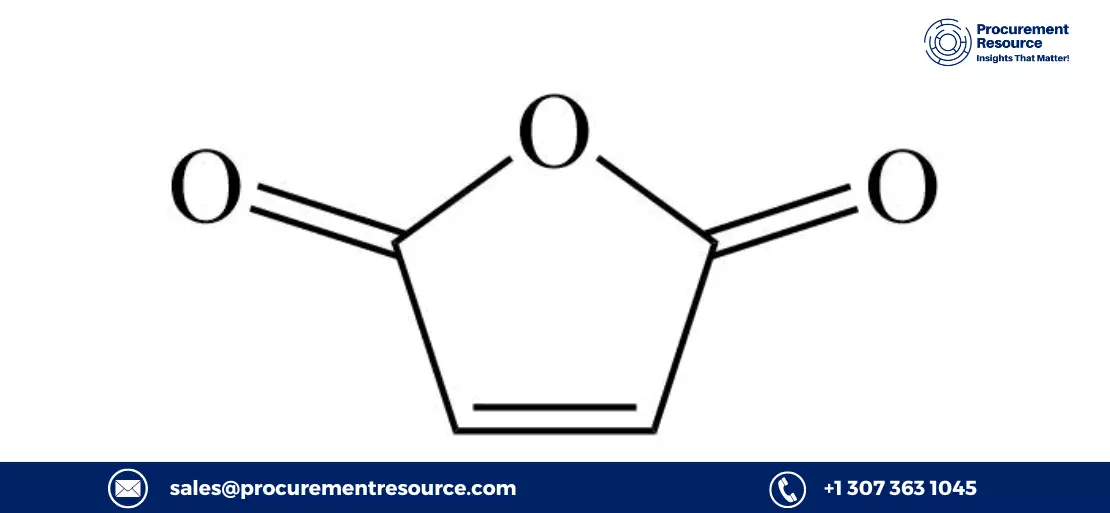 Maleic Anhydride is a white, crystalline solid and has a quite unpleasant odour. Maleic anhydride has a structure that includes two acid carbonyl groups, and a double bond, and is suitable for a variety of industrial uses. It comes from organic malic acid. In the 1830s, maleic and fumaric acids as well as the first maleic anhydride were created.
Request Access For Regular Price Update of Maleic Anhydride
In both methods, butane and benzene are added to a hot air stream, heated to considerably higher temperatures, and then allowed to flow through a catalyst bed. The butane approach uses vanadium phosphate as a catalyst, while the method that involves benzene method uses vanadium pentoxide and molybdenum trioxide.
This blog contains detailed information on the maleic anhydride production process, pricing trends, key competitors, recent advancements, and market drivers.
Production Process of Maleic Anhydride

From Butane through Partial Oxidation
Maleic anhydride is produced by partially oxidising butane in a fluid-bed reactor with vanadium phosphate as the catalyst. Maleic anhydride is then separated from the reactor's effluent using a solvent-based recovery system.
From Benzene
During the process, oxygen is combined with benzene in a fixed-bed reactor in the presence of the catalysts vanadium pentoxide and molybdenum trioxide. Next, maleic anhydride is separated from the reactor's effluent using an aqueous-based recovery system to produce maleic anhydride.
Maleic Anhydride Price Trend

North America
Due to shifting upstream (benzene) prices in the local market, the price of maleic anhydride kept going down in the US market. Due to China's COVID shutdown limits, the demand outlook and import activity were both restrained. Despite the strong dollar rate, the inflation rate remained on the higher side, which led to a decrease in the new order quantity and low maleic anhydride production cost.
Additionally, the fraternity of Railroad Signalmen union members abstained from voting for government rules and refused to engage in negotiations with the US government representatives. Storm Elliot wrecked devastation in some areas of the region and reduced demand from butanediol and coating businesses, which control the North American market's overall demand for maleic anhydride.
Asia Pacific
Malic anhydride's general market dynamics in the Asia-Pacific region remained weak since the main exporting nation (China) was subject to COVID protocols and the demand-supply chain was constrained.
The ultimate prices of maleic anhydride in the regional market were determined by the drop in feedstock (benzene) prices in the local market.
The benzene-producing facility of the CNOOC Daxie Petrochemical, located in Zhejlang, China, had been shut down for repair. The regional market's demand for maleic anhydride from the coating and butanediol-producing plants remained underwhelming.
Europe
As fewer inquiries about the commodity were made to the suppliers in the European region, the market prices for maleic anhydride demonstrated stable market sentiments.
The global market pricing for maleic anhydride remained steady despite the ongoing decline in feedstock (benzene) prices from the exporting countries (South Korea).
The operational and demand forecasts were poor given the high rate of inflation and the high cost of electricity. Prices started to rise again as regional market purchasing power increased modestly and eurozone company activity increased.
Prices for maleic anhydride somewhat decreased as freight costs decreased and stockpiles were available to meet domestic demand.
Key Market Players:
Lanxess AG
Huntsman Corporation
MOL Group
Nippon Shokubai Co., Ltd
Recent Developments
June 2022: In order to increase its production capacity and meet the demands of the expanding automotive and electrical industries, Polynt announced its expansion project. The company plans to construct a new esterification plant at its site in Atlacomulco, Mexico, where it will produce plasticizers, primarily trimellitates.
November 2021: To produce specialty goods like polyester resins and surface coatings, plasticizers, agrochemicals, and lubricant additives, IOC announced that it would spend Rs 3,681 crore (USD 446.20 million) to build a mega-scale Maleic Anhydride facility with a capacity of 12,000 tonnes annually.
Market Drivers

The market for maleic anhydride is expanding quickly as a result of the rising sales of passenger and commercial vehicles. The demand for automotive composites such as closure panels, grille opening Reinforcement, heat shields, body panels, fenders, headlight reflectors, and pick-up boxes is also increasing because the maleic anhydride market is a crucial component in UPR.
Read More About Maleic Anhydride Production Cost Reports - REQUEST FREE SAMPLE COPY IN PDF
It is also employed in the production of lubricant additives including pour point reducers, viscosity index enhancers, and dispersants. As a result, the market is developing as a result of the increasing number of car sales. Additionally, the market is expanding as a result of the quick development in the motorisation industry together with rising disposable income and industrial development.
About Author:
Prakhar Panchbhaiya
Senior Content Writer at Procurement Resource
Prakhar Panchbhaiya is an accomplished content writer and market research analyst. With over 4 years of experience in content creation and market analysis encompassing many industries, including pharmaceuticals, nutraceuticals, biochemistry, healthcare, ed-tech, and Food & Agriculture, he has been creating quality content for multiple sectors. He is a Biochemistry major with sturdy backing in a PG diploma in digital marketing, helping in the exhaustive content creation based on extensive research and competitive marketing.