Refined Sugar - Production, Demand and Consumption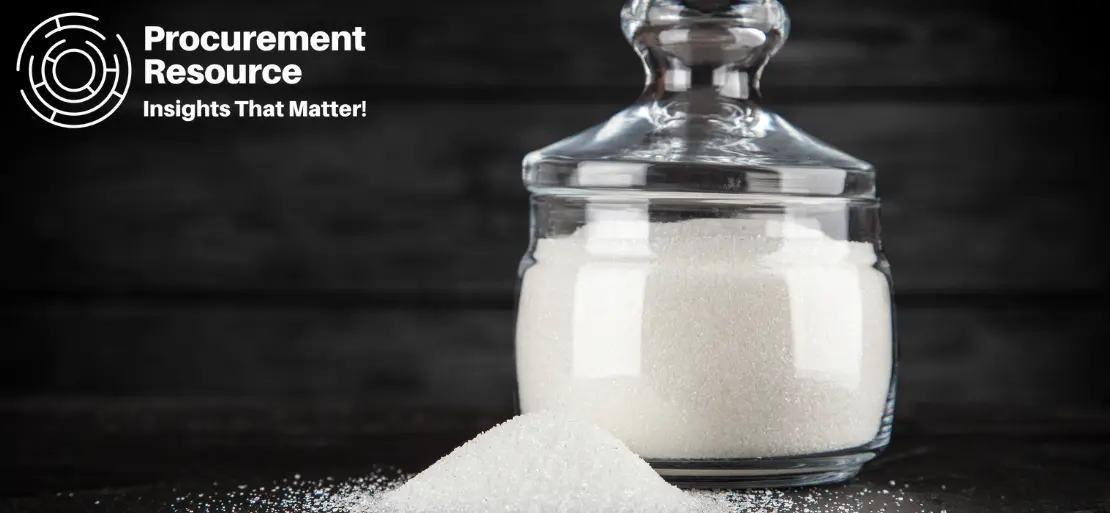 Refined sugar is extracted from sugarcane or beets, which are later processed from the original state to derive sugar. Usually, it is in the form of sucrose, a mix of fructose and glucose. Refined sugars lack nutrients such as vitamins, minerals, and fibre. They are digested quickly, which results in a blood sugar spike and quickly result in the feeling of sluggishness due to an absence of satiety.
These extracted sugars, whether white or brown, are added to sweeten various food and beverage products such as cereals, cakes, coffee etc. Food manufacturers use it as a chemically produced sugar, usually high-fructose corn syrup, to flavour yoghurt, salad dressing, and crackers, among others.
Raw sugar to be used in the production reaches the refinery after already going through a purification stage at a mill where it is crushed, soaked, simmered, and rotated but is still full of impurities. In the next step, the natural sugar is melted, mixed, and dissolved in warm water till the proper concentration is reached. After that, brushes and strainers eliminate any colouration and impurities, producing sugar syrup.
Request Access For Regular Price Update of Refined Sugar
Calcium hydroxide (milk of lime) is added to the obtained liquid sugar and warmed until it reaches the carbonator's boiling point. The vessel then adds carbon dioxide to the mix. The reaction within the gas and lime forms fine calcium carbonate crystalline particles, which takes out the present impurities, like wax, amino acids, and gums.
The derived honey-coloured mix is now filtered to a pale-yellowish liquid. Additional impurities and the suspended calcium carbonate are released using de-sugaring and pressure filters. This process results in a press-cake with a low sugar content prepared for the refinement stage.
The liquid is run through water which produces small granules that are clear and ready for further refinement. Next, the liquid undergoes vacuum pans for concentration and crystallisation.
After going through several evaporators, the crystallisation process starts, which results in crystallised sugar and a residual mother liquid, which is further concentrated to procure molasses, a heavy and dark liquid. These two products are separated at high speeds to make golden syrup and other low-grade sugar products. The wet sugar is dried in a granulator, graded and finally packed for sale.
Read More About Refined Sugar Production Cost Reports - REQUEST FREE SAMPLE COPY IN PDF
Refined sugar is trading at a 10-year high, with demand continuing to expand. Refineries are unable to keep up with demand and struggling to procure sufficient supplies. The market is among a few that is still propelling. The market is facing tight supply issues along with high prices for the commodity caused by factors like insufficient beet sugar supplies and logistics problems, among others.
Beet processors need to run at a higher capacity to fulfil the orders. The traders buy stock early and store it to sell the stocks at higher prices during the late half of the year. Food manufacturers are located near cities with larger populations for convenience, and they take delivery orders every month or quarter (3 months), depending upon the requirements. However, spot sugar prices are close to or exceed their 50-year highs.
About Author:
Prakhar Panchbhaiya
Senior Content Writer at Procurement Resource
Prakhar Panchbhaiya is an accomplished content writer and market research analyst. With over 4 years of experience in content creation and market analysis encompassing many industries, including pharmaceuticals, nutraceuticals, biochemistry, healthcare, ed-tech, and Food & Agriculture, he has been creating quality content for multiple sectors. He is a Biochemistry major with sturdy backing in a PG diploma in digital marketing, helping in the exhaustive content creation based on extensive research and competitive marketing.