China Imported 1.12 billion tonnes of Iron Ore in 2021, Lower than the Previous Year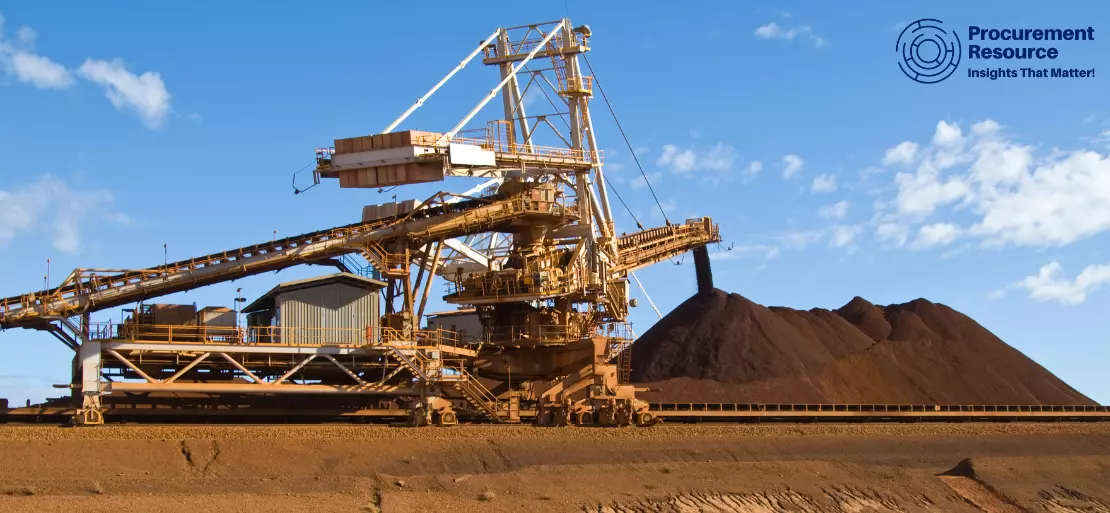 As steel production limitations enforced to tackle pollution dampened demand and knocked prices of the primary steelmaking commodity off historic highs, China's iron ore imports fell by 4.3 percent in 2021, compared to the previous year's record annual high.
According to figures given by the General Administration on Friday, the world's largest iron ore consumer imported 1.12 billion tonnes of the commodity last year, compared to 1.17 billion tonnes in 2020. Furthermore, China purchased 86.07 million tonnes of the raw material in December, a decrease of 18% from November.
In the first five months of 2021, China consumed iron ore at a high rate, bolstered by solid steel production as mills profited from a revival in demand following the initial waves of the COVID-19 pandemic.
On the other hand, imports began to fall on an annual basis as authorities pressed steel mills to cut production to meet a yearly target of keeping crude steel production constant. In addition, construction activity has affected demand for industrial metal downstream since it was halted.
The raw material sector is the bedrock of the real economy and a critical component of the national economy's growth. According to the plan mutually drafted by the Ministry of Industry and Information Technology (MIIT), the Ministry of Science and Technology, and the Ministry of Natural Resources, China is crucial for gaining international competitive advantages. Therefore, issues, such as insufficient safeguards for critical strategic resources, must be addressed immediately.
Compared to the previous year, China's iron ore imports dropped roughly 10% from June to December 2021. As a result, by the end of December, standard iron ore futures prices on the Dalian Commodity Exchange had dropped 45 percent from their record of 1,239 yuan a tonne in May.
Zhuo Guiqiu, an analyst with Jinrui Capital, stated that for 2022, the iron ore supplies would be stable from prominent miners. However, the requirement is primarily settled by the authorities' policy towards steel production controls.
According to the government-backed consultancy, iron ore imports are likely to drop to around 1.08 billion tonnes due to decreased steel output and higher utilisation of steel waste in 2022.
As per the customs data released last Friday, the country's steel product exports surged 24.6 percent to 66.9 million tonnes in 2021 from a year earlier, despite Beijing urging mills and merchants to maintain supplies for the domestic market. According to the customs, China's steel imports dropped 29.5 percent to 14.3 million tonnes in 2020.
China is the world's largest user of seaborne iron ore, consuming over 70 percent of worldwide output. According to SteelHome consultancy statistics, imported iron ore reserves in Chinese ports increased to 155.4 million tonnes in December 2021, the biggest since July 2018.
China imported more than 80 percent of its iron ore requirements in 2020, with roughly 60 percent of that coming from Australia. Although, the country's highly treasured economic security is jeopardised by its significant reliance on imported steelmaking components.
While dropping steel inventories in China may indicate improved downstream demand, Westpac senior economist Justin Smirk remarked in a note that current levels were still five years high, implying that it will take a long time before it involves a constricted market. According to him, iron ore prices may reach USD 75 per tonne by the end of 2022 since China's strict steel output curbs to reduce emissions are expected to continue.

Beijing has long been critical of Rio Tinto, BHP, and Vale, who control the global iron ore price structure. Before prices rose to a record high in May, China's steel industry body demanded an explanation from BHP about the rising cost of iron ore in December 2020. However, given deteriorating diplomatic relations, Beijing has made no effort to limit shipments of Australian iron ore.
The government of China said that the country needs to promote international cooperation in mineral resources while optimising the structure and allocation of outbound investment to improve the ore operating market system and form an open, transparent, fair, and reasonable pricing system.
Based on the content, mining cost, and volume, iron ore from China is cheaper than Australian or Brazilian products. Because of this reason, authorities are planning to raise the funding for exploration and utilize tax inducements to boost the expansion of low-grade native ores.