Gazprom Threatens to Curb European Union Gas Supply From November 29th Onwards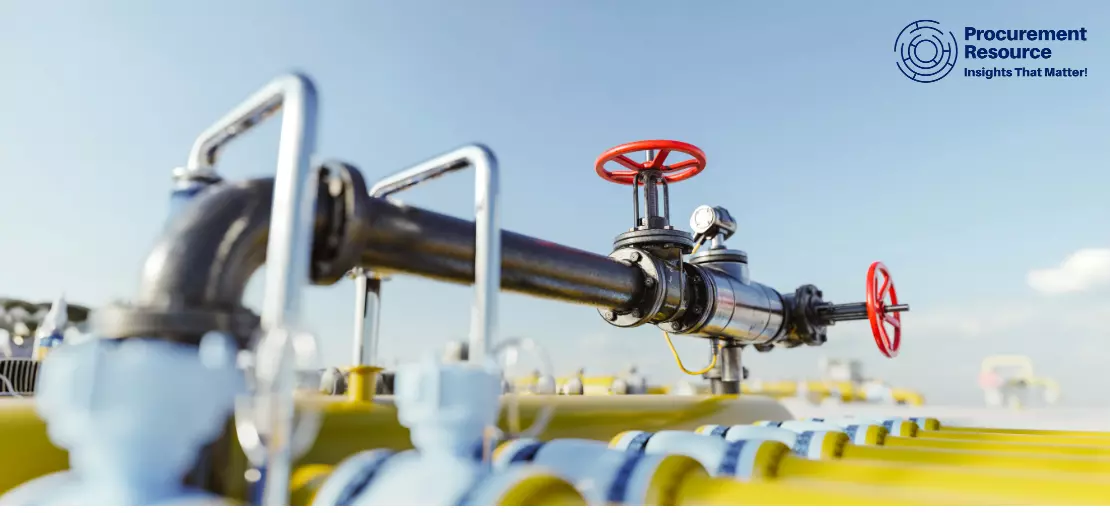 On Tuesday, it was stated by Russia's Gazprom that it could start lowering the supply of natural gas to Europe through Ukraine starting Monday after detecting that some portions of the volumes via Ukraine are not reaching Moldova.
According to Gazprom, the gas company of the poorest European country, Moldovagaz, was reimbursed for some of its gas flow under its November contract. Adding to that, it stated that almost 25 million cubic meters were already delivered during the month but still needed to be paid for.
Moldova and Ukraine together attacked Gazprom, with Ukraine claiming that all supplies sent by Russia via the country were "fully transferred" to Moldova.
Request Access For Regular Price Update of Natural gas
Ukraine's Gas Transmission System Operator, Olha Belkova, stated that this was not the first incidence in which Russia resorted to using gas as a political tool. As per the Operator, this is an act of gross manipulation of facts to explain the judgement to limit the gas volumes supplies even more to countries in Europe.
This is the most recent escalation following Russia cutting off the majority of its natural gas flows to Europe in the middle of a war with Ukraine, which is being termed by the European leader as energy blackmail, and Gazprom has accused it of payment and maintenance issues. Except for the pipeline via Ukraine, another channel is continually bringing gas from Russia to Turkey beneath the Black Sea.
Russia continues to supply some gas to Europe through pipelines, using one transit path via Ukraine and through TurkStream. More volume reductions followed when the temperatures in Europe dropped to seasonal or below-seasonal levels after warmer-than-usual October and semi-November allowed the EU to load up its storage of natural gas.
At the moment, Gazprom states that it detected some amount of gas meant to be sent to Moldova as per a contract with the local gas firm is being stalled by Ukraine. Gazprom stated that if the discrepancy in gas transit persists, they will be forced to reduce gas flows via Ukraine starting November 28 morning, as per reported by the Russian news agency TASS.
The Energy Crisis Affects Moldova Considerably
Moldova has been especially hit by the energy crisis, with Russia limiting its natural gas supply and Moscow attacking the energy infrastructure in Ukraine, causing massive blackouts in various cities in the former Soviet republic.
Moldova considerably depended on Russian energy prior to the war, and its Soviet-era energy systems are still linked with Ukraine, which is the reason behind the missile barrages setting off the automatic shutdown of a supply line and causing a temporary light out.
Paired with high inflation and energy prices, the risk of losing more energy supplies to Moldova could lead to consumers barely being able to pay their bills in a country of around 2.6 million.
Situation in Europe
Following the announcement by Gazprom on Tuesday, the benchmark gas prices in Europe rose by 2%.
Europe is somewhat ready to tackle this winter with almost complete gas storage sites along with a steady LNG import flow. Yet, decreased Russian gas supply (despite Europe's efforts to prepare for the possibility) would exhaust gas in storage levels during the winter.
The main worry regarding Europe's gas supply is that for the winter after that, Europe's top executives for its most significant oil and gas majors stated just before the start of the heating season.
Before the 2023/2024 winter, the gap in Europe's gas supply will be much broader in the absence of Russian gas. Europe will be avoiding much of Russian gas imports- or none at all in case Russia decides to ban the deliveries through the one link still operating via Ukraine and via TurkStream-in contrast to somewhat steady Russian imports during the early part of the year prior to Moscow's gradual reductions in volume in June via Nord Stream till the shut down of pipeline in early September took place.
Read More About Natutral Gas Production Cost Reports - REQUEST FREE SAMPLE COPY IN PDF
Procurement Resource article sheds light on the recent threat by Gazprom to lower natural gas supply to Europe as it detected that some portions of the volumes via Ukraine are not reaching Moldova (the poorest country in Europe). As a clap back to the situation, Gazprom threatened to lower supplies.
At the same time, Ukraine denies the accusations and states that this is an act of gross manipulation of facts to explain the judgement to limit the gas volume supplies even more to countries in Europe. Meanwhile, Moldova has been especially hit by the energy crisis as it considerably depended on Russian energy.