Gold and Silver Rates are Rising as the Safe-Haven Demand Increases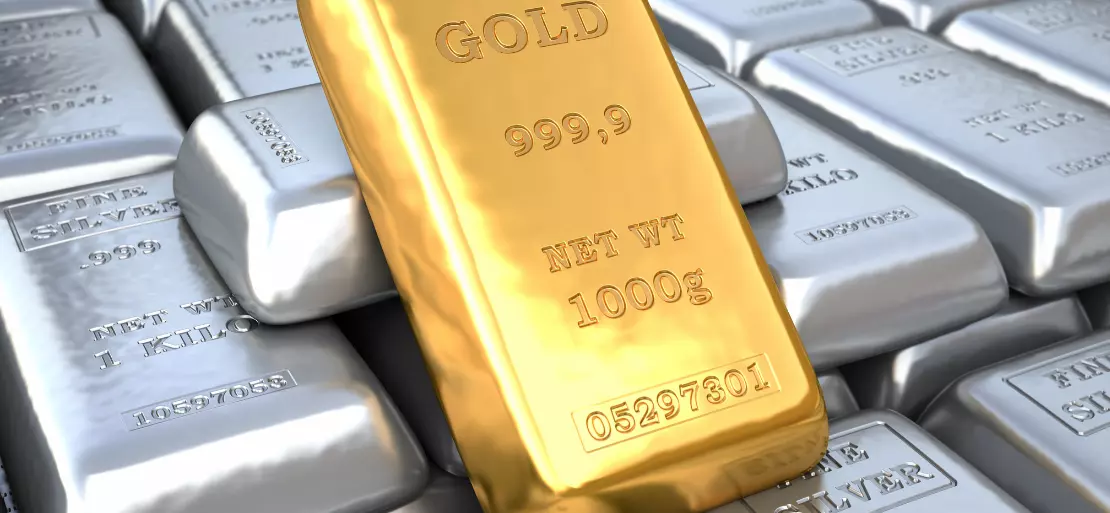 On Monday, gold and silver futures rose with international spot rates. Gold futures for delivery on June 3 were last spotted 1.04 percent higher at INR 53,542 on the Multi Commodity Exchange (MCX), compared to the previous closing of INR 52,992. Silver futures, which will be delivered on May 5, were last viewed 1.40 percent higher at INR 69,995 versus INR 69,032. According to Mumbai-based industry group India Bullion and Jewellers Association, domestic spot gold with a purity of 24 carats opened at INR 53,590 per 10 grammes today, and silver at INR 69,910 per kilogramme - both rates excluding GST (goods and services tax) (IBJA).
Gold prices increased Wednesday as the conflict between Russia and Ukraine worsened risk sentiment and drew investors to the shelter of gold. Gold was trading at USD 1,985.11 per ounce, up 0.53 percent. Gold futures were up 0.71 percent at INR 1,985. During geopolitical and economic crises, gold is seen as a secure store of value. ShareIndia's Vice-President and Head of Research, Ravi Singh stated that gold is enticing as a safe-haven due to growing prices and uncertainty in the Russian-Ukraine conflict. A scenario for a further rally in gold price remains intact if the two reasons continue to dominate the market attitude. Every drop is an excellent opportunity to go long.
India's gold consumption hyped to 797.3 tonnes in 2021, owing to improved consumer optimism and pent-up demand following the Covid-19-related disruptions. The optimistic trend is approximated to continue this year (WGC). According to the WGC's Gold Demand Trends 2021 Report, India's overall gold demand increased by 78.6 percent to 797.3 tonnes in 2021, up from 446.4 tonnes in 2020. Given global concerns about inflation, interest rates, and geopolitical developments, he believes Covid-19 and its future variations will remain a factor to watch this year, as will gold price changes.
Somasundaram estimates that overall gold demand for 2022 will be around 800-850 tonnes if the current scenario continues without significant disruptions. The research also stated that jewellery demand in 2021 increased by 93 percent to 610.9 tonnes, up from 315.9 tonnes in 2020. Gold jewellery consumption doubled year over year in 2021, leaping through pre-pandemic levels to reach a six-year high following a record fourth-quarter demand of 265 tonnes, fueled by weddings and festival season, Somasundaram said.
Jewellery demand increased by 96 percent, from INR 133,260 crores in 2020 to INR 261,140 crores in 2021. Economic development, he added, changed consumer sentiment dramatically in the second half, spurring spending and investments across the board during festivals like Dussehra and Dhanteras, thanks to the relaxing of lockdown restrictions and the successful progress of the vaccination programme.
Meanwhile, overall investment demand for 2021 grew by 43 percent to 186.5 tonnes from 130.4 tonnes in 2020, while the need in value terms surged by 45 percent to INR 79,720 crores from INR 55,020 crores in 2020, according to the research. However, total gold reclaimed in India fell by 21 percent in 2021, to 75.2 tonnes, down from 95.5 tonnes in 2020. In 2021, India's total gold revenue rose by 165 percent to 924.6 tonnes, up from 349.5 tonnes in 2020.