Low Iron Ore Demand in China Resulted in Price Fall Below USD 100/tonne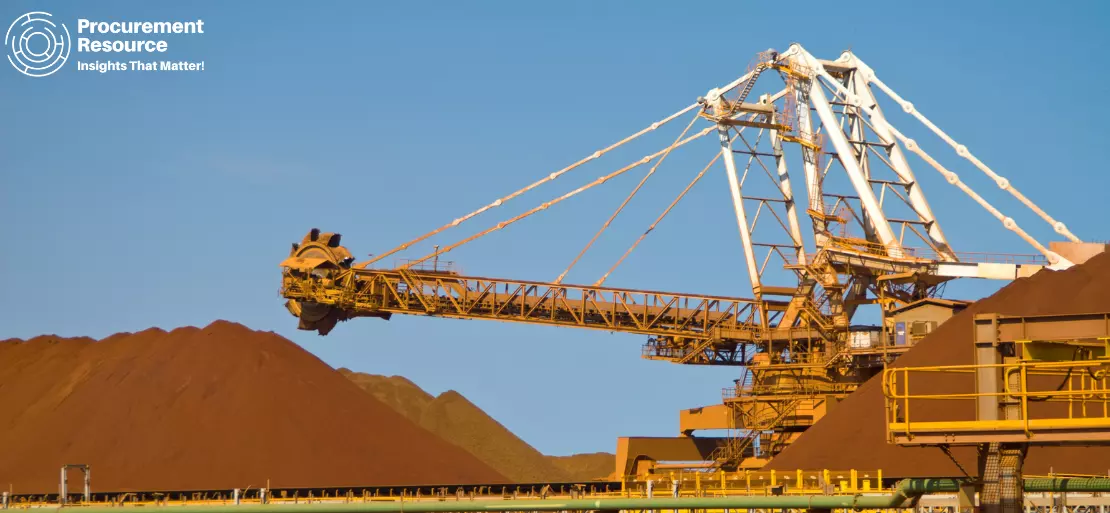 For the first time since July 2020, iron ore prices have fallen below USD 100 a tonne, as China, the world's largest steelmaker, tightened steel output controls to reduce carbon emissions. The major steel-making component has been dragged down by signs of a downturn in China's housing industry. Iron ore prices have slumped by more than half since reaching a high of USD 230 per tonne in May. So far, in 2021, it has lost 34 percent of its value.
Iron ore is one of the worst-performing essential commodities this year due to its price decline. This is in stark contrast to its strong performance last year when it gained 80 percent. Iron ore prices rose owing to a combination of China's enormous infrastructure stimulus to recover from the pandemic-induced depression, which increased demand for the metal and supply concerns in Brazil due to the coronavirus epidemic.
Following a record high of USD 230 earlier this year, iron ore prices began to fall as China tightened its grip on the steel sector. Due to its high energy consumption and antiquated technology and equipment, it is one of the country's top priorities polluters. As a result, China has instructed steel manufacturers to restrict output this year to minimise carbon emissions.
China has reaffirmed its commitment to achieving carbon neutrality by 2060. The country plans to tighten industrial controls to cut pollution and ensure cleaner air for the 2022 Winter Olympics, held in February. This will hurt iron ore demand for the rest of the year.
According to China's National Bureau of Statistics, the country's monthly crude steel output fell 13.2 percent year over year in August, falling for the third month in a row to 83.24 million tonnes. The lowest average daily production since March 2020. This indicates the impact of steel mills implementing output limitations.
Iron ore prices have been impacted by signs of a downturn in China's housing industry. Property investment in the country increased only 0.3 percent year over year in August, the worst pace in 18 months. Due to tighter financing circumstances, it is lower than the 1.4 percent increase seen in July.
China's new house prices climbed at the slowest rate in months as officials worked to calm a sweltering real estate market, and cooling measures were likely to keep home prices rising in check in the future. Issues also beset China's property sector at Evergrande Group, the country's second-largest property developer. It is the world's most indebted property developer, owing more than USD 300 billion in obligations and on the verge of missing an interest payment due this week.
On September 17, China Evergrande's Hong Kong-listed shares plunged 10.24 percent, highlighting concerns about the health of China's real estate sector, and sparking a more significant sell-off. Iron ore producers like Rio Tinto plc RIO, BHP Group BHP, Vale S.A. VALE, and Fortescue Metals Group Ltd. FSUGY have seen their shares fall 6.8 percent, 13.8 percent, 8.9 percent, and 22.9 percent in the last month due to the drop in iron ore prices. Currently, all these stocks have a Zacks Rank of #5 (Strong Sell). Lower iron ore prices are projected to influence company performance in the current quarter.
Nonetheless, the rest of the world's demand will help these miners. The steel industry is showing potential, as demand in the building and industrial sectors worldwide remains strong. Steel prices are continuing to rise, boosted by increased demand in key countries, tight supply circumstances, and low steel stockpiles across the supply chain.
As per the World Steel Association, steel demand is expected to rise 5.8 percent to 1,874 million tonnes in 2021. Steel consumption is predicted to rise 2.7 percent to 1,924.6 Mt in 2022.
China's steel demand is anticipated to expand 3.0 percent in 2021 but then fall 1 percent in 2022 due to increased environmental pressure. Meanwhile, steel demand in advanced economies would increase by 8.2 percent and 4.2 percent in 2021 and 2022, respectively.
Steel demand will be fuelled by the global rebound in the automotive and construction industries. Massive government expenditure to repair infrastructures in the United States, such as railroads, highways, and bridges, will dramatically increase steel consumption, driving the need for iron ore.