Soybean Prices in the United States are Expected to Grow, Due to Significant Exports and Low Stockpiles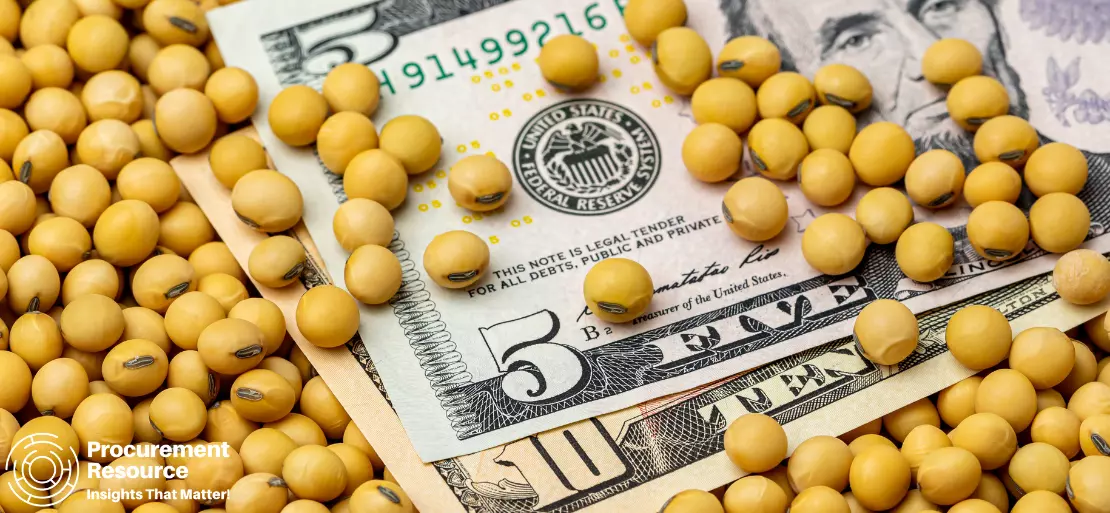 According to the US Department of Agriculture (USDA), the estimated jump in soybean prices is primarily due to the larger export volume planned in 2020-21, with exports forecast at 59.87 million mt, up 31 percent year on year. The soybean farmers in the United States have had a great start to the 2020-21 marketing year, as they have been able to sell large volumes of the oilseed. The USDA's weekly export data revealed that cumulative total export sales for 2020-21 US soybeans were 53.8 million mt as of December 10, compared to 18.8 million mt in 2019-20.
Analysts predict that soybean export forecasts for 2020-21 will be revised higher in the upcoming WASDE due to stronger-than-expected export sales. Between September 1 and December 10, US soybean producers sold 89.9 percent of the total 2020-21 planned exports, compared to 66.6 percent on average over the previous five years.
On December 17, the CBOT soybean futures prices closed above the USD 12/bu benchmark for the first time since June 2014, owing to strong demand. Agricultural specialists believe that the current increase in soybean prices will be durable in 2021 since it is a demand-driven surge that is typically resilient. According to the USDA, China was a ravenous buyer of US soybeans in 2020-21, accounting for almost 58 percent of total export sales through December 10, up to eight percentage points from the previous year.
China is expected to maintain its strong purchasing of the oilseed in 2021, as the country is expected to fully recover from African swine fever disease in the first half of the year, according to JCI China, a Shanghai-based agricultural consultancy. Over 80 percent of imported soybeans are processed into animal feed in China.
ASF, which erupted in August 2018, caused the world's leading pork producer and consumer to lose more than half of its swine population. The Chinese agricultural ministry stated that China's swineherd recovery reached 90 percent of the pre-ASF level as of November 30, thanks to a gradual trend of pork sector consolidation that has resulted in better swine inventory management and biosecurity controls.
Despite the expectation of increased supply in 2020-21, economists forecast rising domestic crushing and reduced ending stockpiles to sustain US soybean prices in 2021. The USDA predicts a 17 percent increase in bean production to 113.5 million mt in 2020-21, owing to a 6 percent increase in yield to 50.7 bu/acre and an 8 percent increase in acreage to 83.1 million acres. According to the USDA, monthly peaks in soybean crush have been recorded in the last ten months, except August, by large margins. Because of increased crush consumption, the US soybean carryout is expected to drop to a seven-year low of 4.76 million mt in 2020-21, as per the latest WASDE data.
Analysts stated that increased biodiesel purchases have bolstered demand for soybean meal-based animal feed, while thriving meat exports have also boosted soybean oil sales. As a result, the USDA has raised its forecast for the average soybean meal price in 2020-21 to USD 370/mt, while the average soybean oil price was expected at 36 cents/lb, up 6.35 cents from the previous year.
The destiny of the US-China Phase 1 trade agreement, which was signed on January 15, is projected to be precarious in 2021 under President-elect Joe Biden, who views it as a failure and has urged for a complete review of the deals, according to analysts. After, 18 months of retaliatory tariffs, China signed the Phase 1 trade agreement, promising to buy USD 200 billion in US commodities, energy, and services over the next two years, including USD 80 billion in agricultural items.
According to a Chicago-based agriculture consultant, US soybean export sales to China between January 1 and December 10 totalled 31 million mt, falling short of the Phase 1 target for the first year by at least 12 million mt. China has only acquired 55 percent of the year's one objective for all covered products over the first ten months. Analysts say Beijing's slow purchasing pace, combined with long-standing bilateral trade difficulties like technology transfer and intellectual property theft, might be stumbling obstacles for the US-China Phase 1 trade agreement in 2021.