Regional Price Overview
Get the latest insights on price movement and trends analysis of Almond Oil in different regions across the world (Asia, Europe, North America, Latin America, and the Middle East & Africa).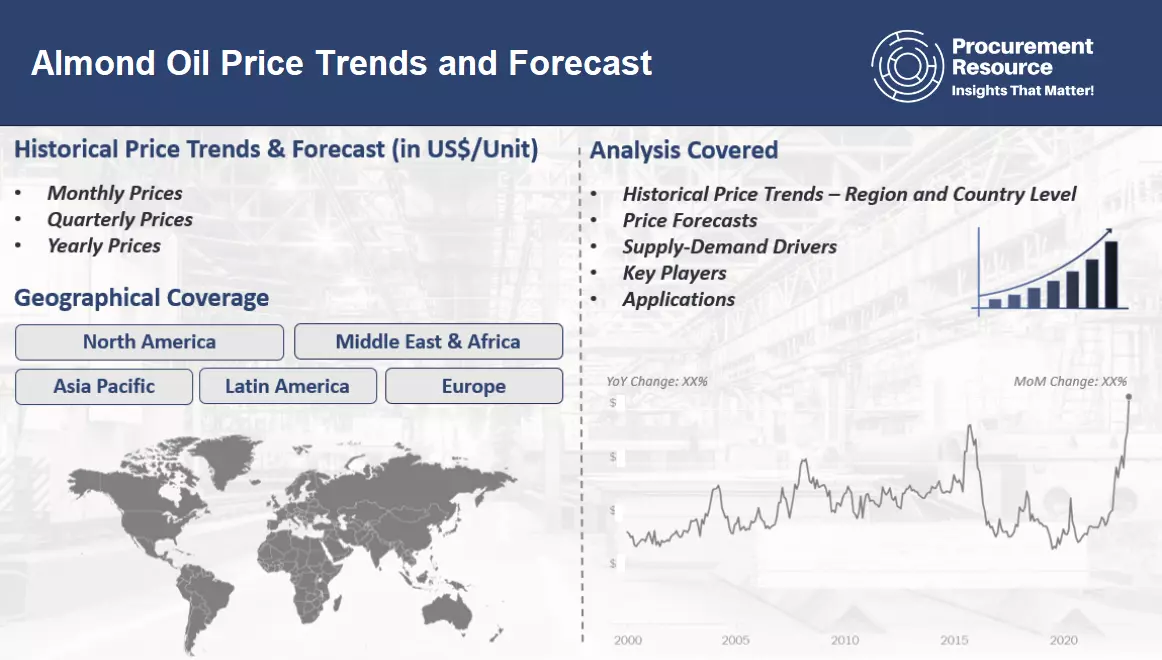 Almond Oil Price Trends for the First Half of 2023
Almond Oil is directly sourced from almonds through cold press extraction or oil milling processes. So, any fluctuations in almond markets are also mirrored in the Almond Oil markets.
During the first half of the year 2023, the Almond Oil prices were observed to be inclining for the majority of the period. The unseasonal weather changes in America, leading to drought and constricted water supplies, were the biggest detrimental factor for almond yields.
Initially, the demands from downstream cooking, health care, personal care, and pharma sectors were regular; however, with increasing inflation and Almond Oil prices, the demands also took a hit. However, the prices majorly wavered at the higher end of the price spectrum for most of the discussed period because of the limited supplies. Overall, positive market sentiments were observed for Almond Oil during the said period.
Analyst Insight
According to Procurement Resource, the Almond Oil price trends are likely to continue rising because of the supply crunch in the consumer market.
Procurement Resource provides latest prices of Almond Oil. Each price database is tied to a user-friendly graphing tool dating back to 2014, which provides a range of functionalities: configuration of price series over user defined time period; comparison of product movements across countries; customisation of price currencies and unit; extraction of price data as excel files to be used offline.