Regional Price Overview
Get the latest insights on price movement and trends analysis of Alpha-Terpineol in different regions across the world (Asia, Europe, North America, Latin America, and the Middle East & Africa).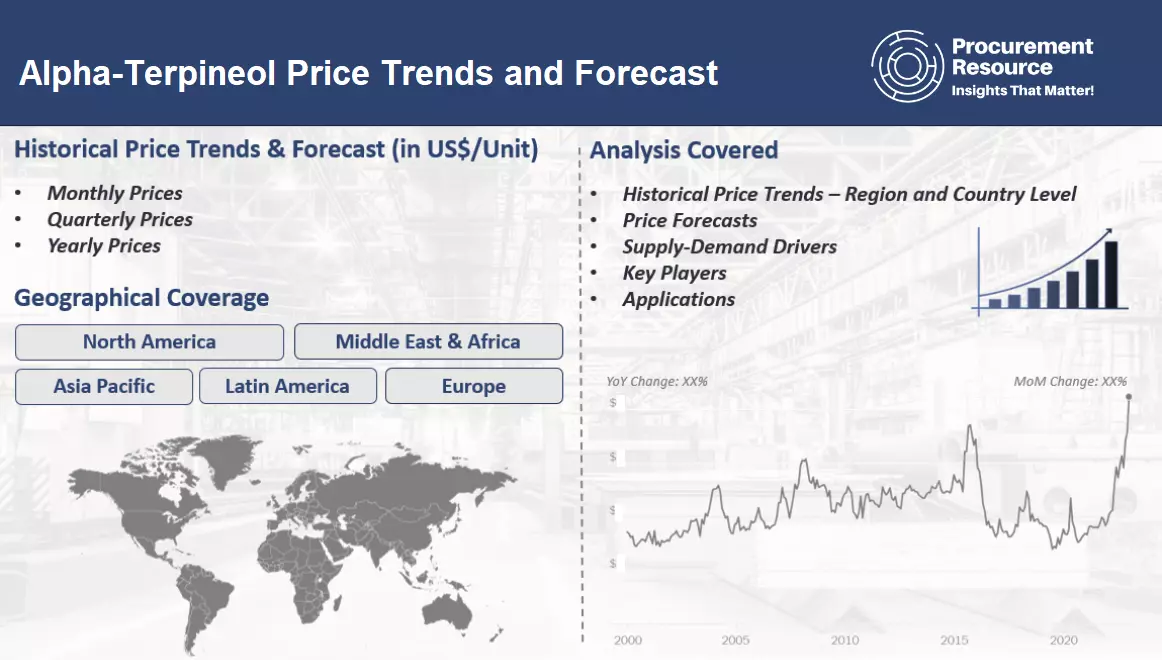 Alpha-Terpineol Price Trends for First Half of 2023
Asia
The alpha-terpinol price trends declined in the first quarter of 2023 on account of the low purchasing potential of consumers. This caused the gap between supply and demand to widen as the supply exceeded the demand from the end-user industries. In the second quarter, the dynamics improved as the market gained momentum with the help of a surge in sales of downstream industries.
The production rates of alpha-terpineol were not able to keep up with the procurement rates, which also played a significant role in the rising trajectory of alpha-terpineol prices.
Europe
The first quarter suffered from an excess of supplies that pushed the level of inventories to incline amid weak demand from the end-user industries in the first quarter of 2023. The region also struggled with worker protests due to atrocious working conditions that, in turn, adversely affected the downstream industries.
This trajectory of the prices declined consistently in the second quarter, too, as the fragrance and flavors industries struggled to maintain their production activities. The overall growth of the trends was also hampered by the weak economic state of the European countries.
North America
In North America, the prices of alpha-terpineol followed a bearish trends in the first quarter as the support from the oil-based cosmetics and ointments sectors remained low. In addition to this, the rising cost of labor and inefficient demand from the downstream sectors pushed the price trends of alpha-terpineol toward a lower end.
The situation of alpha-terpineol prices, however, took a bullish turn in the second quarter with the help of a rise in procurement rates. The prices of crude oil also declined, which helped the cost of production to cool off while the rate of manufacturing increased to give the price trends of alpha-terpineol its required boost.
Analyst Insight
According to Procurement Resource, the price trends of Alpha terpineol is expected to follow a volatile trajectory as the performance of end-user industries seems uncertain, and so does its demand for alpha terpineol.
Procurement Resource provides latest prices of Alpha-Terpineol. Each price database is tied to a user-friendly graphing tool dating back to 2014, which provides a range of functionalities: configuration of price series over user defined time period; comparison of product movements across countries; customisation of price currencies and unit; extraction of price data as excel files to be used offline.