Regional Price Trend
Get the latest insights on price movement and trend analysis of Ampicillin meal in different regions across the world (Asia, Europe, North America, Latin America, and the Middle East & Africa).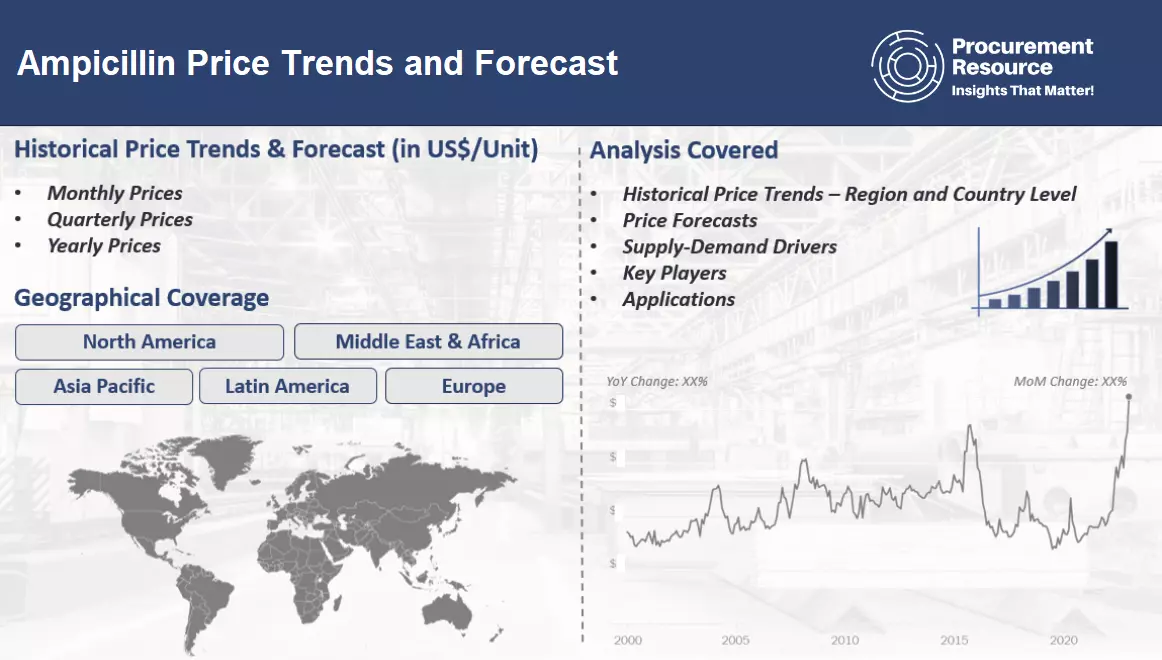 Ampicillin Price Trends for the July-September of 2023
Ampicillin is a penicillin-class antibiotic drug widely used to treat various kinds of bacterial infections. Ampicillin price trends continued to escalate in the third quarter of the year 2023 as well, though the rate of escalation subsided somewhat. Initially, it was the increased cost of Chinese raw materials that guided the drug costs in the pharma sector.
However, as the supply chains and freight situations improved, the logistics part of the Ampicillin trade also improved, but the production of raw materials in China slowed over such a long period of disruption. Hence, even though the production is ramping up, the supplies were still constricted with respect to demands during the said period. So, an overall positive market outlook was observed.
Analyst Insight
According to Procurement Resource, future projections look promising for the Ampicillin market trends. With supplies picking up, the pace of inclination may be affected, but the overall market situation will continue to be positive in the near future.
Ampicillin Price Trends for the First Half of 2023
The price trend of ampicillin in the first and second quarters inclined steeply as the pharmaceutical industries witnessed a steep spike in the cost of raw materials required for its production. In India, the production of ampicillin is highly dependent on imports from China, and due to the rise in the cost of raw materials, the rates of production in the region have declined.
In addition to this, challenging economic conditions, soaring rates of inflation, and high costs of crude oil, freight charges also played a part in oscillating the price trend of ampicillin. The disruptions in supply chains and logistical challenges in the country due to pandemic-related restrictions and the high cost of energy production exerted a negative impact on the ampicillin price trend. However, despite that, the market was supported by improved sales in pharmaceutical sectors, high demand, and rising cost of production.
Analyst Insight
According to Procurement Resource, the price of Ampicillin is estimated to showcase an upward trajectory as the demand for ampicillin in the domestic and international industries is increasing, and with positive support from the feedstock sector, the price trend of ampicillin is expected to rise.
Procurement Resource provides latest prices of Ampicillin. Each price database is tied to a user-friendly graphing tool dating back to 2014, which provides a range of functionalities: configuration of price series over user defined time period; comparison of product movements across countries; customisation of price currencies and unit; extraction of price data as excel files to be used offline.