Regional Price Overview
Get the latest insights on price movement and trends analysis of Biphenyl in different regions across the world (Asia, Europe, North America, Latin America, and the Middle East & Africa).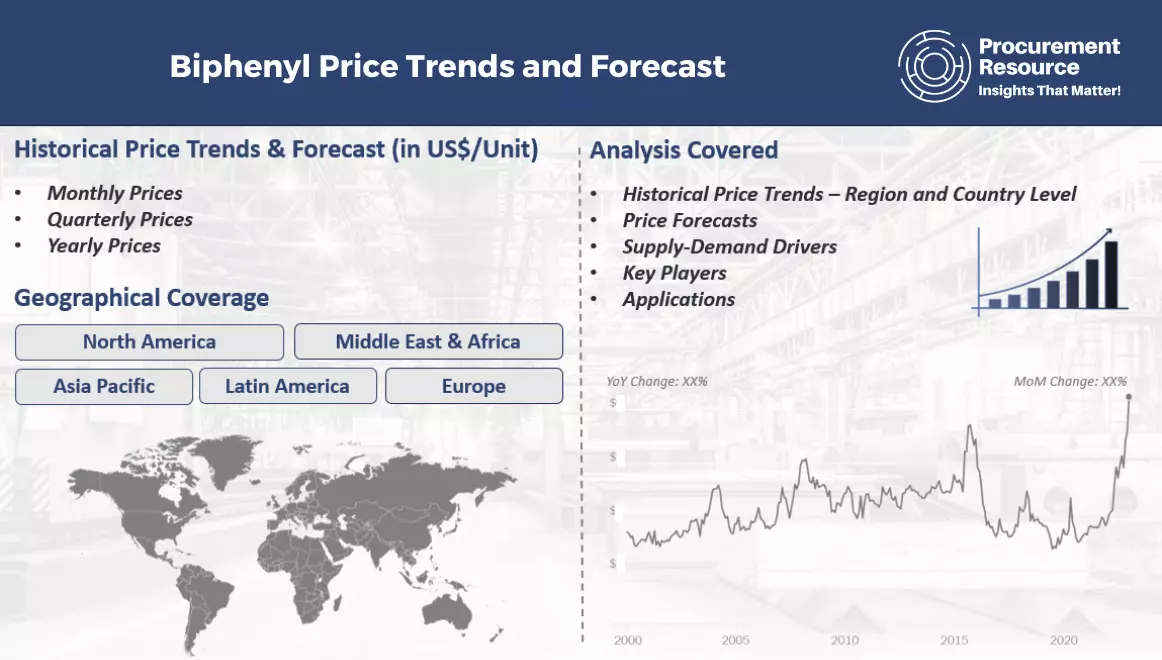 Biphenyl Price Trends for the H1 of 2023
The biphenyl market is primarily influenced by its feedstock compound, benzene, so the price trends for Biphenyl closely follow benzene price patterns. The prices varied in a mixed pattern throughout the first two quarters of 2023.
Uneven supply–demand dynamics kept the prices oscillating. High crude oil and energy prices pushed the upstream costs up, but at the same time, slow demands from downstream sectors would pull the market down. Biphenyl prices remained tugged among different factors of influence.
Prices moved up initially in the first quarter as the disrupted supply chains and port congestions blocked the supplies and caused product shortages in the market. The supplies were restored in the second quarter owing to port clearance and new trade routes; however, the downstream demands failed to support the price growth, and depreciating trends were observed.
Analyst Insight
According to the Procurement Resource, the Biphenyl prices will continue to oscillate in the coming quarter, given the current market dynamics. With trade normalization, the supply situation has greatly improved, which, amid bearish demands, will likely impact the Biphenyl market.
In Q4 of 2021, biphenyl prices in India were in the range of 2074 to 2293 USD/MT in December and 2071 USD/MT in November. Biphenyl is utilised as a crop intermediate, which aids market expansion. Also contributing to the biphenyl market from chemical intermediate application is the increased need for non-agricultural pesticides and preservatives, which is expected to gain pace globally. As a result, in the coming years, the expanding chemical sector should help to promote demand for biphenyl by supporting the expansion of chemicals intermediates.
Procurement Resource provides latest prices of Biphenyl. Each price database is tied to a user-friendly graphing tool dating back to 2014, which provides a range of functionalities: configuration of price series over user defined time period; comparison of product movements across countries; customisation of price currencies and unit; extraction of price data as excel files to be used offline.