Regional Price Overview
Get the latest insights on price movement and trend analysis of Hazelnut in different regions across the world (Asia, Europe, North America, Latin America, and the Middle East & Africa).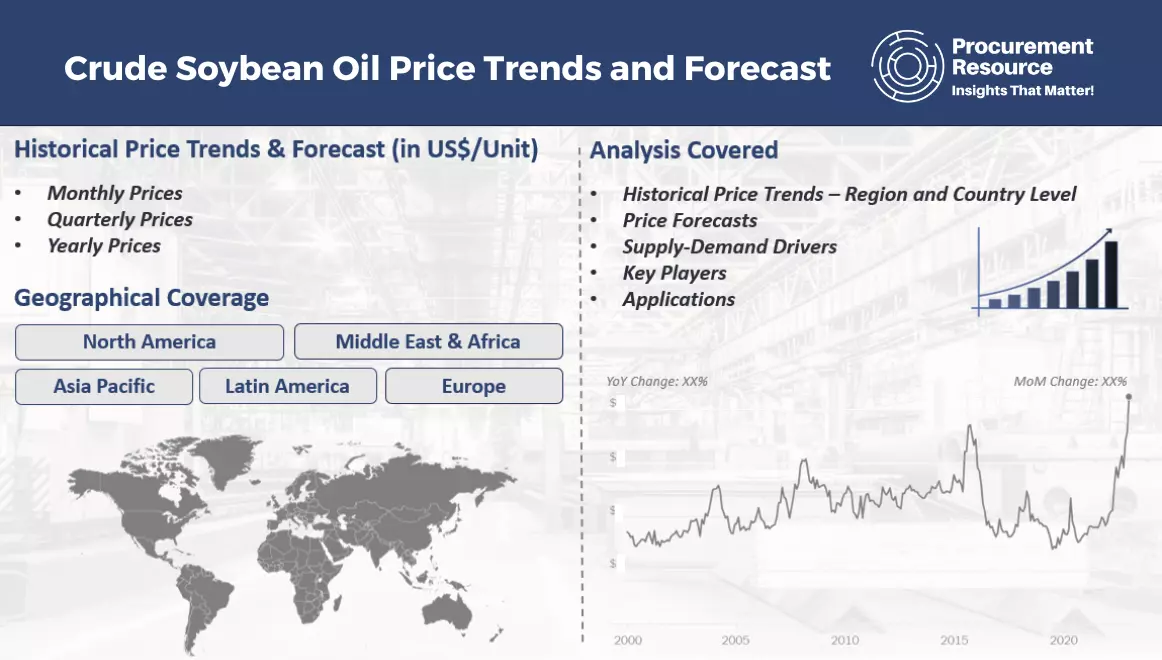 Crude Soybean Oil Price Trend for the First Half of 2023
Crude Soybean Oil is recording a wavering price trend during the first half of 2023. Prices mostly remained on the lower side as the inventories overflowed in most global markets in the face of consistent demands.
Product availability rose primarily because of the return of Ukrainian Crude Soybean Oil supplies to the international market owing to the black sea agreement between Russia, Ukraine, and the United Nations. Under this agreement, the agricultural products important to ensure global food safety were allowed safe passage by the Russian Authorities in the middle of the ongoing war between both countries.
As the precious Black Sea products entered the market, prices of almost all edible oils declined. Further, the falling crude oil and energy prices aided the downward movement of the soybean oil price trends. Overall, Crude Soybean Oil prices hinged low and showed some short-lived upward fluctuations occasionally.
Analyst insight
According to Procurement Resource, Crude Soybean Oil prices are expected to continue fluctuating in the coming months, given the unsettled demands amid overstocked inventories.
Crude Soybean Oil Price Trend for the Q2, Q3 and Q4 of 2022
The price trends for crude soybean oil registered an oscillating pattern throughout the said period. Initially, the prices rose owing to low inventories and firm market demand. Owing to the removal of precious Black Sea sunflower oil and Indonesian Palm oil from the market, the demand for suitable alternatives like soybean oil surged. The prices remained healthy until April and plateaued towards May.
In July, the terminal demand for oils and fats flattened, directly impacting the crude soybean oil prices. With the palm oil inventories rising beyond manageable levels, the Indonesian government lifted the export ban causing new alternatives to enter the market. Hence, the demand pressure on crude soybean oil relaxed.
The prices warmed again in August with frequent fluctuations as the market sentiments were still wary of the looming speculations about a global recession. The same bearish trend with occasional fluctuations continued in the fourth quarter as no improvement in the market demand was observed.
Analyst Insight
According to Procurement Resource, crude soybean oil prices, after maintaining a bearish trend for so long, are expected to rise. With the Indian government actively announcing the removal of stock limits on oilseeds, soybean oil prices are anticipated to gain necessary support and rise.
For the First Quarter of 2022
Asia
Boosted by the crude oil market, the external oil market grew rapidly over the Qingming vacation. After the festival, the soybean oil futures market opened up significantly, and the spot market soared with the market. It was projected that the soybean oil market would stay strong in the short run. Whereas, on March 24th, the soybean oil and palm oil market climbed. The average market price of soybean oil was 11,146 RMB/MT, up 2.73% in a single day while that of palm oil was 12,994 RMB/MT, up 1.44%.
North America
Neighboring CBOT soybean futures hit 17.65 USD/bushel in Q1 2022, just 29.75 cents below the 2012 peak. Quarterly price momentum and relative strength indicators indicated that the price had risen over the 16.70 USD barrier. Soybean futures gained 21.79% in Q1, ending at 16.1825 USD/bushel on March 31st. A dismal South American harvest has sustained prices in recent months, pushing soybeans to an 11-year high in Q1 2022.
Latin America
South American soybean oil prices ended a month of wild swings in response to Russia's invasion of Ukraine, with cash prices in Argentina and Brazil rising to record highs earlier in March before reversing course. The fighting drove crude oil prices to multi-year highs and halted supplies of sunflower oil from the Black Sea area resulted in worldwide edible oil prices increase significantly.
Argentina's FOB Up River and Brazil's FOB Paranaguá soybean oil outright prices reached record highs of 1,835.35 USD/MT and 1,826.53 USD/MT, respectively, on March 8th. Soybean oil prices were boosted further by Argentina and Brazil's soybean crop losses, as well as by high FOB premiums when Indian customers shifted their demand away from Black Sea-origin soybean oil during the Russia-Ukraine conflict.
For the Fourth Quarter of 2021
Asia
India (USD 3 billion) is the world's largest market for imported soybean oil, accounting for 29% of global imports. China (USD 725 million) was ranked second in the ranking, accounting for 7% of the overall value.
Europe
The increased usage of soy oil in the production of shortenings, margarine, and salad dressings in Europe and North America also had contributed to its rising demand. In the final quarter of the year, the market demand increased by the increased need for edible oils in the biofuel industry.
North America
In Q4 2021, in North America, the average US crude soybean oil prices were recorded at 1386 USD/MT. Due to growing worries about non-renewable energy sources, biofuel became a burgeoning industry. North American governments were making significant investments in biofuel production.
The expanded capacity for biodiesel production had a significant impact on global demand for soybean-derived oil. The oil is used as a feedstock for biodiesel manufacturing since it has a greater BTU value and burns more effectively and cleanly. Biodiesel companies who use virgin vegetable oil as a feedstock receive a dollar-per-gallon subsidy from the US government.
Latin America
Despite the fact that Brazil, the world's biggest soybean producer, increased its harvested area by 4% over the previous year, dryness lowered yields dramatically. Brazil's soybean output is forecast to drop 3% year on year to 134 MMT.
For First, Second and Third Quarters of 2021
Asia
In nations like China and India, soybean oil was widely used for cooking and frying. Because soy oil has a higher smoke point than other cooking oils, it is becoming increasingly popular in Asian foodservice. Consumers in nations such as India, Indonesia, and China have more discretionary spending, which had expanded the trend of dining out. This increased the demand for this oil in a variety of applications, including bakery goods and prepared dishes.
Europe
In 2021, the market's expansion was fueled by increased consumer awareness of the product's health benefits. One of the most popular polyunsaturated cooking oils was this one. It has a high smoke point (257°C), allowing for higher temperatures in the oil for deep frying. Soybean oil's longer shelf life encourages its use in the food processing and restaurant industries.
North America
In 2021, in North America, the average US crude soyabean oil prices for the first three quarters were recorded at 1255 USD/MT. Due to its increasing use in a variety of products such as bakery, cooking, packaged meals, snacks, and foodservice, the edible oil sector saw a significant expansion.
The demand for cooking oils in the supermarket aisles fueled the expansion of the edible oil industry. During 2021, the use of soybean oil, palm oil, olive oil, and coconut oil increased due to growing demand for plant-based foods.
A growing desire among consumers to produce nutritious cuisine with vitamin-fortified, organic, non-GMO oils spurred the growth. The use of soybean oil for biofuel production was higher in 2021, according to the United States Department of Agriculture's (USDA) May 2021 World Agricultural Supply and Demand Estimates report.
The demand for oils on the Chicago Board of Trade increased by about 70% in June 2021, largely to increased demand from the biodiesel sector. The demand for soybean oil was already boosted by increased investments by governments and fueled manufacturers to improve the biodiesel production process.
Latin America
The average yearly soybean oil price jumped 65% year over year in 2021, from 838 USD/MT to 1,385 USD/MT. Weather-related production deficits in South America, strong demand in China, and high freight charges fueled the most significant price growth in Q3.
For the Year 2020
Asia
The global impact of COVID-19 had a positive impact on the edible oil market across the Asia-Pacific region. There was a demand seen by food processors and food service operators for its use in baked and fried food products.
North America
In 2020, the US crude soybean oil market price was recorded at 780 USD/MT in January, 739 USD/MT in April, 732 USD/MT in September and 922 USD/MT in December . There was an R&D development seen in the biodiesel industry, accelerating its demand. There was decreased consumption due to the impact on the food service sector. The fuel demand was reduced, so the biodiesel demand was reduced as well. Over, the biodiesel demand in the US reduced in 2020.
Latin America
In 2020, in South America, Argentina, crude soyabean oil prices were recorded at 699 USD/MT in January and 714 USD/MT in February. Biodiesel demand was growing in Brazil before the pandemic, but after the pandemic, demand was affected. Argentina (USD 3.7 billion) remained the world's top soybean oil exporter, accounting for 39% of global exports. Brazil came in second, with an 8% stake.
Procurement Resource provides latest prices of Crude Soybean Oil. Each price database is tied to a user-friendly graphing tool dating back to 2014, which provides a range of functionalities: configuration of price series over user defined time period; comparison of product movements across countries; customisation of price currencies and unit; extraction of price data as excel files to be used offline.