Regional Price Overview
Get the latest insights on price movement and trend analysis of D Calcium Pantothenate in different regions across the world (Asia, Europe, North America, Latin America, and the Middle East & Africa).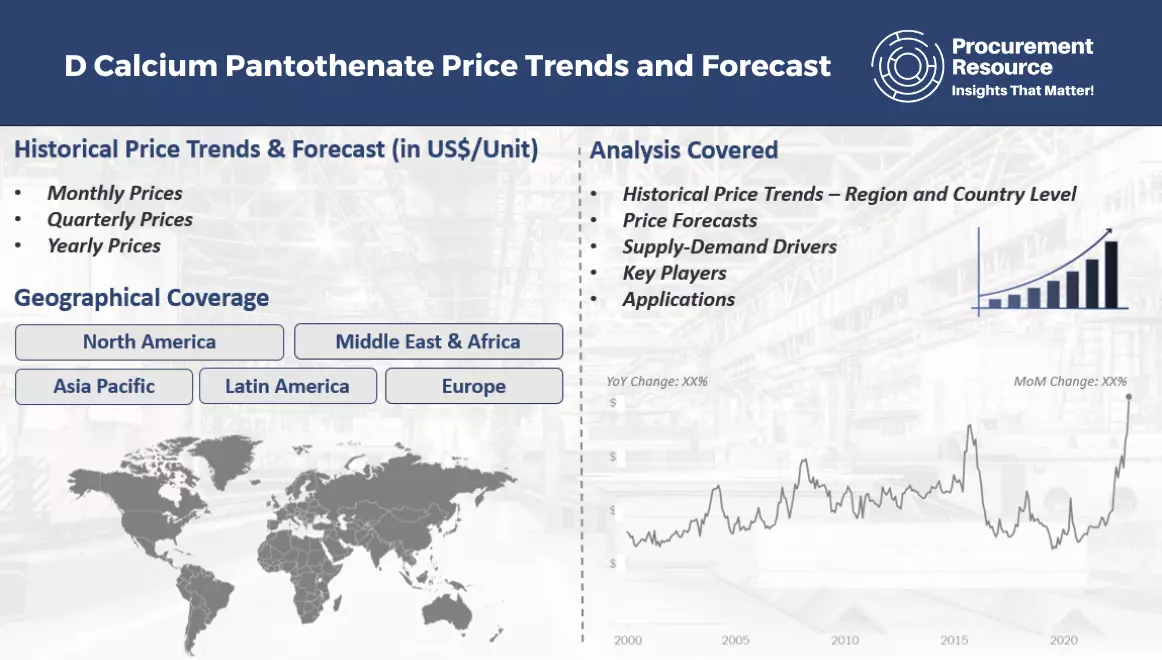 D Calcium Pantothenate Price Trend for the First Half of 2023
D Calcium Pantothenate is the calcium salt of pantothenic acid (Vitamin B5) and is primarily used as a dietary supplement in the pharma and agricultural sectors. As it is produced by the microbial fermentation of a Vitamin B5-containing solution, the price trends of D Calcium Pantothenate closely follow any fluctuations in the Vitamin B5 prices.
During H1'23, the D Calcium Pantothenate prices fluctuated throughout the concerned period as the stock levels and demands from the consumer sector guided the market fundamentals. In China, prices first rose and the fell, fluctuating within a narrow range towards the end of Q2. In Europe, high demands and a long-stuck supply caused the prices to surge. However, the American market was very stable, with trends almost plateauing. Overall, a mixed market sentiment was observed.
Analyst Insight
According to Procurement Resource, with the given current market variations in D Calcium Pantothenate, prices are likely to fluctuate in the upcoming months as well.
Procurement Resource provides latest prices of D Calcium Pantothenate. Each price database is tied to a user-friendly graphing tool dating back to 2014, which provides a range of functionalities: configuration of price series over user defined time period; comparison of product movements across countries; customisation of price currencies and unit; extraction of price data as excel files to be used offline.