Regional Price Overview
Get the latest insights on price movement and trends analysis of Dihydro Myrcenol in different regions across the world (Asia, Europe, North America, Latin America, and the Middle East & Africa).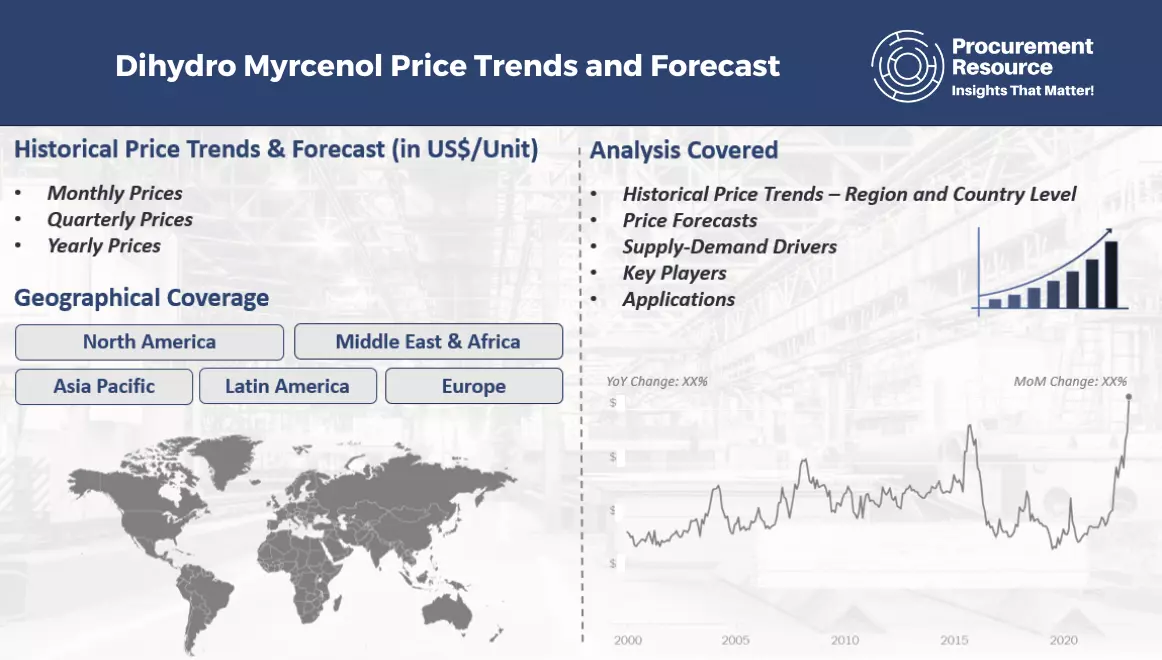 Dihydro Myrcenol Price Trends for the First Half of 2023
The price trends for Dihydro Myrcenol vary with the price fluctuations of its feedstock Alpha Pinene. Alpha Pinene observed mixed price trends in the global market during the first half of 2023. In the first quarter, inventory stocks for Dihydro Myrcenol were already high, and demands from the downstream pharma, cosmetic, chemical, perfuming, skincare, etc. industries were consistently low. So, the Dihydro Myrcenol prices observed low swinging patterns during the said time.
However, as the second quarter approached, manufacturing activities rose across China. So, the prices started rising as the improved industrial activities called for increased offtakes, and the Dihydro Myrcenol market strengthened. Prices remained high at the beginning of the second quarter but decreased during the latter half. Overall, low, wavering price trends for Dihydro Myrcenol were seen for the rest of the said period.
Analyst insight
According to Procurement Resource, the price trends for Dihydro Myrcenol are expected to remain fluctuating in the coming quarter, given the current uncertainties in market demands and rising inflation rates.
Procurement Resource provides latest prices of Dihydro Myrcenol. Each price database is tied to a user-friendly graphing tool dating back to 2014, which provides a range of functionalities: configuration of price series over user defined time period; comparison of product movements across countries; customisation of price currencies and unit; extraction of price data as excel files to be used offline.