Regional Price Overview
Get the latest insights on price movement and trend analysis of DL Methionine in different regions across the world (Asia, Europe, North America, Latin America, and the Middle East & Africa).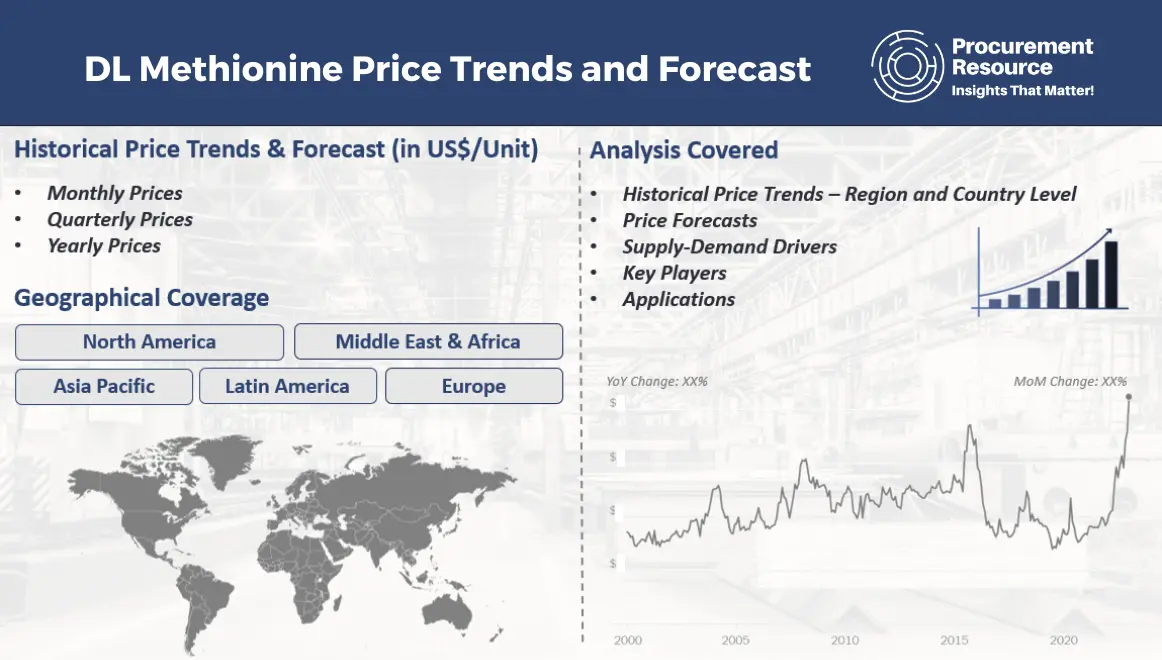 The demand for DL-Methionine increased as a result of its increased demand in aquafeed, as well as an increase in global demand for fish meat. However, poultry is the main consumer of DL-Methionine because it avoids feathering problems caused by a shortage of vital nutrients in birds. Animal feed was positioned to increase global use of DL-Methionine throughout the year 2021, as animals are unable to manufacture methionine on their own.
The price of ammonia, a key feedstock, in the North American region climbed dramatically in the fourth quarter of 2021, owing to a considerable increase in the commodity's value as a result of a global nitrogen fertiliser shortagem impacting DL-methionine prices as well.
In December, the assessed value of ammonia FOB New Orleans (USA) pricing reached an all-time high of 1177 USD/MT. Ammonia supplies were sluggish in the quarter as a result of the reduced availability of hydrogen and nitrogen in the aftermath of Hurricane Ida.
Procurement Resource provides latest prices of DL Methionine. Each price database is tied to a user-friendly graphing tool dating back to 2014, which provides a range of functionalities: configuration of price series over user defined time period; comparison of product movements across countries; customisation of price currencies and unit; extraction of price data as excel files to be used offline.