Regional Price Overview
Get the latest insights on price movement and trends analysis of Erythromycin (DDGS) in different regions across the world (Asia, Europe, North America, Latin America, and the Middle East & Africa).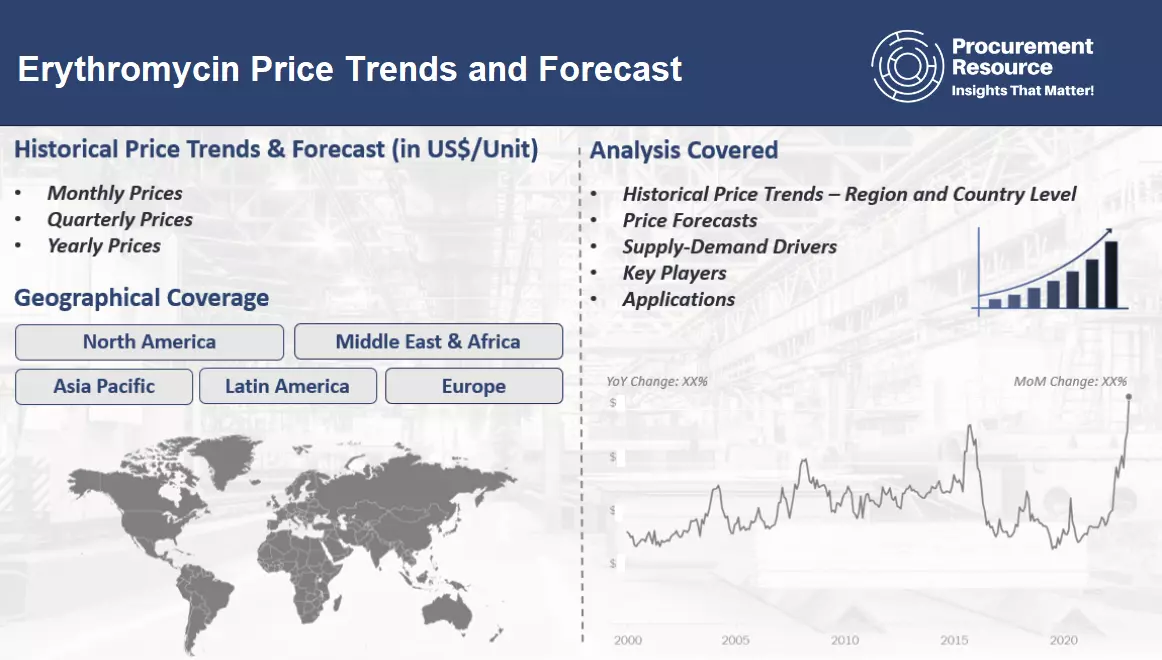 Erythromycin Price Trends for the July-September of 2023
Erythromycin is one of the most used types of antibiotics in the medical world. Since erythromycin is a generic drug, various brands and companies have it in different packaging and compositions. It is produced by the soil bacterium Streptomyces erythraeus, and the mode of action is by killing bacteria by stopping its protein production.
Growing bacterial resistance against erythromycin is becoming a challenge for the healthcare world, but the consumption of erythromycin is still at a high level. During the discussed period of Q3'23, the prices wavered at the existing high levels, and narrow-ranged fluctuations were observed. Owing to its essential nature of requirement, the current inflation and interest rates promoted the sellers to increase their quotations in order to cushion their profits. Overall, the market remained anchored during the said time.
Analyst Insight
According to Procurement Resource, the erythromycin price trends are likely to fluctuate within a narrow range going forward, given the current pricing and market fundamentals.
Erythromycin Price Trends for the First Half of 2023
The price trends of erythromycin followed an inclining trajectory in the US and European region in the first two quarters. The market activities of erythromycin were supported by growth in sales of pharmaceuticals and other related end-user industries. The pressure of inflation also eased out during this time, which resulted in the rise of confidence of consumers that, in turn, supported the positive movement of consumption rates.
The rise in demand also eased out the increasing inventory levels, and with a crunch in the supply, many producers only supplied erythromycin for export orders, which was another reason for the rise in the price trends of erythromycin. The overall growth in the cost of energy production due to the ongoing Russia-Ukraine crisis further escalated the growth of the erythromycin price trends.
Analyst Insight
According to Procurement Resource, the price of Erythromycin is estimated to rise with the high demand from the end-user industries and lower rates of production.
Procurement Resource provides latest prices of Erythromycin. Each price database is tied to a user-friendly graphing tool dating back to 2014, which provides a range of functionalities: configuration of price series over user defined time period; comparison of product movements across countries; customisation of price currencies and unit; extraction of price data as excel files to be used offline.