Regional Price Overview
Get the latest insights on price movement and trends analysis of Flavored Milk in different regions across the world (Asia, Europe, North America, Latin America, and the Middle East & Africa).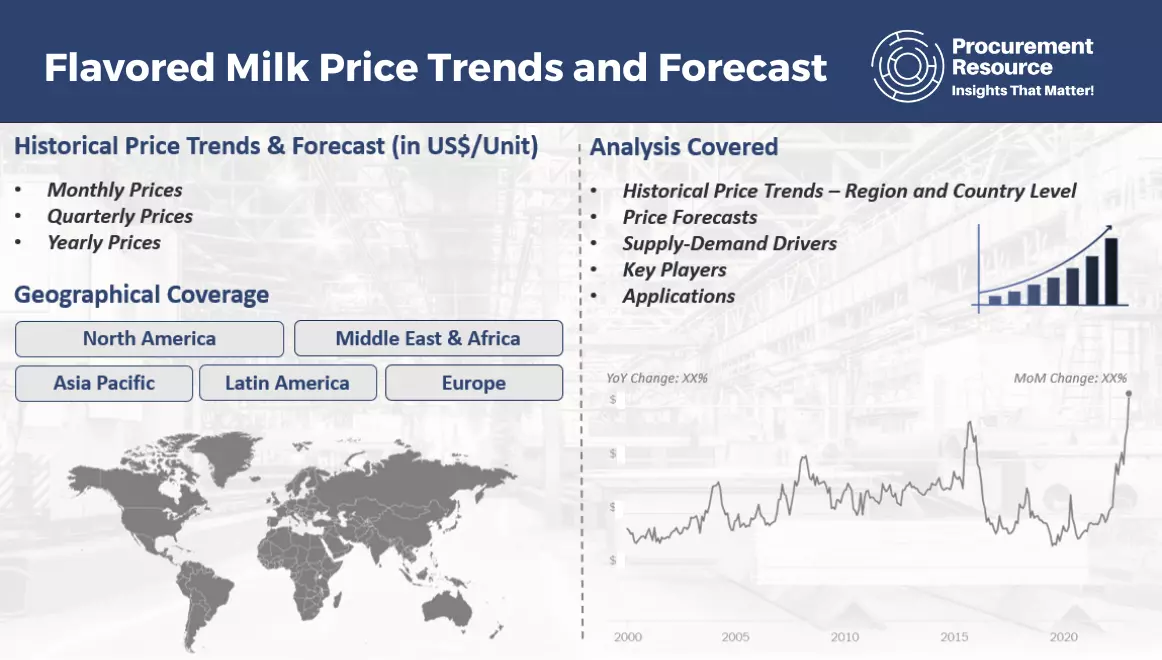 Flavored Milk Price Trends for the First Half of 2023
Flavored Milk prices depend on the milk prices and the flavor that is being used. Recently, in 2023, healthy and vegan flavors have been trendsing, so the Flavored Milk companies have also been observed incorporating those in their new launches. Vegan varieties like soy and almond milk have made it to the popular packaged milk brands.
Dairy milk prices rose by about 12% (YOY) in April'23, which impacted the flavored milk industry as well. Smaller packages were launched to compensate for rising costs, and prices were hiked for flavors packaged as healthy. Revenue growth by packaged milk companies implied a growing customer base for packaged flavored milk drinks. Sri Lankan Ceylon Beverage International collaborated with Reliance Consumer Products Limited (RCPL) to co-package their cans in India. Overall, the supply-demand dynamics of Flavored Milk remained fair and stable throughout the said period.
Analyst Insight
According to Procurement Resource, the Flavored Milk industry has positive projections; with growing customer interest, the market has a promising outlook for the coming times as well.
Procurement Resource provides latest prices of Flavored Milk. Each price database is tied to a user-friendly graphing tool dating back to 2014, which provides a range of functionalities: configuration of price series over user defined time period; comparison of product movements across countries; customisation of price currencies and unit; extraction of price data as excel files to be used offline.