Regional Price Overview
Get the latest insights on price movement and trends analysis of Galvanized Sheet in different regions across the world (Asia, Europe, North America, Latin America, and the Middle East & Africa).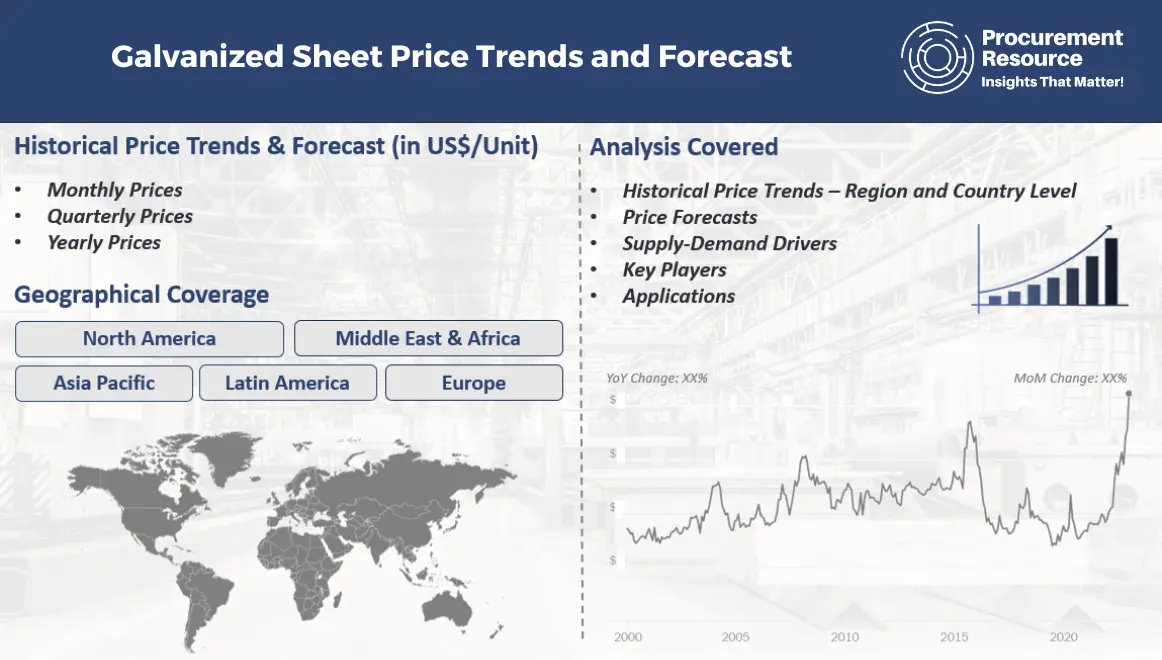 Galvanized Sheet Price Trends for the First Half of 2023
Asia
Galvanized Sheet prices observed mixed trends throughout the first half of 2023. As the manufacturing industry revived, facing a long-term shutdown because of the COVID-19 pandemic, fresh demands from the downstream manufacturing, construction, furniture, fixtures, etc. sectors pushed the market.
As a result, the Galvanized Sheet prices rose throughout the first quarter and continued till the first half of the second quarter. But as the inventories started rising amidst stable demands, the Galvanized Sheet prices shifted momentum in the latter half of the second quarter. Overall, market sentiments were fairly stable as the prices swung high for most of the said period, but fluctuations were in a very narrow range. In the Chinese domestic market, the prices went from around 719 USD/MT (Spot FD) in January'23 to around 699 USD/MT (Spot FD) in June'23.
Europe
The European Galvanized Sheet market witnessed mixed price trends in the first half of 2023. Trends in the Chinese market also influenced the market behavior here as the European markets are heavily import-dependent. Prices mostly inclined in the first quarter, but because of rapid restocking, the prices fell continuously in the second quarter.
North America
Following in the European footsteps, the Galvanized Sheet price trends were in an oscillating mode in the American markets as well. The prices surged in the first quarter and were in a slump in the latter. As the American market was also struggling with high economic inflation, the opening of the Chinese market gave it some respite.
Analyst Insight
According to Procurement Resource, the price trends for the Galvanized Sheet will continue to be driven by the volatile downstream demands; fluctuations are projected going further as well.
Procurement Resource provides latest prices of Galvanized Sheet. Each price database is tied to a user-friendly graphing tool dating back to 2014, which provides a range of functionalities: configuration of price series over user defined time period; comparison of product movements across countries; customisation of price currencies and unit; extraction of price data as excel files to be used offline.