Regional Price Overview
Get the latest insights on price movement and trends analysis of Heptanoic Acid in different regions across the world (Asia, Europe, North America, Latin America, and the Middle East & Africa).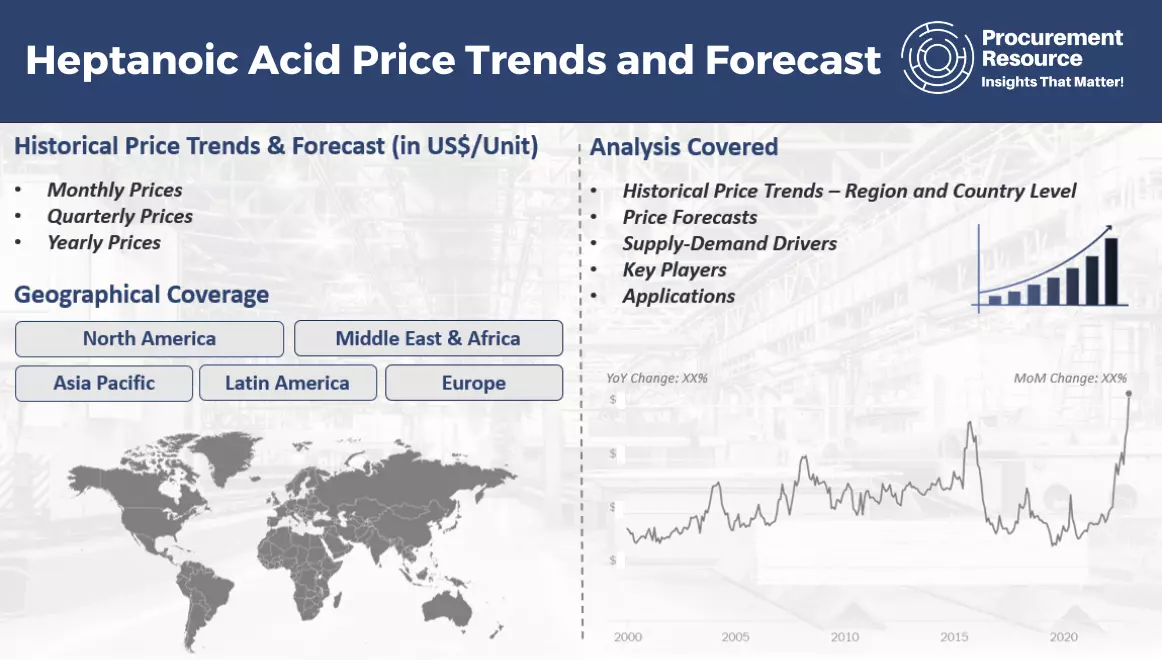 Heptanoic Acid Price Trends for the First Half of 2023
Heptanoic acid prices vary according to its feedstock heptanal which is sourced from hexene, so the price trendss almost replicate each other. During the first half of the year 2023, the price trendss for the heptanoic acid market showed mixed sentiments but were overall positively inclined. As manufacturing activities were reviving in China after the lockdown was lifted, trade exchanges increased. As China is the major exporting territory, improved market sentiments induced movement in the other international markets as well.
American market, too, showed improvement despite a slow start. Same with the European market, as the supply chains were restored and port congestions cleared, giving way to improved shipping, the overall trade excises fixed up. Increasing offtakes from downstream sectors supported the rising heptanoic acid prices. Overall, the market looked steady and hopeful.
Analyst insight
According to Procurement Resource, the heptanoic acid price trendss are expected to stabilize further in the upcoming quarter as the consistent supply and demand dynamics suggest positive market behavior.
Procurement Resource provides latest prices of Heptanoic Acid. Each price database is tied to a user-friendly graphing tool dating back to 2014, which provides a range of functionalities: configuration of price series over user defined time period; comparison of product movements across countries; customisation of price currencies and unit; extraction of price data as excel files to be used offline.