Regional Price trends
Get the latest insights on price movement and trends analysis of Ibuprofen in different regions across the world (Asia, Europe, North America, Latin America, and the Middle East & Africa).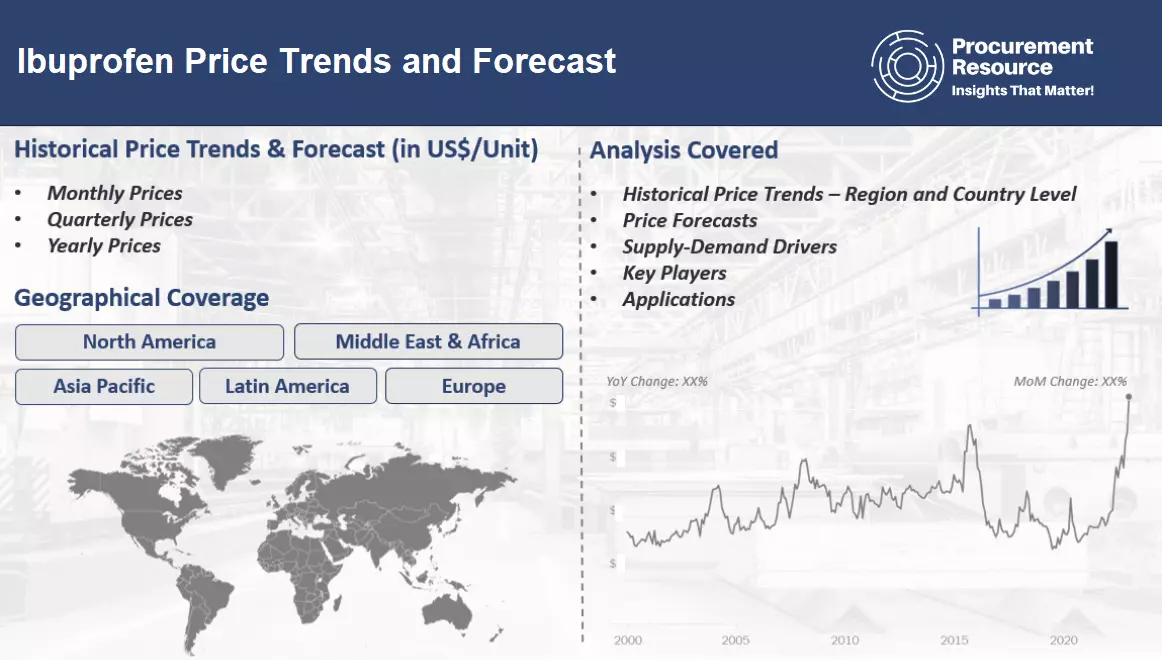 Ibuprofen Price Trends for the First Half of 2023
Asia
The price trends of ibuprofen was supported by a high number of orders from pharmaceutical industries and increased shipments to domestic and international markets. The Chinese market revived its production activities after a long stretch of lunar holidays that had a positive impact on the demand sentiments for ibuprofen.
In the second quarter, however, the price trends declined significantly with a reduction in export rates and the slowing down of the global economy. The Chinese government thus adopted measures to deal with a falling economy, which resulted in high-interest rates and a rise in inflation, hampering the growth of the ibuprofen price trends.
Europe
The ibuprofen market was stable in the first quarter of 2023 as the pharmaceutical industries showed high demand, while the inventories were not sufficient to curb this. The European currency also inclined with respect to the US dollar, supporting the rise in prices of ibuprofen. The trends did not follow the same trajectory in the second quarter as the demand declined, which further reduced the number of imports. The supply chains also worked efficiently, reducing the freight charges and reducing the cost of energy; the price trends of ibuprofen faced southwards.
North America
In North America, the price trends of ibuprofen inclined in the first quarter as the trading activities inclined and procurement rates of pharmaceutical industries also improved.
However, as observed in the European and Asia-Pacific nations, the price trends of ibuprofen declined in the second quarter. The end-user industries witnessed a fall in the number of sales that, in turn, increased the level of inventories. The fall in price trends was further aided by the struggling market dynamics.
Analyst Insight
According to Procurement Resource, the price trends of Ibuprofen is expected to face southwards as the demand from downstream industries is declining consistently due to a lack of sales, and the rising level of inventories will also have a negative impact on the ibuprofen price trends.
Procurement Resource provides latest prices of Ibuprofen. Each price database is tied to a user-friendly graphing tool dating back to 2014, which provides a range of functionalities: configuration of price series over user defined time period; comparison of product movements across countries; customisation of price currencies and unit; extraction of price data as excel files to be used offline.