Regional Price Overview
Get the latest insights on price movement and trends analysis of Lactose in different regions across the world (Asia, Europe, North America, Latin America, and the Middle East & Africa).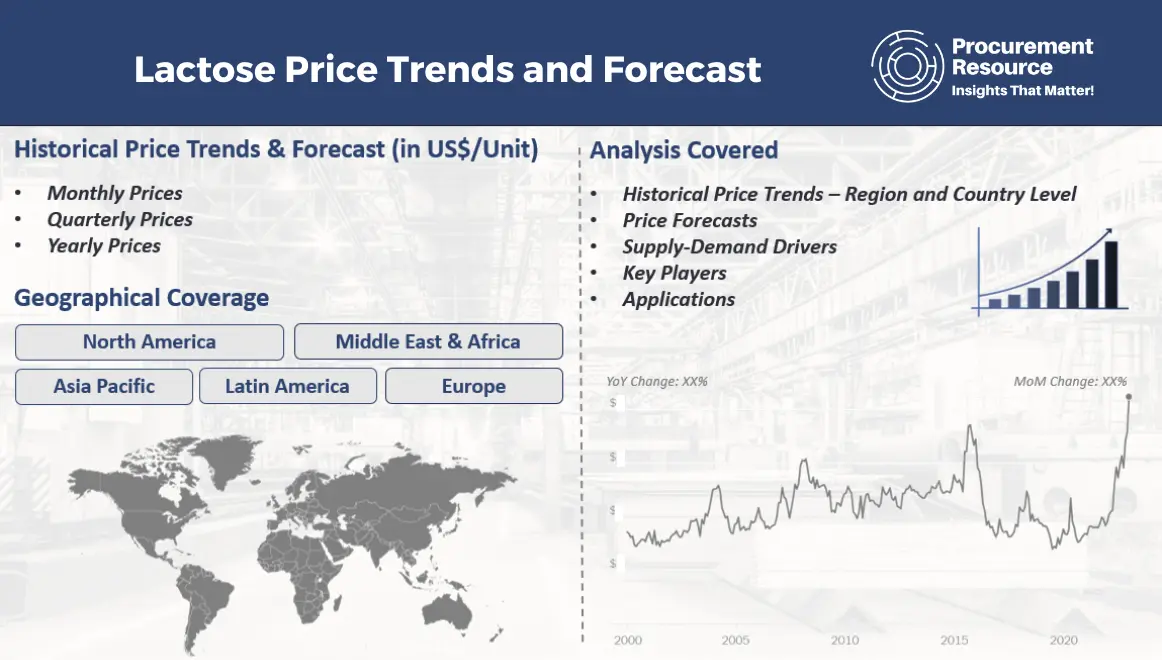 Lactose Price Trends for the First Half of 2023
Lactose is the milk sugar that is derived from whey solution, so its prices vary heavily with the fluctuations in milk prices and consumer demands. In the first two quarters of 2023, the price trends for Lactose were observed to be oscillating on the lower end for Lactose.
In the American Lactose market, the average prices went from around 1027 USD/MT (Contract FD) to about 496 USD/MT (Contract FD) in June'23, registering an approximate decline of about 51%.
This crash in the market was majorly owed to the sluggish demand sentiments in both domestic and international markets. Since veganism is on the rise, unpopularizing all dairy-related products and lactose intolerance being a commonly found disorder, the Lactose market was heavily impacted. As the stocked inventories were high and offtakes declined constantly, a steep downward movement in prices was seen. Overall, a negative market sentiment was observed.
Analyst insight
According to Procurement Resource, Lactose prices are expected to continue facing this peril since such price depreciation is forcing stakeholders to pull out the investments. Further, the suppliers will be keen to get the inventories vacated, which will force them to discount the prices.
Procurement Resource provides latest prices of Lactose. Each price database is tied to a user-friendly graphing tool dating back to 2014, which provides a range of functionalities: configuration of price series over user defined time period; comparison of product movements across countries; customisation of price currencies and unit; extraction of price data as excel files to be used offline.