Regional Price Overview
Get the latest insights on price movement and trends analysis of Lead Ingot in different regions across the world (Asia, Europe, North America, Latin America, and the Middle East & Africa).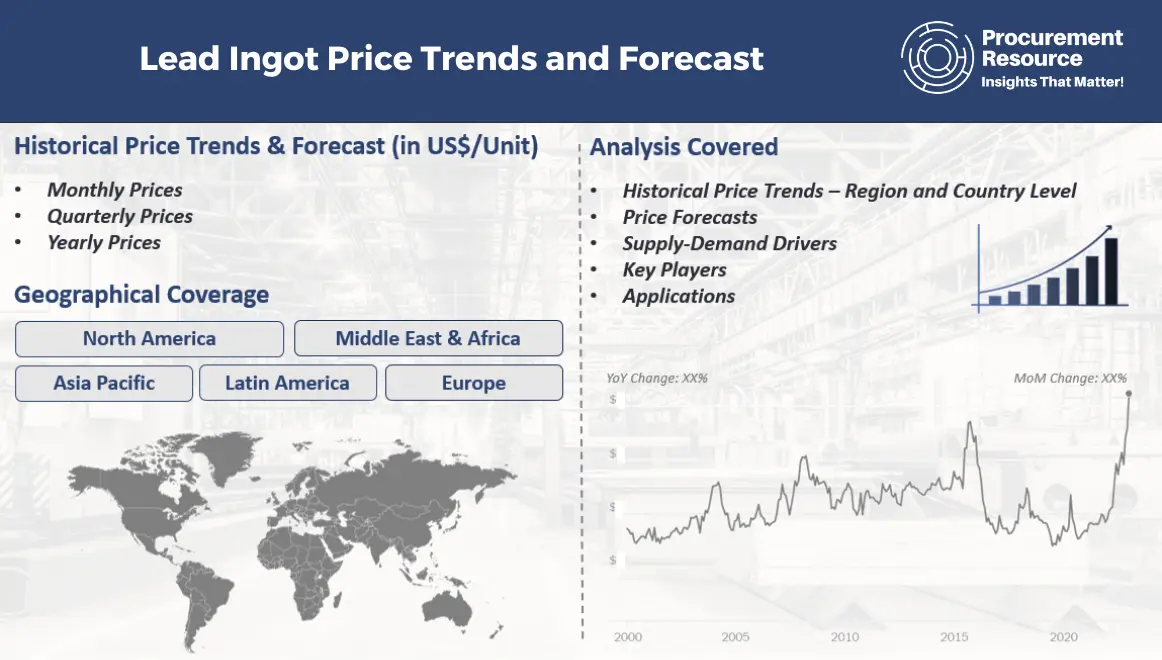 Lead Ingot Price Trends for First Half of 2023
The price trends of lead ingot suffered drastically in the first quarter of 2023, while the second quarter was much more stable as compared to the first. The second quarter was supported by the demand from some major regions, such as Europe and the US, giving strength to the export rates of China. Chinese output of lead ingots increased as compared to the previous quarter as the smelters, both secondary and primary, restarted in the region.
The rates of exports from China were at an all-time high since 2021 in the second quarter. Despite the challenging conditions in China, both economic and operational, the rates of production were not much affected. In addition to this, the demand from Europe struggled due to the weak movement of the economy and technical recession observed in several countries.
Analyst Insight
According to Procurement Resource, in the second half of 2023, lead ingot prices are expected to stay constant as China's exports of refined lead ingots offset sluggish output in the major demand areas.
Lead Ingots Price Trends for Second Half of 2022
The prices of lead ingots in the third and fourth quarters showcased a bullish trends as during this time, the automotive sector, which is one of the major consumers of this metal, showed less interest in the market. The primary cause of this lack of interest was a constriction in production rates due to a lack of demand from consumers. As a result, the production of lead ingots also got reduced to keep the levels of rising inventories in check.
Since Russia's invasion of Ukraine in February, the outlook for lead demand has progressively been worse, and the declining trajectory continued till the end of the year. Because of supply-side disruptions at automotive plants, production was weak, which resulted in a low demand for refined lead. Sales of lead ingots also suffered as a result of rising interest rates and skyrocketing energy costs.
Analyst Insight
According to Procurement Resource, the price of Lead Ingots is expected to showcase stagnancy as the rates of supply seem to be improving along with the market conditions of the automotive sector.
For the First Quarter of 2022
Asia
Lead ingot prices were around 15,408 RMB/MT in the first half of January 2022 following a fall in prices by the end of the month. In February, the market in China was mostly weak with prices dropping to as low as 14,928 RMB/MT. In the beginning of March, the price in the domestic market of China stood at around 15,350-15,450 RMB/MT which increased to 15,600 RMB/MT by the end of Q1 2022.
For the Fourth Quarter of 2021
Asia
Refined lead prices rose over 4% in the final week of December as stockpiles fell, but the metal's prices had already reached their top. According to SMM Consulting in China, several smelters were performing maintenance operations, resulting in lower ingot inventories.
Lead ingot prices rose as a result, but now with secondary smelters restarting operations, prices may be put under pressure. Lead for shipment in January was estimated 50 RMB (7.83 USD) higher on the Shanghai Futures Exchange at 15,380 RMB/MT (2,409 USD). Lead ingot prices are expected to stabilise in the current and coming quarters.
As disruptions are projected to end throughout these two quarters, supply shortages should end. In December 2021, markets were well-supplied, with China continuing to increase shipments to countries like the United States, who were experiencing shortages or concerns like as high transportation costs.
Europe
Metal production was hampered by a lack of electricity and expensive expenses in Europe, which drove up LME lead prices and compensated for losses during the Chinese New Year break. For a week, Europe's power supply was short, while LME supplies remained stable, despite China's planned lead ingot exports to Europe. In the month, the LME price remained stable at 2,300 USD/MT.
North America
The rapid increase in its inventories in China was fueled by ambitious development of secondary lead capacity and substantial tolling activity at Chinese smelters. Warehouse stocks on the Shanghai Futures Exchange reached new highs this year, surpassing 200,000 MT. High shipping rates and container restrictions kept the surplus in China at a time when increased price fluctuation and smelter outages caused shortages abroad.
Physical premiums in the United States surged to multi-year highs, while supplies in the LME warehouse network fell to 12-year lows. After the slight surplus that built in China this year, the refined lead market dynamics will progressively rebalance during 2022, according to the global supply-demand model.
This rebalancing is based on forecasts of increased demand from the automotive business (which has been harmed by a semiconductor shortfall that has prompted automakers to restrict production) and the freight and transportation industry loosening up.
For First, Second and Third Quarters of 2021
Asia
In September, China shipped 15,545 MT of refined lead, the highest volume (shipment) since 2007. The Shanghai Futures Exchange (ShFE) had three times the global warehouse inventories of the metal indicating that Beijing could export further lead during the year. In 2018, inventories hit a new high, putting a lot of pressure on the supply side.
However, stocks of final products at battery manufacturers continued to rise in 2021 as delivery sources dried up, and consumption slowed during the off-season. Purchases were made at low prices by downstream users. As the TCs continued to plummet, primary smelters of the metal profited most from byproducts. Jinli was being serviced, but the output was unaffected. As Henan Yuguang's production resumed, and overall output grew. In May 2021, the price difference between primary and secondary metal was noted in the range of 200 and 300 RMB/MT.
Europe
In Europe, there has been an upsurge in the use of lead. Prices in the international market had risen by more than 7% since the beginning of the year, but they fell by the end of the year as supplies improved. Increased recycling of automobile batteries enhanced secondary production of the metal or recycling in the second half of 2021.
The metal had earlier been overlooked and was falling behind. Prices in Germany soared to a three-year high in September 2021 when a major lead smelter was forced to close due to flooding. Berzelius Stolberg, Europe's largest primary smelter, announced force majeure on metal supplies from its facility in western Germany. After topping 2,350 USD/MT, the strongest since July 2018, the three-month leads on the London Metal Exchange had risen 0.3 % to 2,336 USD/MT.
North America
Although the United States accounts for 13% of the world demand for the metal, the termination of COVID-19 lockdowns raised its consumption as motorists sought substitutes for lead-acid batteries that had failed after long periods of inactivity. The metal had a solid year, prompting the company to raise its price expectation for the year to 2,200 USD/MT from 2,125 USD/MT, with the metal averaging 2,316 USD/MT in November and December.
Over the next few months, the rising vehicle prices began to have an influence on the recovery in global automobile production, halting the rise in its consumption. There were projections that demand growth would outpace production growth this year, reducing the annual production surplus. Supply was short in the United States due to a lack of imports, logistical issues, and port congestion, while demand was high following the restoration of the economy following the Covid-19 lockdowns.
For the Year 2020
Asia
Domestic lead scrap and ingot prices in India increased by 1-3% in August 2020, because of increased output in the car sector, which drove the demand for new batteries. Domestic lead ingot prices were also supported by a 3% increase in formal three-month LME lead prices to 1,981 USD/MT. To accommodate the rising demand from the car sector, smelters in Mumbai and Delhi boosted output. During India's forthcoming Christmas season, automakers predicted pent-up demand.
With demand on the horizon, smelters were steadily upping bids, resulting in a price increase of 3,000-4,000 INR/MT in Cities like Mumbai and Delhi. Prices of re-melted and purified lead had been climbing since mid-July, putting ingot makers in a great place. Because the price gap between imported and domestic lead ingot is so small, cornering a profit from imported lead ingot became impossible.
This resulted in a surge in demand for indigenous ingots, owing to the government's emphasis on self-reliance, known as 'Atmanirbhar Bharat.' Following the lockdown, several importers reduced their imports.
North America
After Doe Run shuttered its smelter in Herculaneum, Missouri, in 2013 and Glencore dismantled its Brunswick smelter in Canada in late 2019, the US lead market tightened. Labor constraints, general material scarcity, transportation constraints, and the high cost of freight overseas increased the tightness during and after the Covid-19 outbreak. Premiums remained high as a result of these factors.
The spike in raw material prices emerged at a time when the lead and battery supply chain was struggling to replenish automotive lead battery stockpiles in various regions of the world. Despite stricter environmental restrictions, the usage of refined lead in the worldwide automotive sector continued to expand in the United States. Despite the fact that the use of lithium batteries is increasing as more electric vehicles are produced, the restricted availability of lithium has forced battery producers to rely on lead batteries for the next decade.
South America
In 2021, most metal smelters were operating at high output rates, fueled by ample feed and increased scrap flows. Concentrate availability had been restricted, primarily due to virus-related mining closures.
Procurement Resource provides latest prices of Lead Ingot. Each price database is tied to a user-friendly graphing tool dating back to 2014, which provides a range of functionalities: configuration of price series over user defined time period; comparison of product movements across countries; customisation of price currencies and unit; extraction of price data as excel files to be used offline.