Regional Price trends
Get the latest insights on price movement and trends analysis of Magnesium Chloride in different regions across the world (Asia, Europe, North America, Latin America, and the Middle East & Africa).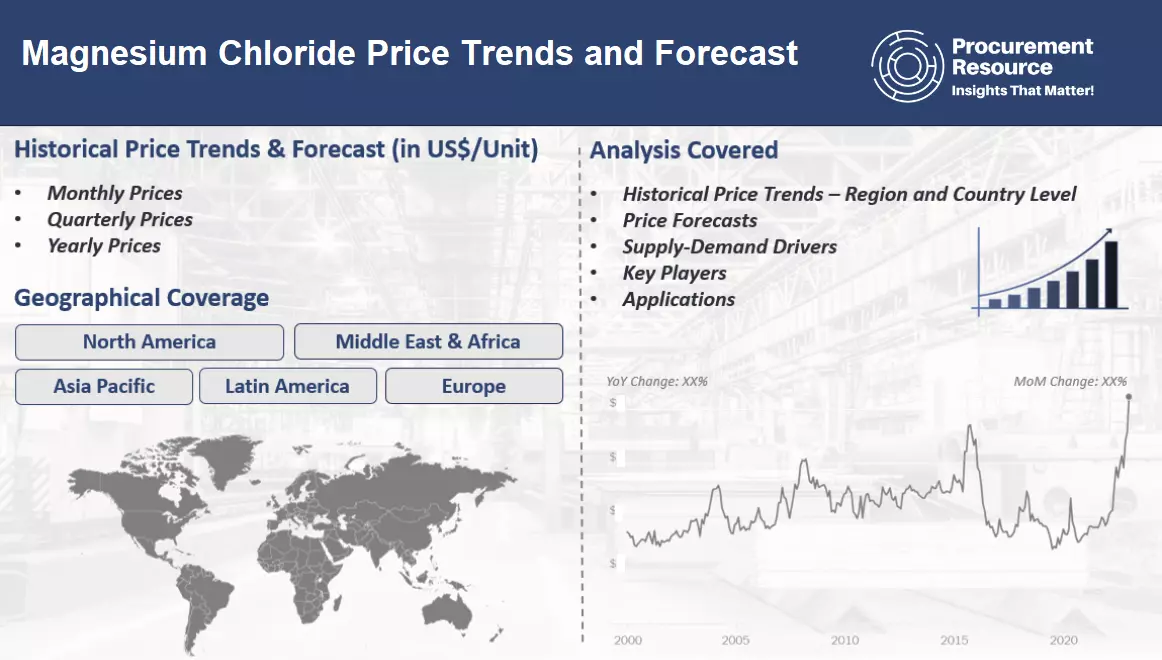 Magnesium Chloride Price Trends for First Half of 2023
Asia
In the first and second quarters of 2023, the price trends of magnesium chloride rose consistently with support from the downstream industries. The major driver of the magnesium chloride market was the fertilizer sector, as the demand for fertilizers along with textile and paper products increased in the region.
The hike in demand promoted trading sentiments in the Asia-Pacific region, and with the depleting level of inventories, the prices of magnesium chloride increased. However, the conditions became challenging in the last months of the second quarter, with lower intake from the major market drivers and a decline in trade from the Chinese manufacturers.
Europe
The price trends of magnesium chloride in the first quarter of 2023 surged as the demand from the fertilizer and construction industries supported the positive movement of the trends. The region during the first quarter also saw a hike in importing and trading charges due to disruptions in the supply chain caused by labor crises in European countries. However, unlike what was observed in the Asia Pacific region, the price trends of magnesium chloride declined in the second quarter of 2023. Due to the suppressed attitude of the buyers in the region, the trading activities declined significantly, and with sluggish demand from the textile and insulation industries, the prices of magnesium chloride dipped.
North America
In the first half of the first quarter of 2023, the prices of magnesium chloride inclined as the sales of fertilizers and related industries witnessed a positive trajectory. However, from the second half of the first quarter, the swindling condition of the economy, recession-like conditions in the market, and the steeply rising cost of energy proved to be a problem for the magnesium chloride market.
In the second quarter, along with several challenges presented by the economy, the market also faced a high supply of magnesium chloride, causing the level of inventories to rise, and with slow demand, this led to the weak movement of magnesium chloride price trends.
Analyst Insight
According to Procurement Resource, the price trends of Magnesium Chloride is expected to decline due to feeble demand from the end-user industries and rising levels of inventories.
Procurement Resource provides latest prices of Magnesium Chloride. Each price database is tied to a user-friendly graphing tool dating back to 2014, which provides a range of functionalities: configuration of price series over user defined time period; comparison of product movements across countries; customisation of price currencies and unit; extraction of price data as excel files to be used offline.