Regional Price Overview
Get the latest insights on price movement and trends analysis of Malted Barley in different regions across the world (Asia, Europe, North America, Latin America, and the Middle East & Africa).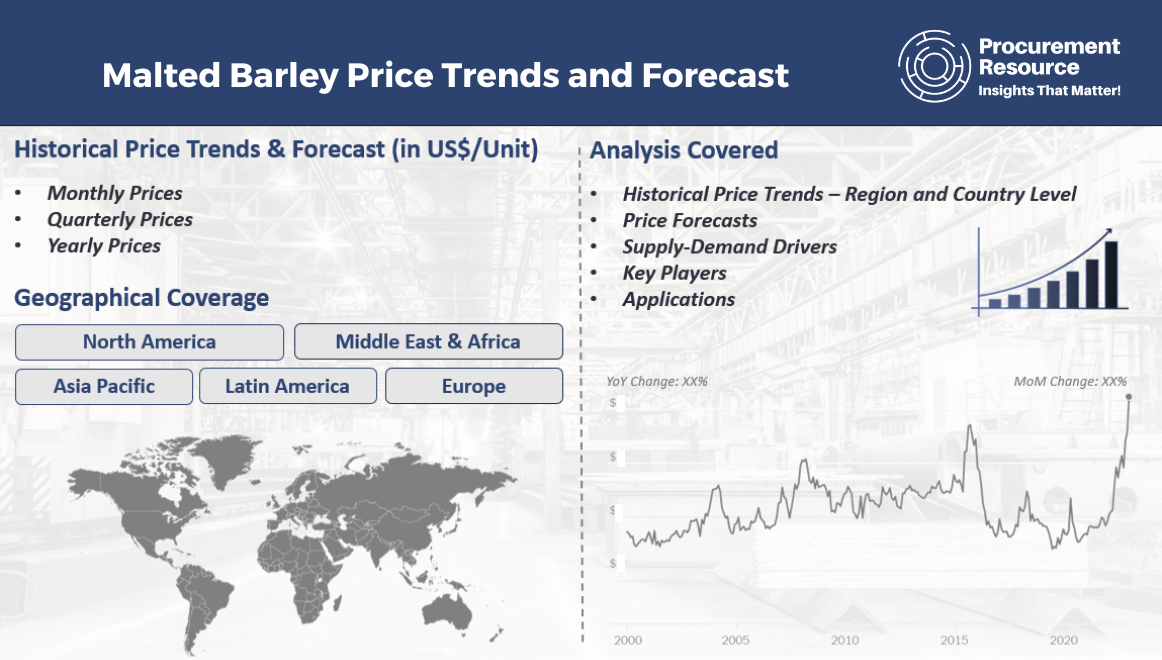 Malted Barley Price Trends for the First Half of 2023
Malted barley is a central ingredient in the brewing sector as it consists of vital enzymes and sugars required for yeast fermentation that are essential in the production of beers and whiskey. It is also used as a taste enhancer in the production of malted milkshakes and cereals. Its price trends is thus dictated by the demand for food products and the production of grains around the globe.
In the first and second quarters of 2023, the production of barley, wheat, and other grains was adversely affected by severe weather conditions, mainly due to the El Nino phenomenon. The farmers thus struggled with hotter and dry weather trends that hampered the production outputs severally. Further, the Russian invasion of Ukraine disrupted the supply chains that, in turn, lowered the stock availability of malted barley around the globe. These restrictions in supply failed to cater to the rising demand for malted barley around the world, and as a result, the prices of malted barley followed an inclining journey.
Analyst Insight
According to Procurement Resource, the price of Malted Barley is expected to follow a fluctuating trends as the production rates are suffering from adverse market conditions while the demand seems to have taken a positive front.
Procurement Resource provides latest prices of Malted Barley. Each price database is tied to a user-friendly graphing tool dating back to 2014, which provides a range of functionalities: configuration of price series over user defined time period; comparison of product movements across countries; customisation of price currencies and unit; extraction of price data as excel files to be used offline.