Regional Price Overview
Get the latest insights on price movement and trends analysis of Milk Chocolate in different regions across the world (Asia, Europe, North America, Latin America, and the Middle East & Africa).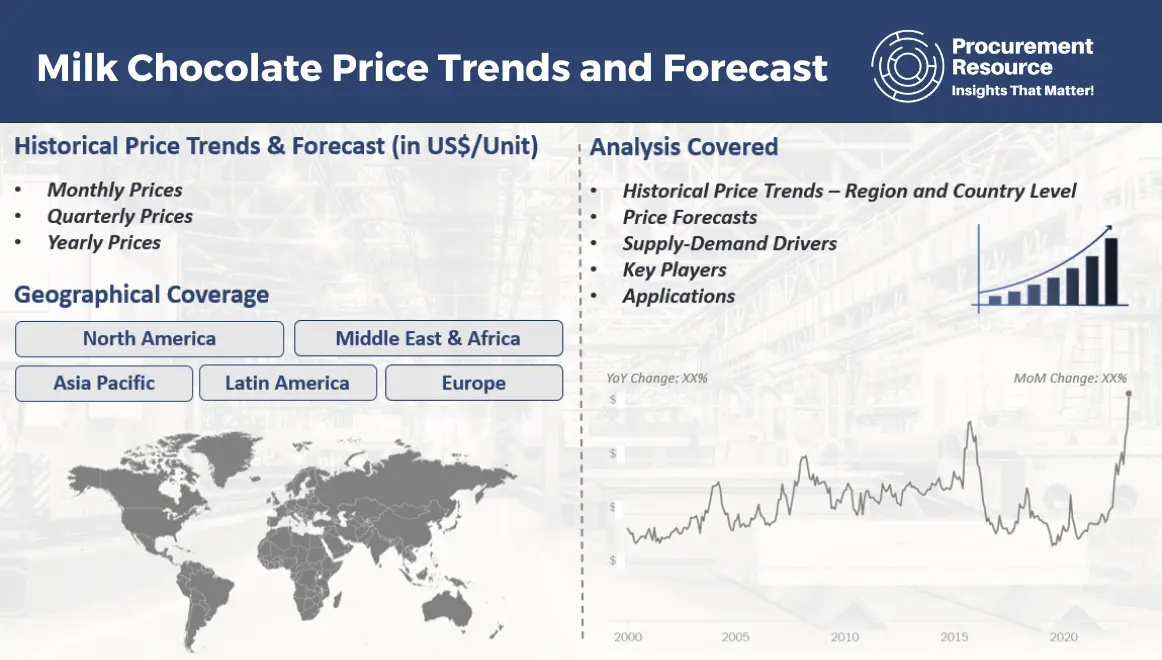 Milk Chocolate Price Trends for the First Half of 2023
In the Asian Pacific market, the prices of milk chocolate inclined consistently in the first two quarters of 2023 as the market sentiments were supported by a rise in the cost of feedstock materials. This rise in the prices was also a direct consequence of the short supply of cocoa. The reason for the lower production rates was the extreme weather conditions, such as El Nino, which resulted in a hotter and drier climate than usual in the central and eastern tropical Pacific Ocean.
The global markets of milk chocolate also enjoyed inflation in the global food markets, which were highly influenced by the Russia-Ukraine crisis and high rates of consumption of sugar, cocoa, butter, and chocolate, especially in Europe. While the supply from a majority of exporting nations, such as India, Thailand, and Mainland China, accelerated the rise in the price trends of milk chocolate.
Analyst Insight
According to Procurement Resource, the price of Milk Chocolate is estimated to rise in the upcoming quarters as the demand from the consumer sector will likely grow while the rates of production continue to suffer.
Procurement Resource provides latest prices of Milk Chocolate. Each price database is tied to a user-friendly graphing tool dating back to 2014, which provides a range of functionalities: configuration of price series over user defined time period; comparison of product movements across countries; customisation of price currencies and unit; extraction of price data as excel files to be used offline.