Regional Market Overview
Get the latest insights on price movement and trends analysis of Naproxen Sodium in different regions across the world (Asia, Europe, North America, Latin America, and the Middle East & Africa).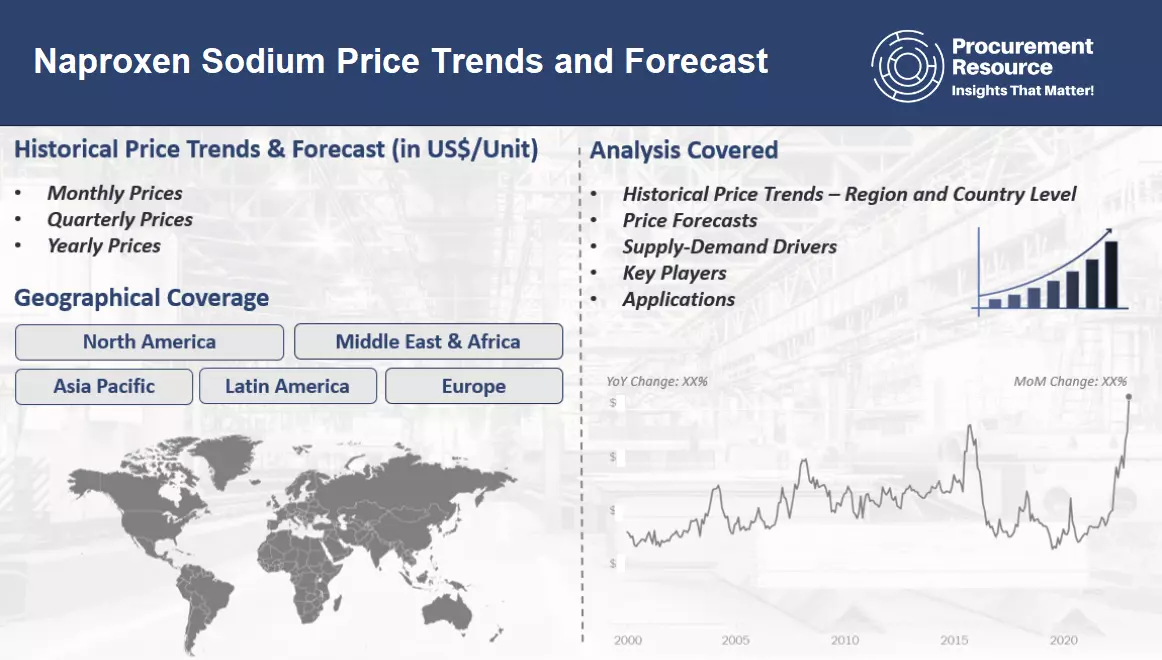 Naproxen Sodium Price Trends for the H1 of 2023
Asia
In the first two quarters of 2023, the prices of Naproxen Sodium inclined with the rising orders from domestic end-user sectors. The pharmaceutical sector regained momentum, and international buyers also raised their offtakes. In addition, the Chinese sector increased its market activities, positively impacting the buyers' purchasing potential. Thus, the price trends of Naproxen Sodium showcased an upward trajectory.
Europe
In Europe, the prices of Naproxen Sodium inclined in the initial months of the first quarter but declined steadily in the second quarter. Initially, the trends was supported by the demand from the local market and the low availability of the product in the region. In addition, the market was also influenced by the positive sentiments observed in the German market. However, the ease of trade and the arrival of imports from China caused domestic manufacturers to lower their quotations to remain competitive. Further, a fall in market inquiries amid product over-supply negatively impacted naproxen sodium prices.
North America
The positive trends in the prices of Naproxen Sodium in the first quarter of 2023 did not continue in the second quarter of the year. The first quarter was supported by the rise in domestic orders and the high performance of pharmaceutical industries. North America also eased their trade regulations, and with high-cost inputs from China, the prices soared only to decline in the second quarter of 2023 due to the slow movement of the market.
Analyst Insight

According to Procurement Resource, the price of Naproxen Sodium is expected to showcase a downward trajectory in the upcoming months as the demand from the downstream industries seems to remain bearish.
Procurement Resource provides latest prices of Naproxen Sodium. Each price database is tied to a user-friendly graphing tool dating back to 2014, which provides a range of functionalities: configuration of price series over user defined time period; comparison of product movements across countries; customisation of price currencies and unit; extraction of price data as excel files to be used offline.