Regional Price Overview
Get the latest insights on price movement and trend analysis of Niacin in different regions across the world (Asia, Europe, North America, Latin America, and the Middle East & Africa).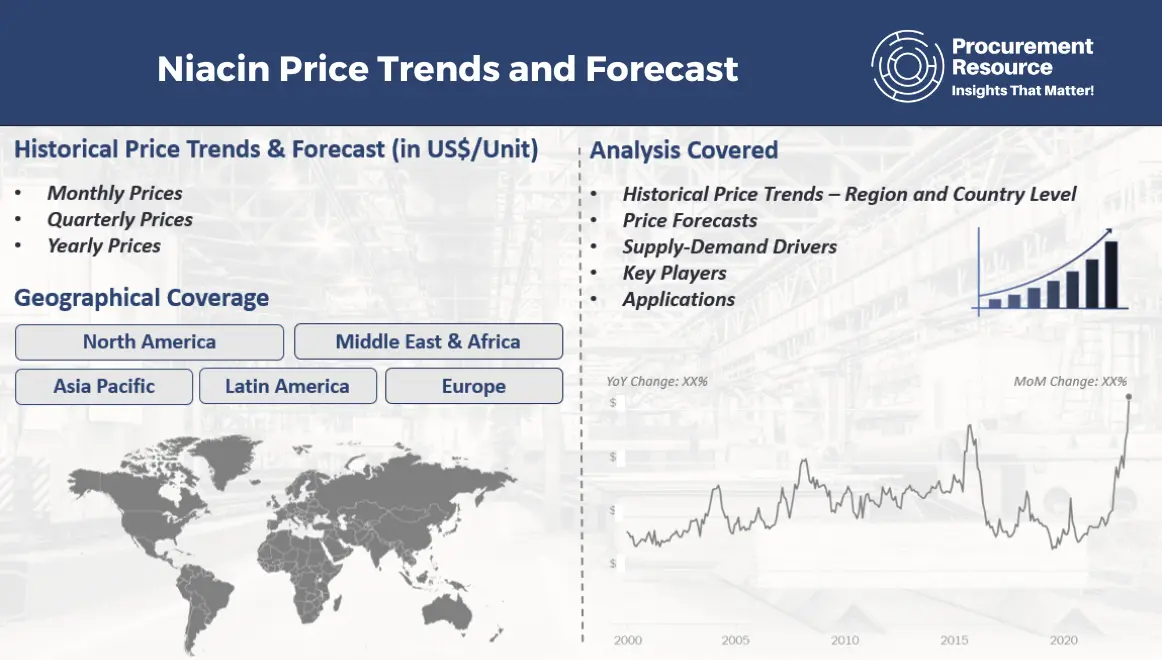 Niacin Price Trend for the First Half of 2023
Asia
The production of niacin uses tryptophan as its raw material, and hence, its price trend is highly influenced by tryptophan's market activities. In the first quarter, the momentum of niacin prices slowed down because of the weak support from the raw materials sector and declined demand from the downstream industries.
In the second quarter, the reduction in the purchasing potential of buyers and low production rates challenged the prices in the first half of the second quarter. The trend, however, improved during the end phase of this quarter with support from the pharmaceutical and food & beverages sectors.
Europe
The prices of niacin consistently declined due to the weak support from the feedstock sectors in the first quarter. In addition to this, the rates of procurement from the domestic and international industries also slid, as a result of which the traders had to cut their profit margins to keep the market afloat.
The decline in the cost of freight and transportation further added to the challenges of niacin prices. In the second quarter, the trend followed the same path as with the persistent challenges of the first quarter: the rising level of inventories, high inflation and interest rates, and weak purchasing potential of buyers pushed the market sentiments into the negative zone.
North America
In the first and second quarter of 2023, the declining trend in the prices of niacin was a direct consequence of low demand from the downstream industries in the domestic and international markets. Due to this subdued demand, the level of inventories rose to an alarming level, and along with deteriorating conditions of freight and transportation costs, the prices of niacin were bound to decline. There was a slight glimmer of hope during the end phase of the second quarter as the inflation and hikes in interest rates slowed down.
Analyst Insight
According to Procurement Resource, the price trend of Niacin is estimated to continue its downward trajectory as the demand from the downstream sectors is consistently declining.
Procurement Resource provides latest prices of Niacin. Each price database is tied to a user-friendly graphing tool dating back to 2014, which provides a range of functionalities: configuration of price series over user defined time period; comparison of product movements across countries; customisation of price currencies and unit; extraction of price data as excel files to be used offline.