Regional Price Overview
Get the latest insights on Nickel's price movement and trends analysis in different regions across the world (Asia, Europe, North America, Latin America, and the Middle East & Africa).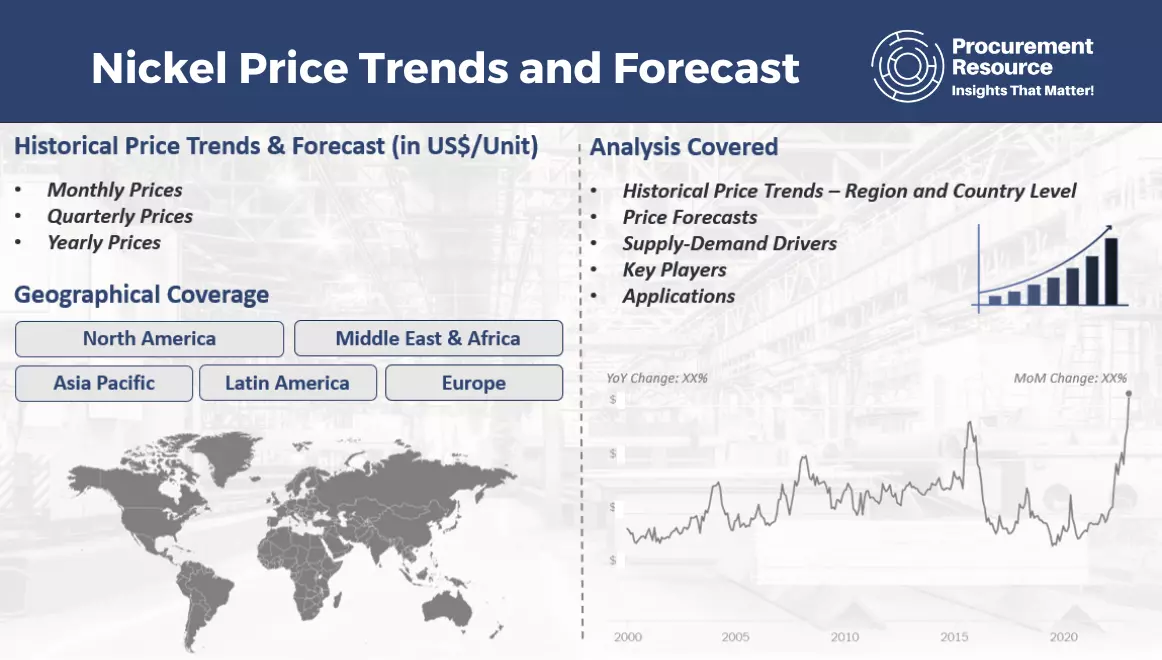 Nickel Price Trends for the First Half of 2023
Asia
Nickel is a high-demand metal used in various industries like stainless steel, alloys, coatings, batteries, electroplating, batteries, equipment, etc., and nickel is fairly present in the earth's crust at about 0.007%. Despite its extensive significant usage, Nickel metal prices dropped continuously in H1'23 in the Asian region.
The last few years saw a long struggle in automotive, construction, and other metal-intensive downstream sectors. First, because of the COVID-19 pandemic, the market declined sharply and instantly, and then, because of the Russia – Ukraine war, the inflation mounted in global markets, adversely affecting global purchasing power and consumer sentiments.
Purchasing behaviors became more necessity-centric, and the culture of investing in experience rather than assets gained popularity, especially among young consumers. In the Chinese domestic market, the Nickel spot prices went down from about 32757 USD/MT in January'23 to around 24029 USD/MT in June'23, with an approximate decline of about 26%. With a similar depreciation of around 24%, the Indian Nickel market closed the second quarter at about 22251 USD/MT in June'23.
Europe
The European region was the most impacted by the war between Russia and Ukraine. The Nickel market experienced a significant slump in Europe as the prices declined by about 24% and went down from an average of about 28484 USD/MT (Spot FD) in January '23 to an average of around 21417 USD/MT in June'23. Overall, market sentiments remained muted.
North America
The North American Nickel market behaved no differently than the other global markets, as the prices were observed to be dipping here too. With excess supplies and restricted offtakes, the market sentiments remained dampened.
Analyst Insight
According to Procurement Resource, Nickel prices are estimated to continue declining in the upcoming months as well, given the wide gap between supply and demand dynamics.
Nickel Price Trends for the Second Half of 2022
Asia
The nickel market fluctuated throughout the discussed time in Asia. In China, the industries were still struggling to revive after the strict covid lockdowns. However, in order to compete with the international market, the manufacturing sector worked rapidly, thereby causing the market sentiments to incline. Further, the rising demands contributed to these high nickel prices. There were some occasional reverse fluctuations to the downward side as well, but overall market trendss were fairly positive.
China had a slow start in July with average spot prices declining momentarily from around 26917 USD/MT in July'22 to around 26522 USD/MT in August'22, picked up pace and rose to about 32092 USD/MT by the end of the final quarter in December'22. An overall decline of approximately 19% was observed between August to December. In a similar fluctuating fashion, the Indian market prices finally closed the final quarter in December'22 with an average price of about 32301 USD/MT (Spot FD).
Europe
The European Nickel market observed mixed price trendss throughout the 3rd and 4th quarters of 2023. Prices inclined for most of the discussed time period but declined temporarily at the time of shifting of quarters. Heavy rising inflation because of the Russia- Ukraine conflict was primarily responsible for the price hike.
Analyst Insight
According to Procurement Resource, with the current drastic rise in the price trendss for Nickel, the market is expected to strive for stabilization, a decrement in prices is projected.
For the Second Quarter of 2022
Asia
Owing to the Russia- Ukraine conflict, the prices of nickel shot up through the roof in the past few months. However, due to the increasing market volatility and economic downturn, the prices of some commodities have now started to fall. The supply chain disruptions and the delayed shipments affected the domestic inflation outlook in the Indian market. Inflation in India for May 2022 stood at 7.04%, way more than that predicted by RBI.
During the said quarter, the prices of nickel fell around 50.2% from the highs of March 2022. These lower prices are expected to help the manufacturing sector by decreasing input costs, which will help control domestic inflation.
In the Chinese domestic market, the spot price for nickel in June 2022 averaged 188816.67 RMB/MT. Nickel prices showed a downward trends in the Chinese market due to the weakened market demand and the increased supply from the Philippines and Indonesia.
Europe
In March 2022, nickel prices soared around 70% in one day on London Metal Exchange (LME). They broke the 100,000 USD/MT barrier due to the supply chain disruptions aggravated by the current geopolitical scenario. However, during the said period, the prices began to fall significantly. This decrease was attributed to the muted demands, which shrank substantially given the market's concerns about the potential economic downturn. Per ton price of nickel averaged 27,760 USD for the said quarter on LME.
For the First Quarter of 2022
Asia
The market in India remained weak in the beginning of the first quarter of 2022. Nickel prices in January were around 1564-1740 INR/kg. The market prices however witnessed a gradual incline in February with the prices slowly increasing to 1860 INR/kg by the end of the month. In March, nickel prices rose sharply to 3509 INR/kg but later on declined to 2811 INR/kg.
Europe
The benchmark three-month nickel contract plummeted 8% to its new trading limit on March 8th, as significant selling persisted in commodity markets.
The price reached 41,945 USD/MT when trading began. Prices more than doubled in a matter of hours on March 8, surging past 100,000 USD/MT as one of the world's largest manufacturers, China's Tsingshan Holding Group, purchased substantial quantities to hedge its nickel short positions. Trading was suspended as the action exacerbated a price surge that was already accelerating due to Russia's escalating crisis in Ukraine.
For the Fourth Quarter of 2021
Asia
The final quarter of the year began with nickel prices hovering around 18,000 USD/MT. Although still below the 20,000 USD/MT milestone hit in July, it marked a year-on-year gain of 25%. Global output fell for the first time since July 2020 in August, according to statistics issued by the World Steel Association, owing primarily to China's production curbs in line with its emission objectives. This, combined with power constraints at Chinese stainless-steel manufacturers, raised concerns about dwindling demand from the Asian superpower, putting downward pressure on pricing.
Europe
Prices of the metal rose throughout the first eight months of this year but did not break through the 20,000 USD/MT barrier until September. London Metal Exchange's benchmark nickel futures achieved a seven-year high of 20,392 USD/MT on 10 September. This was due to supply difficulties caused by increased demand from stainless steel manufacturers and manufacturers of batteries for electric cars, as well as insufficient stockpiles.
Globally, EV manufacturing is increasing, which will increase the metal's demand for EV batteries. News that Indonesia was considering imposing an export tax on low-grade nickel, encouraged nickel prices to hover over 20,000 USD/MT for a time. However, prices progressively declined since then to below 19,000 USD/MT, owing to growing fears about the potential of China's economic development faltering in the face of a power crisis and a default risk facing Chinese property giant Evergrande.
North America
Nickel prices are expected to average 15,250 USD/MT in 2022. In December, spot prices remained essentially unchanged, although LME inventories were substantially lower. It is anticipated that prices might fall by the second half of next year.
For First, Second and Third Quarters of 2021
Asia
Indonesia's mined nickel output expanded by 10% to 836,000 tonnes in 2021, up from 760,000 tonnes in 2020, and is expected to reach just under 1.1 million metric tonnes in 2022. The Philippines' production increased to 366,300 tonnes in 2021, up from 333,000 tonnes in 2020. Nickel mining in the Philippines, the world's largest exporter of nickel ore to China, had been steadily rebounding following the government's relaxation of mining industry regulations.
Nickel prices in January in China were 21,020 USD/MT. The prices rose to 22,021 USD/MT by February end after which the prices fell during the first quarter reaching 18,828 USD/MT during March. During the second and third quarters, the prices continuously increased with the highest value of 22,490 USD/MT during September.
Europe
The metal surged to a roughly seven-year high of 19,000 USD/MT in February 2021, from approximately 17,000 USD/MT earlier this year, as a result of China's rapid economic expansion and supply constraints. However, the surge was short-lived following the announcement by Chinese business Tsingshan Group that it will provide Ni matte for battery manufacture. The discovery alleviated fears about a supply shortage of battery-grade nickel, lowering the price of nickel futures on the London Metal Exchange to 15,945 USD/MT on 4 March 2021 at one point.
Nickle prices climbed strongly in the second quarter, increasing 12.6% to the end of June on the strength of fundamentals. Several of the world's largest nickel producers, notably Nornickel and Glencore, had operational difficulties in the first half of this year, further constraining supply in an environment of high demand. Nickle prices remained stable at 19,000 USD/MT due to supply problems. They were oscillating between 18,240 and 19,900 USD/MT in late August-early September 2021, before rocketing to a new high of 20,393 USD/MT
North America
Prices further rose from the December value of 2020 with a sudden jump in Feb reaching its peak at 19,529 USD/MT post which a decline in prices could be observed in March reaching year low value of 14,708 USD/MT, after which prices reached previous high values eventually, with their increase on a month-on-month basis, the September prices crossed the 20,000 USD mark and were at 20,245 USD/MT.
For the Year 2020
Asia
The Indonesian nickel ore embargo combined with a precipitous reduction in Philippine shipments had a substantial impact on Chinese nickel pig iron production, which fell for the second consecutive quarter in March 2020. Nickel prices in China continuously increased for the first three quarters with slight fluctuations, from 12,983 USD/MT in April to 18,500 USD/MT by the year-end of 2020.
Europe
Nickel was not immune to the ripple impacts on metal demand induced by 2020 coronavirus pandemic limits. The metal, which is mostly used to make stainless steel, fell to 11,753 USD/MT in April 2020, down from a record of 17,673 USD/MT in September 2019.
China's strong economic rebound in the second half of the year became a significant factor in nickel prices, increasing for the remainder of 2020. This pattern persisted through 2021. Additionally, the metal's climb was aided by a restriction on its ore shipments from Indonesia, which took effect on 1 January 2020.
North America
The January prices stood at 11,653 USD/MT post which the prices started to fall from the previous values. The year low value during the march was at 10,794 USD/MT. The prices recovered during the next quarter and continued to rise for the next three quarters reaching the year high value by mid-December at 17,381 USD/MT.
Latin America
Vale, the world's largest producer of the metal, lowered its 2020 production forecast, citing adverse weather conditions, unplanned outages, regulatory delays, and ongoing logistics issues caused by COVID-19 lockdowns. The production forecast was lowered to 180,000-195,000 tonnes from 200,000-210,000 tonnes. Exports from Czech Republic to Peru totaled USD 12.65 million in 2020 and from India to Peru totaled USD 38.84 thousand.
Procurement Resource provides latest prices of Nickel. Each price database is tied to a user-friendly graphing tool dating back to 2014, which provides a range of functionalities: configuration of price series over user defined time period; comparison of product movements across countries; customisation of price currencies and unit; extraction of price data as excel files to be used offline.