Regional Price Overview
Get the latest insights on price movement and trends analysis of Platinum in different regions across the world (Asia, Europe, North America, Latin America, and the Middle East & Africa).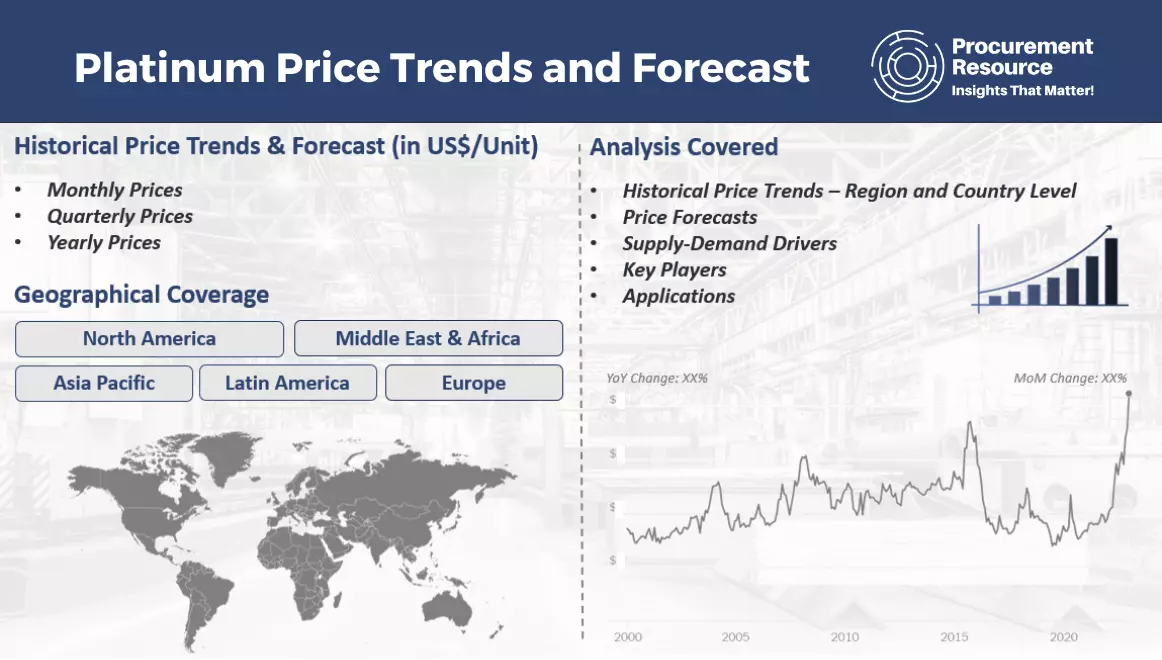 Platinum Price Trends for the First Half of 2023
In the first two quarters of 2023, the platinum market witnessed a price decline due to the economic downturn and slower growth rate observed in China.
On the other hand, despite this, demand for platinum from investors, car manufacturers, and industries remained strong, as it was driven in part by the substitution of palladium with platinum in gasoline after-treatment systems. In the US markets, the supply constraints were caused by reduced mine production and high uncertainties in South Africa's electricity availability. A similar trends was seen in the European countries also. Due to the unfavorable market dynamics, the spot FD prices of platinum in Europe fell from approximately 1061 USD/troy ounce in January'23 to almost 981 USD/troy ounce in June'23.
In addition to this, the current sluggish world economy has led to subdued demand for platinum and other key materials that are used in car manufacturing. Further, the reduced car sales, along with the adoption of alternatives in electric vehicles, have further dampened demand for platinum and related metals.
Analyst Insight
According to Procurement Resource, the price of Platinum is expected to depict an oscillating trends as the demand for platinum is moving in the upward direction, but the current market dynamics are hampered by the slow movement of the economy and the decline in the number of sales of the automotive sector are challenging the growth of platinum price trends.
Procurement Resource provides latest prices of Platinum. Each price database is tied to a user-friendly graphing tool dating back to 2014, which provides a range of functionalities: configuration of price series over user defined time period; comparison of product movements across countries; customisation of price currencies and unit; extraction of price data as excel files to be used offline.