Regional Price Overview
Get the latest insights on price movement and trends analysis of Raspberries in different regions across the world (Asia, Europe, North America, Latin America, and the Middle East & Africa).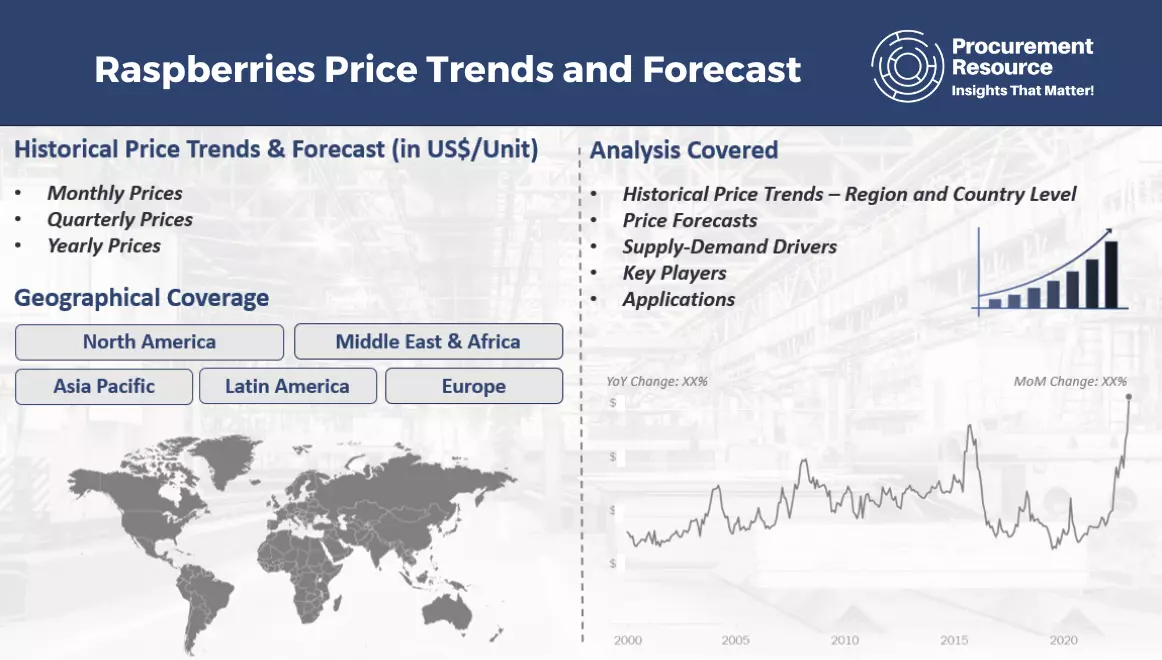 Raspberries Price Trends for the First Half of 2023
Raspberry prices continued their downhill journey in the first half of 2023 as well. As the Ukrainian supplies substantially depleted the positive market sentiments, an influx from other producing countries also contributed towards lowering the Raspberries prices further.
Along with excess supplies, a dip in consumer demands also played a significant role in determining the Raspberry market trends. Due to the high global inflation, consumer behavior became more necessity-centric, and Raspberries took a back seat. In fear of further losing the market value, suppliers who were initially hoarding the bulk quantities released them at a discounted rate in the market. This disturbed the supply-demand dynamics badly as the market got heavily oversupplied in the face of declined demands. Overall, bearish market sentiments were observed.
Analyst Insight
According to Procurement Resource, the price trends for Raspberries are expected to fluctuate in the upcoming months as the market will try to strive for some normalization owing to the current volatilities in the pricing fundamentals.
Raspberries Price Trends for the Second Half of 2022
Raspberries prices fluctuated in the European market throughout the second half of 2022. With the heavy inclination in Raspberry prices in the first half of 2022, farmers grew even more Raspberries, increasing the yields to procure more profits. So, the market had an apparent stable start in June'22, but the sudden availability of high-quality Ukrainian Raspberry supplies in the international market changed the price dynamics completely. Situations were very uncertain in Ukraine because of the Russian attacks, so the suppliers sold their produce at even lower prices to vacate inventories as quickly as possible.
Other European suppliers, which were expecting higher profits, held on to the product for some time, but the market didn't rise according to their hopes and kept on declining throughout the latter half of 2022. Overall, dull market sentiments were observed.
Analyst insight
According to Procurement Resource, the price trends for Raspberry are expected to fall further given the increased supply as the Ukrainian exports are getting continuous access to the market.
For the Second Quarter of 2022
Europe
In general, raspeberry prices in the European region were about 1.50 EUR more in the final week of April compared to the same period last year (6.49 EUR/kg vs. 5.04 EUR/kg), a 28.7% increase. According to the Ministry of Agriculture, Livestock, Fisheries and Sustainable Development of the Junta de Andaluca, this trends has continued since the beginning of the year, with raspberry prices higher than they have been for three years.
The price for the first batches of berries in the wholesale markets of Chisinau in Q2 of 2022 was 60-65 MDL/kg (3.13-3.39 USD/kg).
For the Fourth Quarter of 2021
Asia
Australia's raspberries, blackberries, mulberries, and log were expected to cost between 4.85 and 4.79 USD/kg in 2022. In Melbourne and Canberra, the average price for a tonne was USD 4847.83 whereas in 2019, the import price for raspberries, blackberries, mulberries, and log was 3.10 USD/kg in Australia.
Europe
Fresh raspberry prices stayed stable until the third week of November 2021, it soared to 9.02 USD/kg the following week, in the fourth week of November 2021. Until mid-December 2021, the price remained at 9.03 USD/kg. In all, the year-over-year price change in December was -20.89%.
Poland topped the list of nations with the world's fastest rising raspberry imports. It imports an additional 16%, or 3.4k MT, of raspberries each year, while Germany receives every fifth kilogram of frozen raspberries sold worldwide, 2.7 times more than France, which is ranked second in this list.
North America
The average price of traditional raspberries December was 6.74 USD/kg, a 53 % increase year over year. Prices were taken from Mexico. Raspberry prices during December were greatly higher than the previous quarter due to continuous rise in demand during the months of November and December whereas the prices declined during the 42nd week to 49th week during which the prices ranged from 8 USD/kg to 4.2USD/kg.
For First, Second and Third Quarters of 2021
Asia
Sales grew at a slower pace than total fruit in Australia, with dollar and volume sales falling 1.5% and 5.3%, respectively, while overall fruit sales increased by 6.7% and volume sales fell by 3.1%. Total fruit prices increased by 10.2%, with raspberry prices increasing by the most (4.1 %) among its competitors. During the first wave of panic buying caused by higher prices, raspberry volume sales were impacted. During the four weeks leading up to Christmas, raspberry penetration reached a two-year high.
Raspberry volume sales were skewed towards high-income families due to a higher average price per kg, yet these were the only households to witness a decrease in its consumption in the previous year. In big supermarkets, raspberry dollar and volume sales were over-represented, and these channels were driving the decrease of raspberries.
Europe
The initial quantities of this fruit arrived two weeks later than the last season. According to experts, a rather cool spring and early summer showers harmed raspberry ripening. Initial raspberries were priced between 10.04-14.92 USD/kg, 46% more costly than they were at the start of last season.
Producers were able to set higher prices for raspberries at the start of the season owing to the berry's limited supply on the market, since cold and rainy weather hampered the ripening of raspberries on Polish fields. Simultaneously, demand in this area was fairly high, which contributed to the segment's high costs.
In Catalonia, the wholesale price of raspberries was down 20.89% year on year. Spain began the year with bad weather conditions, which resulted in a reduction in output and, consequently, high wholesale prices. However, following Easter (April 2021), improved weather conditions aided in increasing production. The rise resulted in an oversupply, which resulted in a fall in the relative price of raspberries in Spain. In Spain, wholesale costs decreased significantly.
In mid-February, the price of fresh raspberries in Catalonia fell to 1.82 USD/kg, a 60% year-over-year decrease. Raspberry prices remained stable until June 2021, before plummeting to 0.71 USD/kg in the first week of August. Madrid's prices likewise decreased by 30.28% year on year.
In the third week of February 2021, the price jumped from 10.84 USD/kg to 14.56 USD/kg. From March through August, prices fluctuated between 10.96 USD/kg and 16.96 USD/kg, before settling at roughly 16.50 USD/kg in June and the first week of August.
North America
A sudden jump in raspberry prices during the first three weeks of the year 2021 was observed which was from around 4.5to 8.5 USD/kg post which, the prices continued to rise with slight fluctuations reaching an all-time high value of 11 USD/kg by the end of the 16th week of the year.
The prices remained stable at these high values for the month post which a slight decline in prices was observed. The price during the 27th week reached a relatively lower value for the first time since the beginning of the year with a value of around 5 USD/kg. In value terms, the US provides the largest market for imported raspberries and blackberries globally, constituting 45% of global imports, followed by Canada with a 9.5% share of worldwide imports.
For the Year 2020
Asia
The December price of raspberry in the region was 4-6 USD/punnet. Raspberries are a popular fruit in Australia, accounting for 85% of fresh produce, with blackberries accounting for 14% and other hybrid brambles accounting for 1% of fresh produce. While the majority of raspberries are consumed locally, about 1% is exported to Singapore, Hong Kong, India, Indonesia, and Pacific Island countries. The value of fresh exports was less than $100,000.
Europe
Imports of fresh berries into the European market from developing nations quadrupled over the previous five years and continued to climb. Berries are frequently presented as a handy and healthful snack, enticing people into buying them.
Although many berries were cultivated in Europe, demand was significantly larger than European output. Imports from underdeveloped countries were filling the void. During this period, Spain imported almost 4,000 MT of raspberries from the EU27, with Portugal having the largest import value at 3.5k MT.
North America
During summer, a surge in consumer demand for berries was witnessed, and raspberries were no exception. Volumes were higher than in earlier years, which created some turbulence in the FOB market, raspberry prices plummeted from 20 USD/flat in early August to below 10 USD/flat in early September. However, costs were increased over the last two weeks of August.
Mexico and California Central accounted for 82.67% of US raspberry output, with Mexico accounting for 58.45% of total US volume. At the beginning of August, the FOB price of raspberries was greater than in prior years, but prices began to reduce by the end of August 2020. The decrease in costs was due to the fact that the previous year's increase extended until the first week of September. With volumes reverting to more typical levels, prices began to rise, albeit slowly.
Procurement Resource provides latest prices of Raspberries. Each price database is tied to a user-friendly graphing tool dating back to 2014, which provides a range of functionalities: configuration of price series over user defined time period; comparison of product movements across countries; customisation of price currencies and unit; extraction of price data as excel files to be used offline.