Regional Price Overview
Get the latest insights on price movement and trends analysis of Refined Sunflower Oil in different regions across the world (Asia, Europe, North America, Latin America, and the Middle East & Africa).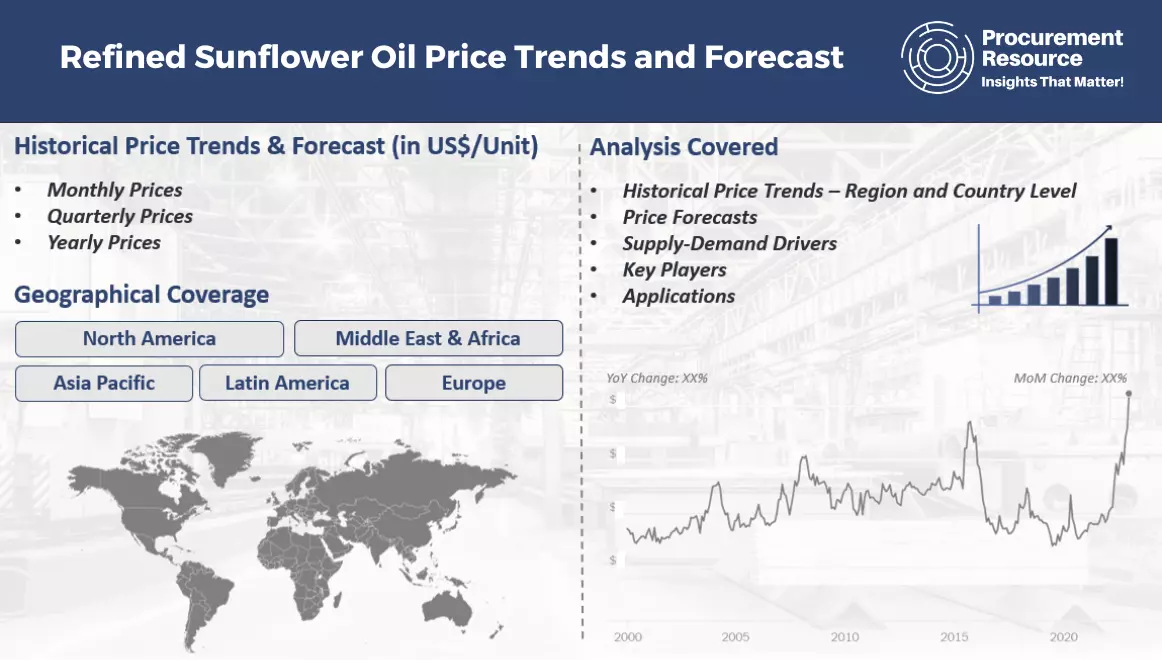 Refined Sunflower Oil Price Trends for the First Half of 2023
Refined Sunflower Oil is a more processed form of sunflower oil with some extra filtration steps in the upstream processing. It is primarily used as an edible oil. The prices still closely follow the Sunflower oil prices.
For H1 2023, the sunflower-producing regions enjoyed good production yields, but this also meant an excess in supplies for refineries. The ample availability of sunflower crops eventually decreased the upstream cost support.
The other determining factors for Refined Sunflower Oil prices are the operational costs for refineries, transportation costs, energy prices, etc. Undoubtedly global economic inflation impacted these parameters in a detrimental manner, but situations still improved compared to the previous year's disruptions. The energy and crude oil prices started normalizing as the supply chains were restored, freight prices also subsided, and more refineries were operational since the Chinese industrial lockdown got lifted.
All these factors decreased the upstream costs for Refined Sunflower Oil, impacting the market prices negatively. Even though the demand from the consuming sector maintained its momentum, prices fluctuated on the lower end of the price curve because of low upstream costs and ample availability.
Analyst insight
According to Procurement Resource, the price trends for Refined Sunflower Oil are expected to continue fluctuating on the lower end of the price curve since the inventories are still oversupplied and can easily cater to the current demands.
Procurement Resource provides latest prices of Refined Sunflower Oil. Each price database is tied to a user-friendly graphing tool dating back to 2014, which provides a range of functionalities: configuration of price series over user defined time period; comparison of product movements across countries; customisation of price currencies and unit; extraction of price data as excel files to be used offline.