Regional Price Overview
Get the latest insights on price movement and trends analysis of Silicates in different regions across the world (Asia, Europe, North America, Latin America, and the Middle East & Africa).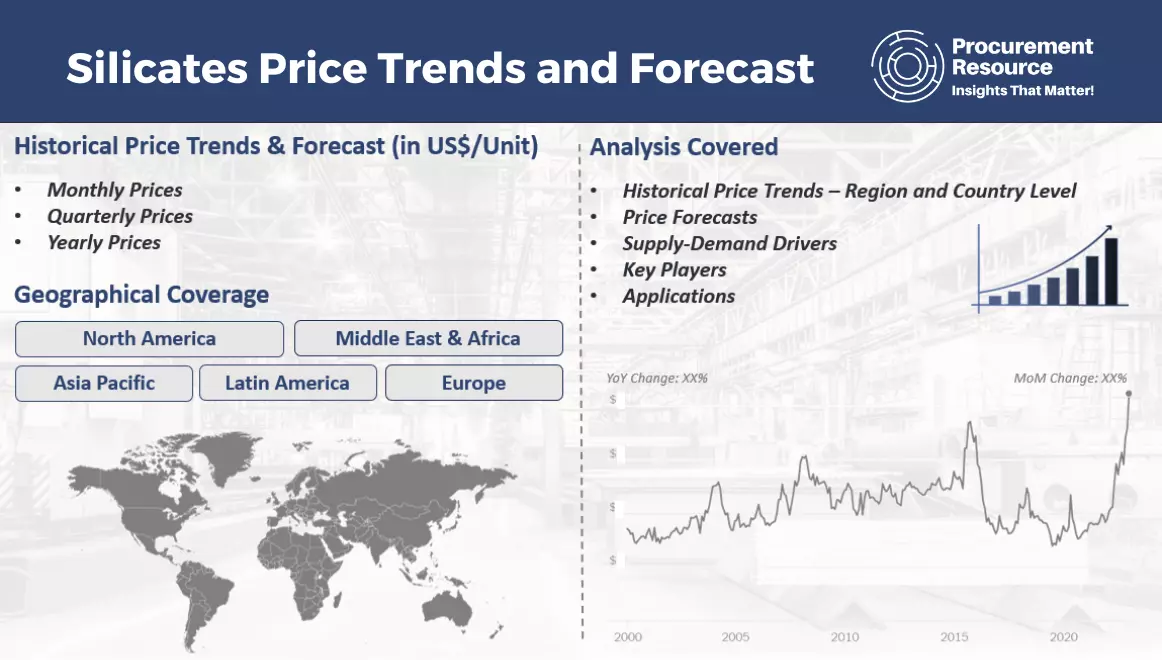 Silicates Price Trends for the First Half of 2023
Asia
Silicates Price trendss rally behind its feedstock commodities, namely silica and soda ash. As Silicates are majorly consumed by the glass, ceramics, and construction sectors, prices mostly fluctuated as per demands from these sectors in H1 2023. As the construction sector was restricted because of Covid 19 lockdown for a very long time in China, demands were almost absent, and inventories were filled with unused products.
The beginning of a market revival in Q1 2023 caused some movement in the Silicates market, but as the upstream costs got support from reduced feedstock and freight prices, the rise in offtakes couldn't make much impact. And as the second quarter arrived, prices started declining again as the inventories could easily cater to existing market demands. Overall, low swinging price trendss for Silicates were observed throughout the said period.
Europe
In the European Silicates market, it was a decline in purchasing power and downsizing of the construction business that caused the Silicates prices to waver at the lower end. As the European economies struggled with mounting inflation and recession caused by skyrocketed fuel and energy prices coupled with supply chain disruptions, the spending behavior of the European people totally changed.
People spent more on necessary items, and industries such as glass and ceramics took a backseat. Even though the situation had already started improving at the beginning of 2023, the buyers were still hesitant and cautious with expenditures. However, the Silicates market exhibited occasional enthusiasm, which led to some upward fluctuations, mostly the demands laid low, keeping the price trendss at bay with them.
North America
The North American Silicates market exhibited mixed market behavior during the said period. Prices were still stable in the first quarter but mostly remained low, oscillating in the second quarter. These fluctuations, like the global market, were driven by downstream demands and market consumption. Overall, fluctuating market sentiments were observed.
Analyst insight
According to Procurement Resource, the Silicates prices will undergo oscillations in the coming quarter as the market will strive for stability given the current unbalanced supply-demand dynamics.
Procurement Resource provides latest prices of Silicates. Each price database is tied to a user-friendly graphing tool dating back to 2014, which provides a range of functionalities: configuration of price series over user defined time period; comparison of product movements across countries; customisation of price currencies and unit; extraction of price data as excel files to be used offline.