Regional Price Overview
Get the latest insights on price movement and trends analysis of Sodium Cyanide in different regions across the world (Asia, Europe, North America, Latin America, and the Middle East & Africa).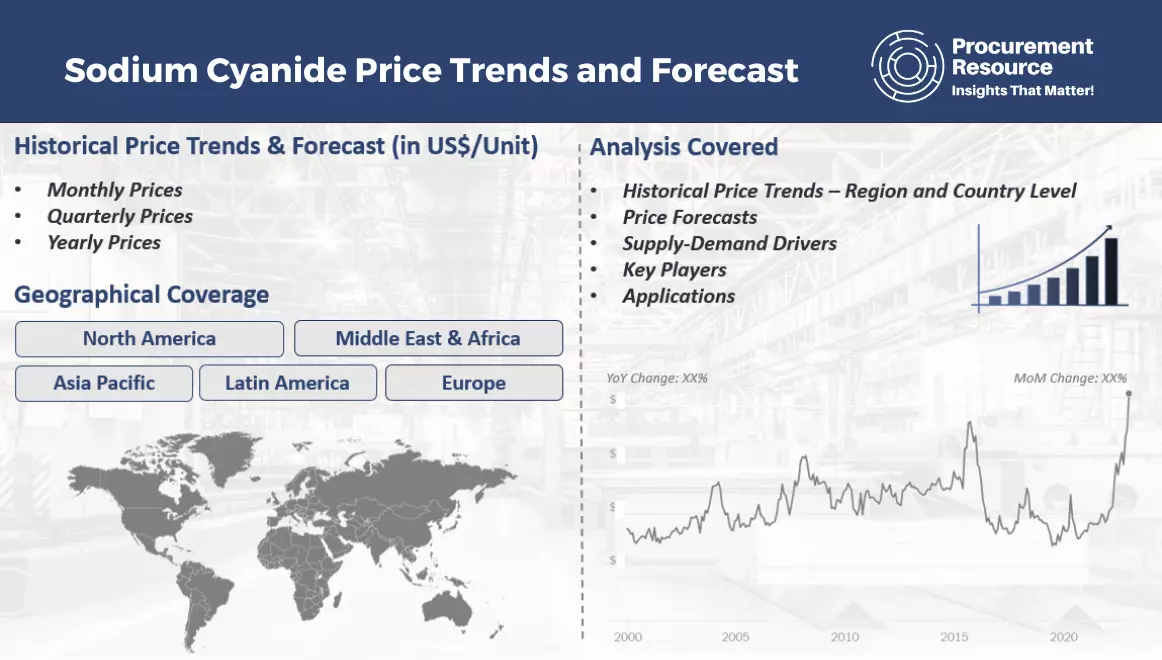 Sodium Cyanide Price Trends for First Half of 2023
Asia
The first and second quarters of 2023 witnessed a declining trends in the prices of sodium cyanide as the feedstock market failed to provide the required support.
The major factor that influenced this decline was the weak demand from the downstream industries, leading to a significant rise in the level of inventories. This low demand and high availability of sodium cyanide widened the supply-demand gap and, thus, negatively impacted the price trends of sodium cyanide.
Europe
The cost of feedstock materials fell consistently in the first and second quarters of 2023 due to the significant decline in prices of natural gas. In addition to this, low demand from downstream industries, restricted supply from Russia, and excess availability of the materials in the region affected the price trends of sodium cyanide throughout this phase. Overall, the market dynamics of sodium cyanide were also challenged by the negligible number of offtakes from domestic and international buyers, and as a result, the price trends of sodium cyanide declined in the European market.
North America
In North America, the price trends of sodium cyanide was majorly affected by the short demand for feedstock materials and rising levels of inventories in the first and second quarters of 2023. The decline in the prices was much more prominent in the second quarter.
The diminished level of inquiries, low consumption of consumers, and weak movement of its derivatives proved to be some major challenges in the region. In addition to this, the rate of exports to other North American countries also declined as the sea levels were not favorable, and thus, the price trends of sodium cyanide went southwards.
Analyst Insight
According to Procurement Resource, the price trends of Sodium Cyanide is estimated to decline in the upcoming quarters due to poor performance and negligible support from the feedstocks sector.
Procurement Resource provides latest prices of Sodium Cyanide. Each price database is tied to a user-friendly graphing tool dating back to 2014, which provides a range of functionalities: configuration of price series over user defined time period; comparison of product movements across countries; customisation of price currencies and unit; extraction of price data as excel files to be used offline.