Regional Price trends
Get the latest insights on price movement and trends analysis of Softwood Lumber meal in different regions across the world (Asia, Europe, North America, Latin America, and the Middle East & Africa).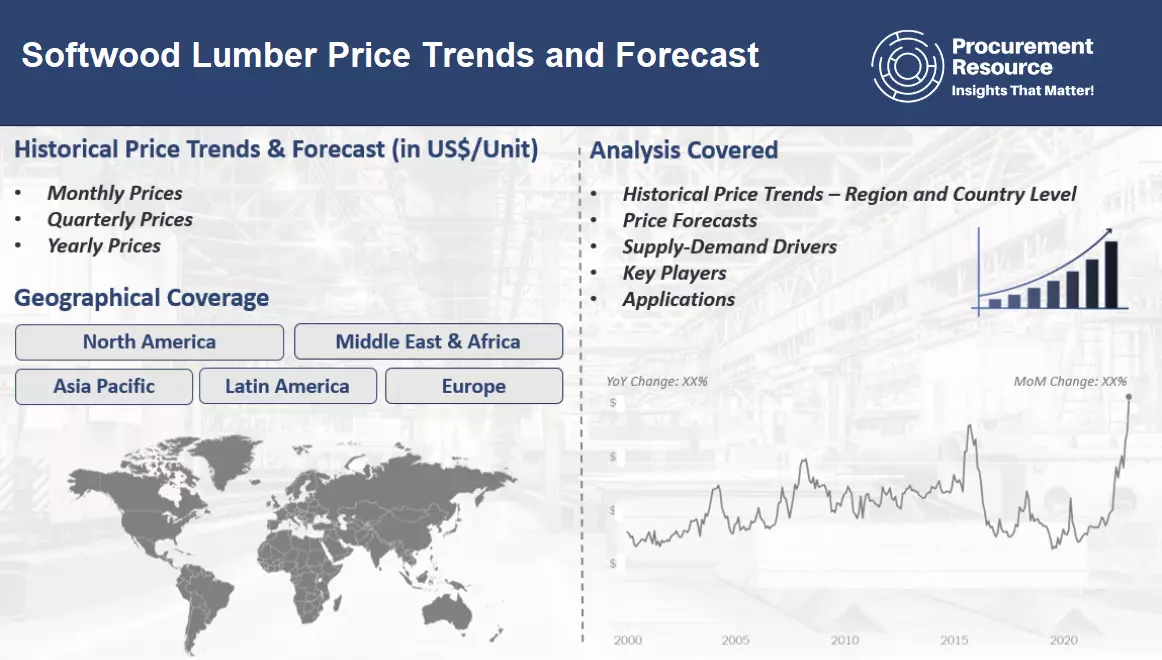 Softwood Lumber Price Trends for First Half of 2023
The price trends of softwood lumber fluctuated in the first and second quarters of 2023. In the initial phase of the first quarter, the prices were low due to the soft movement of the lumber industry as the construction activities slumped, especially in Canada.
The market saw a little improvement due to high demand from the downstream industries in the month of February, but this rise was only short-lived. During this phase, the stocking activities by traders also saw a significant reduction in view of the negative purchasing potential of buyers.
However, in April, the market activities gained the required momentum as weather conditions improved, and the construction sector helped the prices of softwood lumber to incline in the US and Canada regions. This positive movement in the prices of softwood lumber was also supported by the rising costs of food, energy, and trade services.
The trends changed again in the later phase of the second quarter as the prices fell steeply. The consistent decline in the trends was heavily affected by the low cost of fuel and energy products. The market sentiments of softwood lumber remained in the negative zone.
Analyst Insight
According to Procurement Resource, the price of Softwood Lumber is estimated to showcase a mixed trajectory as the demand for softwood lumber and its derivatives depends on the weather conditions and rates of inflation.
Procurement Resource provides latest prices of Softwood Lumber. Each price database is tied to a user-friendly graphing tool dating back to 2014, which provides a range of functionalities: configuration of price series over user defined time period; comparison of product movements across countries; customisation of price currencies and unit; extraction of price data as excel files to be used offline.