Regional Price Overview
Get the latest insights on price movement and trends analysis of Sulfamethazine in different regions across the world (Asia, Europe, North America, Latin America, and the Middle East & Africa).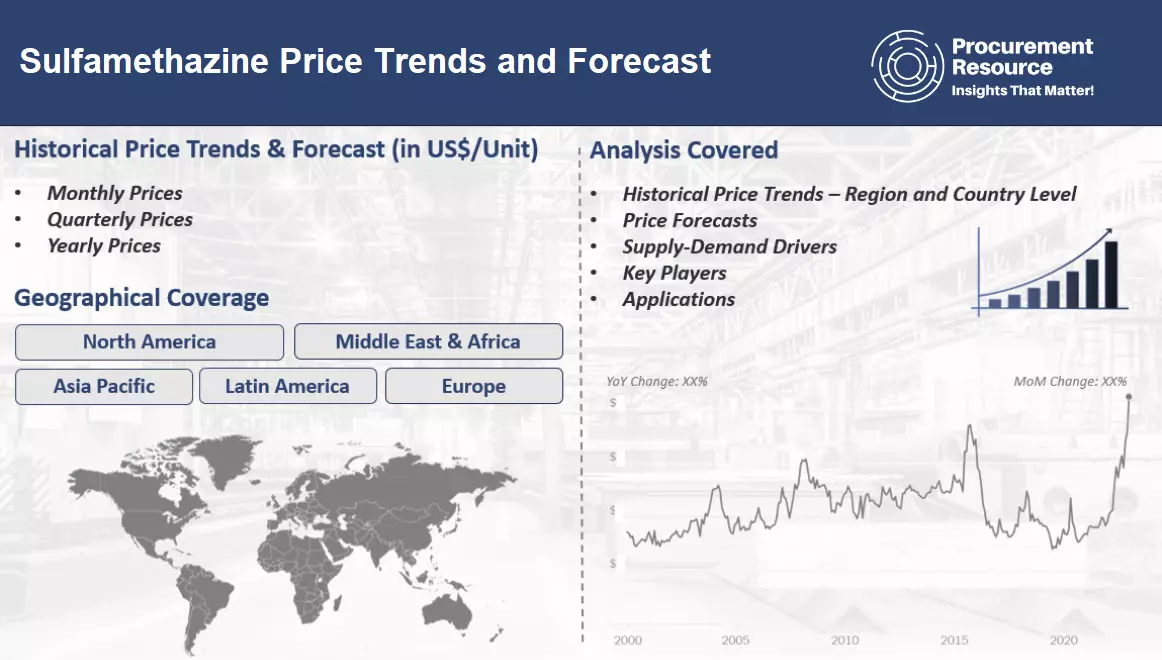 Sulfamethazine Price Trends for the July-September of 2023
Sulfamethazine is a widely used sulfa drug for veterinary purposes. It is used as an antibiotic in veterinary medicine and as an additive for animal feed. The price analysis for sulfamethazine involves many variables, like feedstock acetylsulfanilyl chloride prices, existing stock quantities, consumer demands, and the market's economic situations.
During the said period of Q3'23, the sulfamethazine escalated on the price graph, following the positive forecasts, especially in the US market. The high running inflation from the very beginning of the year raised the costs for almost all products; however, the drug industry was greatly affected because of its essential nature of requirement. Most drug companies tried to capitalize on the rise in inflation and interest rates in the region. The Inflation Reduction Act controlled excessive price hikes for some categories of drugs, but the overall market momentum for sulfamethazine was positive during the discussed time frame.
Analyst Insight
According to Procurement Resource, the Sulfamethazine price trends are likely to continue wavering high on the price graph since the end consumer demands are staying persistent.
Sulfamethazine Price Trends for First Half of 2023
Sulfamethazine is a broad-spectrum antimicrobial drug that belongs to the family of sulfa drugs and is a sulfonamide widely employed in the treatment of bacterial diseases such as bronchitis, prostatitis, and several other urinary tract infections.
The market activities of sulfamethazine were reliant on the performance of pharmaceutical industries in the first and second quarters of 2023. In India, the government promoted the import of several formulations to boost production activities. This also helped in strengthening the supply chains with international players after a period of stagnancy due to COVID-19 restrictions.
The rates of imports were also affected by the heavy dependence of India's pharmaceutical sector on the raw material trade with China. The boom in the pharmaceutical sector in the first and second quarters was based on the expensive raw materials imported from the neighboring countries, and thus, the price trendss of sulfamethazine inclined.
Analyst Insight
According to procurement resources, Sulfamethazine price is estimated to depict a fluctuating pattern as the dependence of India's pharmaceutical sector on the import of expensive raw materials will prove to be a challenge in the upcoming months.
Procurement Resource provides latest prices of Sulfamethazine. Each price database is tied to a user-friendly graphing tool dating back to 2014, which provides a range of functionalities: configuration of price series over user defined time period; comparison of product movements across countries; customisation of price currencies and unit; extraction of price data as excel files to be used offline.