Regional Price Overview
Get the latest insights on price movement and trends analysis of Triethyl Phosphite in different regions across the world (Asia, Europe, North America, Latin America, and the Middle East & Africa).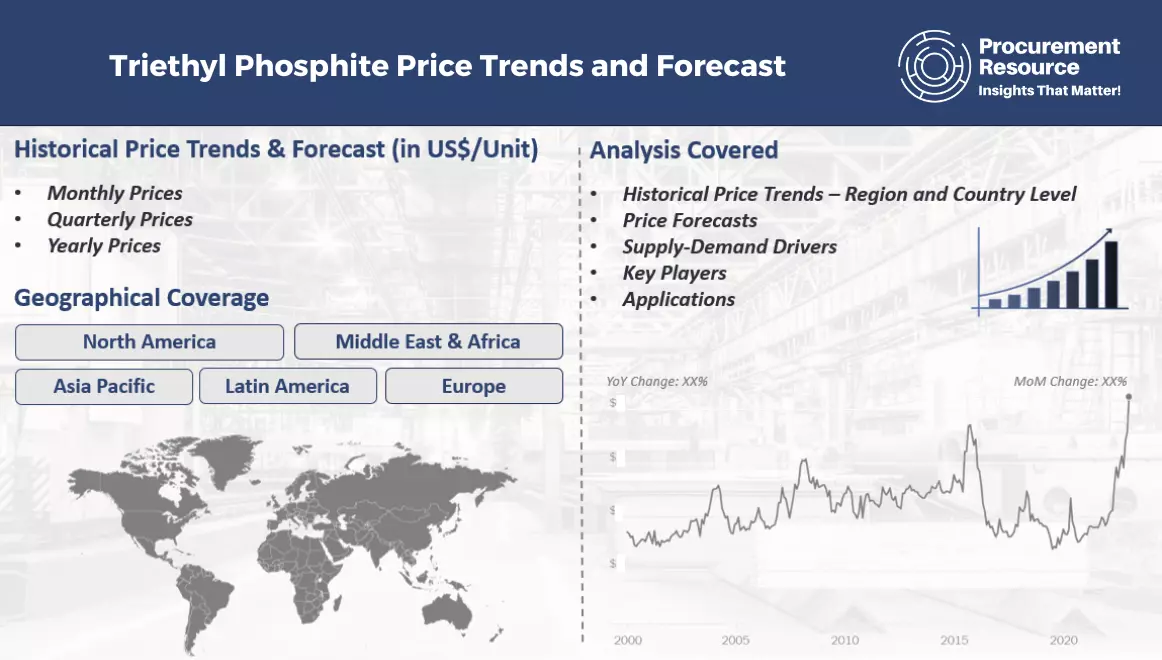 Triethyl Phosphite Price Trends for the First Half of 2023
The price trends of Triethyl Phosphite follow that of its feedstock Phosphorous Trichloride prices. Phosphorous trichloride observed a declining price behaviour throughout the said period. In China, the market revival post-lockdown was expected to support Triethyl Phosphite prices but, to the contrary, filled up inventories amid bearish demands leading to a decline in pricing fundamentals.
Similarly, in Europe, amidst a severe cost of living crisis and struggling economies, the downstream chemical industries barely posed any demands, and the rapidly normalizing upstream costs in the second quarter failed to provide any significant cost support. So the market remained riddled with weak trading sentiments around Triethyl Phosphite, and prices continued on a downward journey for almost all of the said period.
The American market could not behave any differently than the global market, and the prices also remained in a slump. Struggling economies with high inflation and rising interest rates affected the market negatively. Overall, bearish market sentiments were observed.
Analyst insight
According to Procurement Resource, the Triethyl Phosphite market is expected to continue similar oscillating trends. It will require some serious upturn in market demands to see some improvement in market fundamentals.
Procurement Resource provides latest prices of Triethyl Phosphite. Each price database is tied to a user-friendly graphing tool dating back to 2014, which provides a range of functionalities: configuration of price series over user defined time period; comparison of product movements across countries; customisation of price currencies and unit; extraction of price data as excel files to be used offline.