Regional Price Overview
Get the latest insights on price movement and trend analysis of Vitamin B6 in different regions across the world (Asia, Europe, North America, Latin America, and the Middle East & Africa).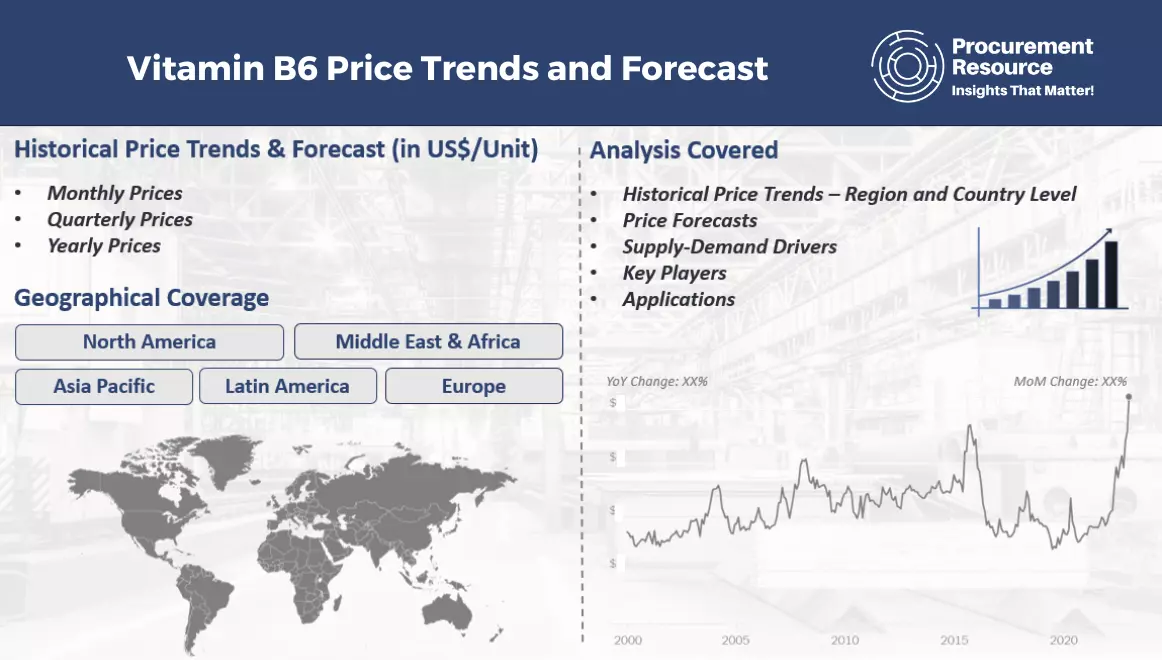 Vitamin B6 Price Trend for the First Half of 2023
Vitamin B6, also known as Pyridoxine, is a water-soluble vitamin that plays an important role in fat and protein metabolism in the body. It also plays a crucial role in erythrocyte production in blood. Like most vitamins fermentation process is employed to produce Vitamin B6 as well.
The first half of the year 2023 witnessed a struggling Vitamin B6 industry. The demands from consuming pharma and nutraceutical sectors were steady but insufficient to support the market trends. However, the overall situation improved with time and was easier in the latter half of H1'23. The global Vitamin B6 market outlook improved in the second quarter compared to the first quarter. General market sentiments were observed to be dull.
Analyst Insight
According to Procurement Resource, the Vitamin B6 market trends are anticipated to improve in the coming months. Demand dynamics are expected to improve for Vitamin B6.
Procurement Resource provides latest prices of Vitamin B6. Each price database is tied to a user-friendly graphing tool dating back to 2014, which provides a range of functionalities: configuration of price series over user defined time period; comparison of product movements across countries; customisation of price currencies and unit; extraction of price data as excel files to be used offline.