Regional Price Trend
Get the latest insights on price movement and trend analysis of Vitamin D3 in different regions across the world (Asia, Europe, North America, Latin America, and the Middle East & Africa).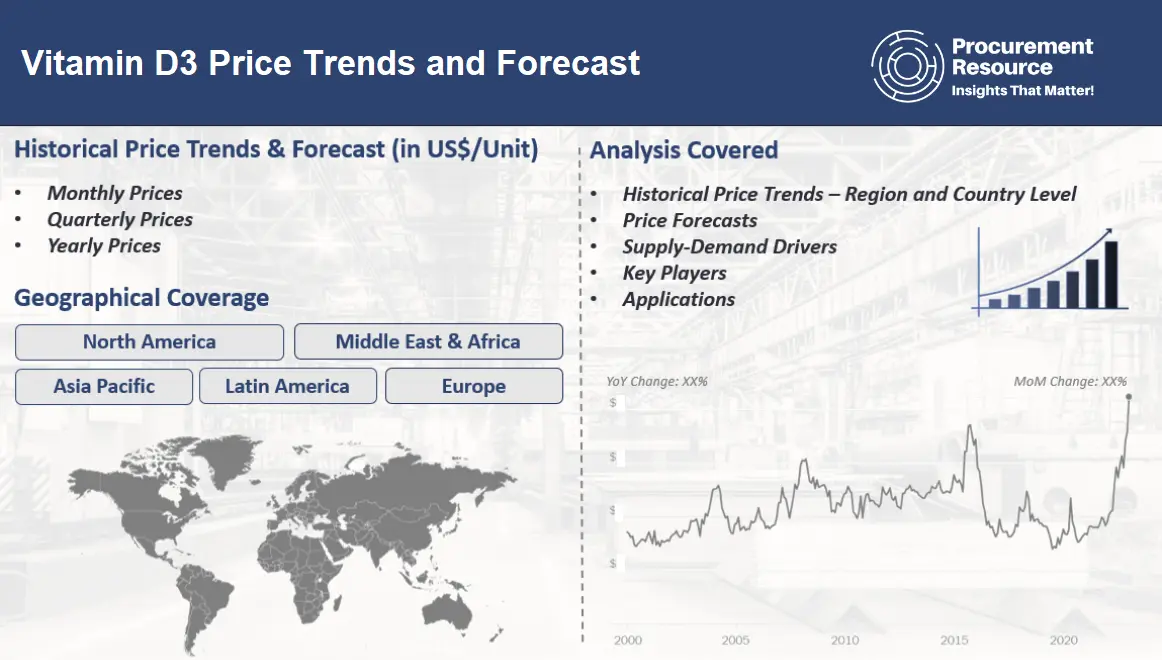 Vitamin D3 Price Trend for First Half of 2023
Asia
The market for vitamin D3 witnessed a bearish trend in the first and second quarters of 2023. The major cause of this poor performance of the vitamin D3 price trend was the reduction in demand from the downstream industries, such as pharmaceutical and nutraceutical industries.
The rates of offtakes from international consumers also remained at lower levels, which resulted in high levels of inventories. To curb the rise in stockpiles, the traders had to offer compromised prices of vitamin D3, which resulted in a decline in its price trend. In addition to this, the poor performance of the economy and the aftereffects of COVID restrictions hampered the growth of the vitamin D3 price trend.
Europe
In the first quarter of 2023, the market for vitamin D3 was supported by high demand and a rise in rates of offtakes from the domestic and international markets. The trajectory remained positive for the whole quarter, with the positive supply from the Chinese markets that helped in overcoming the region's high pressure of inflation. However, the second quarter faced strong economic challenges, low cost of energy, and poor performance of downstream industries. In addition to this, rising stockpiles forced traders to reduce their price quotations, and thus, the price trend of vitamin D3 declined in European countries.
North America
As seen in the European region, the price trend of vitamin D3 inclined in the first quarter of 2023 but fell consistently in the second. The first quarter was supported by consistent growth of downstream industries and positive trading activities. However, the second quarter was hit by surging rates of inflation, downward movement of energy production costs, and low rates of offtakes from the downstream industries.
Analyst Insight
According to Procurement Resource, the price trend of Vitamin D3 is expected to decline in the upcoming months as the downstream industries showcase a significant decline in demand.
Procurement Resource provides latest prices of Vitamin D3. Each price database is tied to a user-friendly graphing tool dating back to 2014, which provides a range of functionalities: configuration of price series over user defined time period; comparison of product movements across countries; customisation of price currencies and unit; extraction of price data as excel files to be used offline.